Three Months After Michael Brown's Death in Ferguson, Missouri
An interview with local pastor and professor Michael Higgins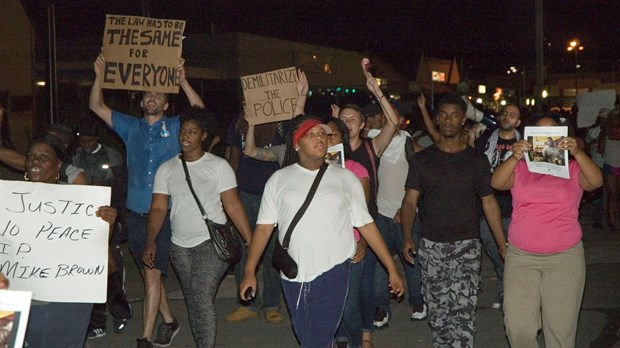 Image: peoples world/flickr
Back in August, I hosted a series of guest posts about racial reconciliation within the church. As it happened, in the initial week of that series, Michael Brown—an unarmed African-American teenager—was shot and killed by a white police officer in Ferguson, Missouri. In the weeks and now months that followed, protesters have gathered regularly in Ferguson.
The protests center around one tragic incident, but they also shine a light upon some of the ongoing struggles our nation faces when it comes to race relationships more generally. In the midst of these struggles stands the church, a communion of Christians who all profess faith in Jesus Christ, in whom there is "neither Jew nor Greek, male nor female" and, we might add, neither black nor white. And yet our Sunday morning worship services, our neighborhoods and schools, still bear the marks of communities that have been shaped by race and culture more than by a common faith.
I interviewed Michael Higgins, Dean of Students at Covenant Seminary and co-Pastor of South City Church in the Shaw neighborhood of St. Louis, Missouri in order to learn a little bit more about the ongoing situation in Ferguson and how the church can continue to respond.
Recent reports have indicated that Michael Brown may have been struggling with the officer who shot him rather than in a position of surrender when he was killed. What effect do you think this information should have on the protesters in Ferguson?
I truly believe that the possibility that Michael Brown may have been in a struggle with Officer Wilson has occurred to many protestors. I guess a many in America would think that this information would mean that the protests would cease. However, I think that these protests are more about the history of racial profiling and systemic racism in law enforcement than they are about Michael Brown's and Officer Wilson's personal actions.
Regardless of the circumstances, Michael Brown's death hit a nerve related to race relations and justice in Ferguson, Missouri. Why was this instance such a turning point locally and nationally?
African Americans historically have had to deal with being sub-dominant, under-privileged, and viewed as the most dangerous racial demographic of the United States. Couple all this with systemic racism in many of the local and national institutions, and you get a people that is just tired of being tired. Michael Brown's death, while tragic in itself, was, for many black people (and many white people) the straw that broke the camel's back. They decided they were done trying to play nice and be heard.
I believe many blacks, not just in Ferguson, have hoped that change would come because they pledged allegiance to the flag. They now realize that protesting, not pledging, is a faster mode of providing a louder, more effective voice—this is not unheard of in America. I believe they are asking their fellow citizens, "Can you hear me now?" So, if this is what it takes to cause our country to examine urban African American incarceration rates, poverty and education levels, along with real estate practices, abusive policing habits, and all other forms of systemic racism, you don't need much if you are near a flash point—only a spark.
How have churches responded on a local level to these events?
Some churches have responded by holding forums on race and law enforcement issues. Some have promoted these events in other churches. Some have responded by supporting their clergy who are participating in the protests. Some clergy have realized the importance of their attendance at neighborhood association meetings. Our church recently held a block party for our piece of the Shaw Neighborhood here in South Saint Louis.
Some of the churches in the Shaw area are attempting to go cross-cultural or multi-cultural; but it is tough, because minorities want to see their race or culture represented in the leadership of the church; and most churches that are trying to be diverse are lead by Anglos.
What role do you see the church playing going forward--both locally and nationally--when it comes to racial reconciliation in America?
I believe the church has the opportunity to speak and model the Gospel. The church has the opportunity to show what good neighbor does. The Good Samaritan did not see a certain type of man on the road to Jericho--neither a republican or democrat, liberal or conservative, evangelical or mainline, gay or straight. The Good Samaritan simply saw a man. A man who was wounded. A man made in the image of God. A human being in need. The church has the chance to show that it simply and plainly cares about wounded humanity period; no matter the religion, race, culture, political stance, or sexual orientation.. Black people have been wounded, and being in pain gets frustrating.
Where do you see God at work when it comes to Ferguson or to race relations in American and the church more generally?
For me and many other clergy, Ferguson has identified our tendency to think that JESUS has called us only to the pulpit and not to the streets.
Many of the people, especially many younger people who have found a platform as a result this tragedy, don't attend church; but that shouldn't stop the church from taking the Gospel to them. Clergy should be out in the neighborhoods listening and asking questions, praying for peace amongst the protestors, and attending any meetings where they can offer a word of faith and hope. As a pastor, I shouldn't preach sermons on trusting God, loving your neighbor, and engaging Saint Louis culture, and then go hide in my seminary or church office. That would be some serious hypocrisy.
But many of us live far away from Ferguson or any other place where these issues are being discussed in such a public and ongoing manner.
How can we support justice and peacemaking from afar?
Read about race in the United States. Read opposing thoughts to get the whole picture. Hold forums and let everybody speak. Understand what white privilege does to blacks and whites. Invite people who understand race to speak at churches and invite the neighborhood.
Can you recommend a few books and articles for people who want to learn more?
Breaking Down Walls, Raleigh Washington and Glen Kehrein
This book contains eight principles for racial reconciliation that work in almost every type of reconciliation.
Divided by Faith, Michael Emerson, Christian Smith
Sociologists reflect upon why and how we are somewhat satisfied with being segregated in our church congregations.
Reconciliation Blues, Edward Galbreath
A first-person account of the struggles of a black man working in a white evangelical organization.
Articles:
"White Privilege: Unpacking the Invisible Knapsack"
This is a white person explaining white privilege; it is very helpful pointing out things that many people don't think about or have to think about.
Video:
"Crossing the Delmar Divide" BBC
Gives you a good idea of how Saint Louis became segregated and why it remains that way.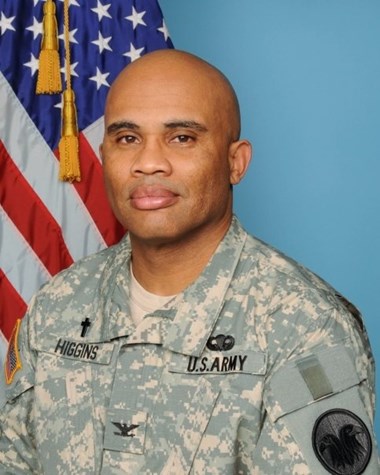 Mike (MDiv '96, DMin '12) came to Covenant Seminary in 1992 as a student. He earned his MDiv in 1996 and served as a PCA pastor in Tennessee and Georgia before returning to the Seminary as Dean of Students in 2011. He is also Co-Pastor of South City Church and a retired army Chaplain (Colonel). In 2012, Mike earned his DMin from Covenant. He has been married to Renee for 35 years, has two daughters, Mary and Michelle, and two grandchildren, Moses and Mattie. He enjoys exercising, military history, and preaching.
Support our work. Subscribe to CT and get one year free.
To add a comment you need to be a registered user or Christianity Today subscriber.
Recent Posts
Three Months After Michael Brown's Death in Ferguson, Missouri