The Problem with Christmas Cards
I love those happy faces. But I love the Christmas story even more.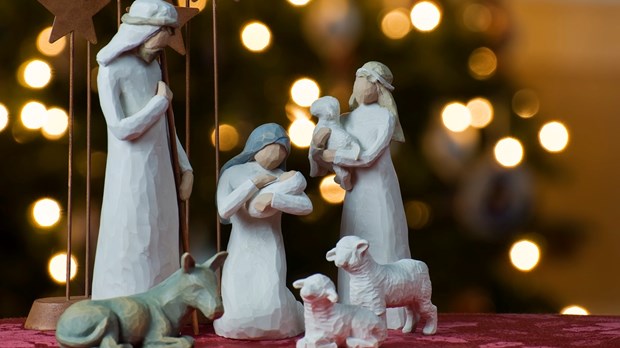 Image: Jeff Weese/flickr
Last spring, after months of looking at the smiling faces of dozens of family members and friends who lined the doorposts of our dining room, I insisted they had to go. My husband and son conspired and relocated the strands of Christmas cards stapled to long pieces of ribbon to the windows in the kids' bedrooms. Only now, as this year's cards pile up, are those strands coming down. We love these visual reminders of loved ones scattered around the country and even the globe.
But there's a problem with all these happy faces, just as there's a problem all year round with Instagram and Facebook and Pinterest and glossy magazines in supermarket aisles. Our lives don't actually look like what we portray. We don't smile all the time. Our clothes rarely match. Families bicker and kids get sick and the cat vomits on the rug and the car breaks down. I'm not asking for a Christmas photo with cat vomit, and yet, of all times of year, perhaps Christmas is the time with the greatest invitation to be real about the mess of our lives. Instead, we don our fancy clothes and smile brightly.
We send a Christmas card of our own, and our pose is not much different from the ones we receive. We never wear matching outfits, and the kids rarely all look at the camera, but still, our card mirrors the others in its portrait of happiness, in its implicit rejection of the reality of everyday life.
But Jesus' birth—the centerpoint of our celebration—was neither a photo-op nor a sanitized story. Thankfully, the gospel writers didn't try to clean it up. They tell us that Joseph almost divorced Mary. That Mary was afraid. That the baby—the illegitimate child—was born without a home, in the equivalent of the parking lot of a Motel 6. And yet they also tell us of the heavenly host rejoicing and the star shining bright. They tell us he is Emmanuel, God with us. A God who looks at the mess of our lives and enters smack dab in the middle of it.
As much as I love the images that surround me during the Christmas season, I am nevertheless struck by how often our cards convey the opposite of the Christmas story. And as grateful as I am for the visual reminders of hope and love and joy, I am even more grateful for the reminder that God is God with us not only when our days are merry and bright, not only when the halls are decked, not only when we sing Gloria, but also, and always, when we are discouraged and weary and mismatched, when hope is tethered by fear, when pain and heartache and confusion accompany every step. I am grateful for the reminder of the babe in the manger, of the blood and sweat and tears and dirt that must have accompanied his arrival. I am grateful that he enters into our celebration, but even more so into our mess.
I'm not going to abandon our cheerful Christmas cards. But I am also not going to place my hope in those images, or think that they convey the full truth about any of us. Jesus loves the messy, disheveled, yelling-at-my-kids version of me just as much as, perhaps even more than, the smiling happy family portrait one. Now that's something to celebrate.
Support our work. Subscribe to CT and get one year free.
To add a comment you need to be a registered user or Christianity Today subscriber.
Recent Posts
The Problem with Christmas Cards