How to Be an Overcomer When You Feel Overtaken
Tactics for surviving uncertainty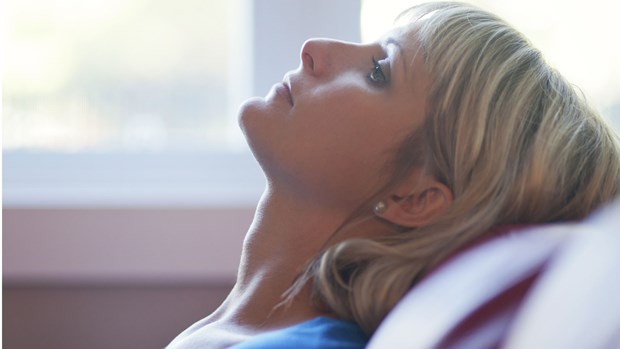 In the corner of my neighborhood coffee shop, I sit at a small round table hidden behind a display of coffee cups and bags of dark roast. Writing here instead of at home at my desk is a new coping rhythm during an unwanted, lengthy season of transition for my family.
We were supposed to move to London six months ago for a new ministry assignment. Instead, delays in the process, lack of income, and the permanent "for sale" sign in front of our house have produced a testing ground for deeper trust, a relinquishment of best-case scenarios for God's perfect timing.
Young girls in pink sweatshirts and sequined boots queue in front of a glass cabinet filled with confections, ponytails swinging into chests and shoulders while they debate cupcakes or cookies. My vantage point helps me remember what carefree innocence and lack of responsibility look like.
"Oh my gosh, I thought you were in England," a friend blurts out, garnering my attention from the line of customers stacking up like dominoes.
"I thought we would be there by now too," I respond quickly, looking up.
She sits down on the edge of the empty chair opposite me. I divert conversation away from my circumstances, point out how our children are now taller than us. But the inevitable questions come: Why haven't you moved yet? What is taking so long?
Instead of feeling overwhelmed by the unknowns she is highlighting, I exhale and explain what I know, which isn't much.
When waiting is God's answer to your prayers about the future, uncertainty can be a taxing vulnerability in a world that functions on concrete answers. Silence during seasons of transition can threaten to swallow purpose and calling if we allow it.
Our ability to successfully survive a lengthy waiting period depends on mental perspective more than anything. While circumstances are not a true indicator of worth, sometimes we need help in quieting swirling thoughts to find peace in the process.
"Prayer is always foundational to wisdom," writes Eugene Peterson. After that, here are a few things that have helped me.
Read fiction. Losing yourself in the plot of a well-written story can provide a quiet retreat needed in times of hardship. Let that non-fiction book that leads you toward introspection stay on your nightstand for a day or two before picking it up again. A break from reading that requires response can be a kindness of surrender to your mental health. *Ahem.* This is also my justification for binge-watching British television shows.
Listen to music. Worship helps calm wandering, unproductive thinking. When I listen to uplifting lyrics pouring through headphones, I stop clenching my teeth and relinquish repetitive thoughts. Saturating the mind with God's attributes allows peace to flow into places where confusion, doubt, and worry have blocked the truth.
Choose a different version. Even the truth can become stale, like eating peanut butter toast every morning for breakfast. Reading a new version of the Bible can inspire what you already know with fresh inspiration. During our lengthy season of waiting to go to London, the everyday, straightforward language in The Message buoyed desperate days with hope.
Sleep and then rest some more. If you are in a hard season of life, your body needs more rest than usual. Instead of feeling guilty or using sleep as an escape, a middle-of-the day nap is a loving choice; a day off work duties, even better. God created Sabbath because he loves you, not as a spiritual hoop to jump through. Sabbath is a gift from God breaking into your busy life, not a measuring stick of spiritual worth.
Turn off the computer. Quiet the noise, quiet your thoughts. Like most things in life, our greatest gifts can turn into our greatest weaknesses when usefulness becomes an idol we cling to for comfort. Every email, comment, message, and text comes with a demand for attention. Definition of value and urgency is a freedom within your grasp, not a harness you accept begrudgingly.
Create. Unless it makes you tired. For me, cooking on Saturday rejuvenates and helps sort out mental knots. Photography, art journaling, and gardening also achieve the same result. When was the last time you allowed yourself to create for pleasure instead of accomplishment?
Walk. Or jog, or run, or paddle, whatever it is that helps cultivate new perspective. If I sit too long inside at my desk, everything becomes big, giant, overwhelming, especially in stressful seasons. Moving outside is the best prescription for weariness and only costs a few ticks on the clock.
Whether I binge-watch Downton Abbey, sit under a blanket on the couch with a page turner, or bump into a friend at a coffee shop, the outcome is the same­—an abiding awareness that God is with me in the waiting.
"God rewrote the text of my life when I opened the book of my heart to his eyes" (, MSG).
Shelly Miller is a writer, photographer, clergy wife, mother of two teens, and leadership coach. She enjoys writing stories that make people think differently about life, helping women discover their calling, and the luxury of being inspired by other cultures. You can read more of her stories on her blog, Redemption's Beauty, connect on Facebook and Twitter, and join the Sabbath Society.