Should I Stay or Should I Go?
How to know whether to leave or stay in your ministry context.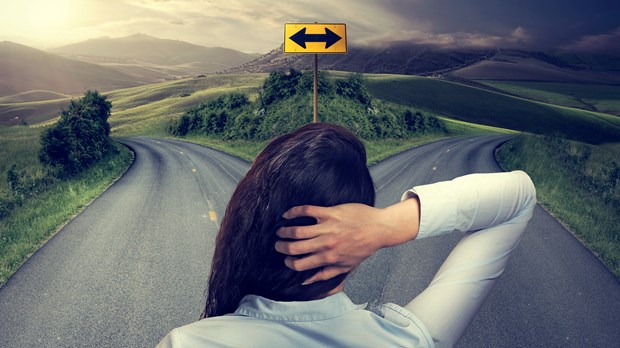 "You're called in until you're called out." I'll never forget the words my mentor spoke over me when I found myself at a crossroads, wondering if I should stay or go in ministry.
My calling in had been clear: after four years of teaching high school English, I knew God was calling me out of the traditional classroom and into full-time outreach ministry. Sitting in the back of an auditorium one night, I felt the speaker's words directed solely toward me. If you can't imagine doing anything else with your life, maybe this is God's way of directing you into full-time work ministry.
Two and a half years later, I stood at another crossroads: this time, I wondered whether I should return to the classroom, accept a ministry position close to home, or pursue another ministry position hundreds of miles away from home. Soon enough, I heard the words, clear as day: You're free, my dear. You're free! Free to follow my heart, I pursued the position eight hundred miles away from home and didn't look back for another six years—until it really was time for me to go.
By that point, I clearly felt called out. Even though saying goodbye felt like a wrench to the heart, my time was over. Although the pain of leaving sometimes overwhelmed the joy of staying, a single choice to go remained. This time, God didn't whisper words of clarity to me as much as God sat in silence beside me.
I'd been called out, just as I'd been called in.
Perhaps like me, you find yourself at a similar crossroads in ministry, wondering whether you should stay or go in your particular ministry context. You love the church, and you don't have to think too far back to remember that moment of calling, when you said the only "yes" your mouth could muster.
But now, just as much as you were called in to ministry, you wonder if you're being called out of ministry.
Before Amy Ickes began coaching women in vocational ministry, she served as Adult Ministries Director at a large Evangelical Free church for two years and at a previous church for two and a half years. Although the decision to leave wasn't ultimately hers, Ickes has found words for the discernment process, particularly when it comes to discontentment in ministry.
"Unholy discontent is usually accompanied by anger, bitterness, resentment, gossip and the like," she wrote in an email. "Holy discontent is characterized by a genuine desire to do whatever God wants us to do, even if it means making sacrifices. As we pray about our discontentment and the idea of staying, if God wants us to stay put, we'll have real peace whenever we think, pray, and talk about it." Practically speaking, Ickes also recommends the practice of journaling. In the writing process, be completely honest with yourself, so that when you return to your thoughts, you can look at the situation objectively. Ickes also suggests talking to a trusted mentor; this, she says, is critically important because "leaving a job in ministry is somehow not like leaving an accounting job."
I couldn't agree more—although sometimes not talking to trusted friends and mentors is exactly what we need in times of discernment. As a verbal processor, I can oftentimes gab to girlfriends more than I take time to sit in silence with my thoughts. For me, putting the conversation on hold for a month or two helped in the discernment process, mostly because it forced me to talk to the One who yearned to talk to me in the first place.
For Ickes, though, sometimes you just have to pitch your tent in the land of hope (or so Acts 2:26 would say). Just because there's opposition in a particular ministry situation doesn't mean hope isn't present, nor does it mean you're supposed to leave. Perhaps you're supposed to stay, especially if your situation is knowingly going to improve or change.
But for some women in ministry, discontent doesn't accompany the discernment process when it's clearly time to go.
Grace P. Cho, a second-generation Korean American, lived overseas for seven years, as her parents were missionaries in Kazakhstan with the Korean Presbyterian Church. When she was sixteen, Cho moved back to the States to live with her sister, plugging back into their sending church in Southern California. She stayed there throughout her college years, eventually meeting the man who would become her husband. It wasn't until 2007, when Cho left to pursue a Master of Religion degree from Gordon Conwell Theological Seminary, that she realized the depths of her calling into ministry.
Even though the church of her youth didn't support women in ministry, she believed herself clearly primed for church ministry. Soon enough, the pastor she served with during college asked if she would consider joining his team at an Assemblies of God church in Las Vegas. Not only had he invested in her as a leader, but he had also been confident of her gifts and passions. So, when he asked her to serve, Cho felt like she was simply stepping into God's next thing.
Over the next seven years, Cho served first as a Mission Pastor and then as a Children's Pastor. But in 2015, six years into her ministry career, she began to feel a pull back to California, where she and her husband were both originally from. In addition to following the call to ministry, Cho had also begun to find herself through writing.
Following the events in Ferguson, Missouri in 2014, Cho's personal journey of racial reconciliation and cultural identity collided with her writing journey.
"It felt like a crisis," she stated over Skype. "There was a feeling of 'I feel God's pleasure when I write, more than when I'm doing ministry.' More than anything I found myself asking, why would God call me out of ministry when this is what I've trained for my entire life? Why would God call me into writing when no one has ever told me my writing was any good?" Cho simultaneously felt a wedge between her and ministry, just as she innately felt a pull for her and writing.
In 2017, it became apparent that it was finally time to leave full-time ministry. Weeks after she stepped down, truth crashed down upon her. In a single moment, she realized the ceiling she was under: "…not only because I'm a woman, but because I'm a Korean American woman. I had the pressure of two ceilings—gender and culture—keeping me down." Not only had Cho been called into writing, but she also believed God was raising her up as a woman leader.
Now, nearly a year and a half later, Cho doesn't doubt that God has been with her every step of the way. A leader of leaders, her heart is to raise up women leaders to help them understand there doesn't need to be a ceiling, that women can fully put their shoulders back and stand tall in the ways God created them. Through various mentoring opportunities, through writing, and through her work as editorial manager for (in)courage, she continues to see how God called her in, just as clearly as he called her out.
And isn't this key for all of us, as women leaders in the church? We're called in until we're called out, believing God with us every step of the way. After all, if it happened for me, Amy Ickes, and Grace Cho, I don't doubt it'll happen for you as well.
Cara Meredith is a writer and speaker from the greater San Francisco Bay Area. Her first book, The Color of Life, released in February. You can connect with her on her website, Instagram, Facebook, and Twitter.