The Struggle to Find a Mentor
If you still haven't found your ideal mentor, consider these new models of mentoring.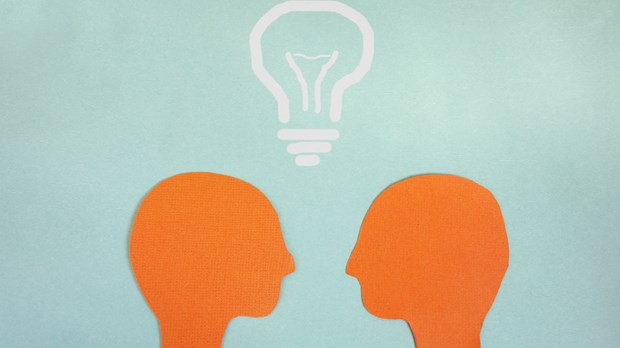 If you were to imagine your ideal mentor, what would she be like?
Let me tell you about mine. My ideal mentor would be a woman, at least a step or two ahead of me in life. She would be wise, discerning, and nurturing. She would be devoted to Christ, with a contagious faith. She would speak hard truths with gentle grace. She would also be a writer, offering insight and guidance for my writing, helping me to remain focused and centered. She would help me to grow as a writer, a leader, and a woman of God.
That's the kind of mentor I dream of having. She's basically a mix of Beth Moore, Mrs. Claus, and Jesus. And to date, I have never met her.
Or at least, she doesn't live close by.
That's the trouble with my ideal mentor: the qualifications are not impossible, but they are uncommon, and writers exist like pinpricks on a map. Unless you live in Chicago or New York or Nashville, there aren't large clusters of writers nearby. I don't have many writer friends in my vicinity, which makes the pool of available mentors quite small.
That isolation is common, not just for writers, but for evangelical women in leadership. Whether you write, work at a church, or lead a non-profit, women are often alone at the top. They have few female peers, and even fewer female role models, which is why many women harbor an unmet desire for mentoring.
This was true of many of the women I interviewed at evangelical seminaries last year. Student after student expressed her disappointment at the absence of mentors:
"I've never really had a mentor before, so I'm hoping that will happen."
"I've never had a mentor or anything like that. That's something that God and I have a little beef about."
"I didn't have a mentor reach out to me because I seem driven and passionate."
"I searched for a lot of mentors but they were not there, and I was getting frustrated."
One woman finally concluded, "One particular lesson God has taught me is that he is the one who mentors."
New Models of Mentoring
Among the women who did have mentors, many described non-traditional mentoring relationships. For instance, several women were mentored by older women in their church who had no experience in leadership, but were able to encourage them spiritually. As one student put it, "I have a mentor who is not in ministry. She's more like a personal mentor."
Other students described their parents as having mentored them, while some cited the "mentorship" of books and DVD's. These non-traditional forms of mentoring reveal the changing face of mentorship. It may not fit our ideal, but it's also not surprising. Female leaders are frequently trailblazers, which means these "first women" have to think outside the box.
In a recent issue of Propel magazine, Liberty University professor Karen Swallow Prior reflected on this new model of mentorship, and what it means for women today. She highlighted the benefits of observing colleagues, volunteering to help your role models, and fostering intentional relationships.
To that list, I would add the value of "piecemeal mentorship." This term refers to the "piecing together" of mentorship through the expertise of multiple people. The woman I described above—my "ideal" mentor—may not live close by, but I have encountered pieces of her in women (and men) throughout my life. Some have encouraged me spiritually, while others have guided my writing. I might not be able to sit down with my ideal mentor each month, but God has met many of my desires through the diversity of his people.
And what about male-female mentorships? A handful of the women I interviewed had been mentored by men, and they benefited from the guidance tremendously. Many leaders are uncomfortable with male-female mentoring, however, and prefer to avoid them. In the face of this obstacle for women, the "new mentoring" can also adapt.
For starters, one student was mentored by a married couple. This arrangement does not always make sense, but it's certainly an option. Ed Stetzer, the Executive Director of LifeWay Research, models another great alternative. Stetzer regularly meets with a group of female LifeWay employees to help them be "better connected, more informed, and better leaders." This set-up allows Stetzer to share his expertise in an environment that remains above reproach.
Encouragement and Challenge
One of the things I most appreciate about Stetzer is his willingness to leverage his own influence for others. This is the heart of mentorship, so to all you "first women" out there, I encourage you to start mentoring, if you're not doing so already. We all have a lot on our plates, but mentoring is an important part of being the body of Christ. It's how we steward the gifts of our sisters, and it is, quite literally, how Jesus gave birth to the church.
To those of you who yearn for a mentor: you're not alone, but let me challenge you in two ways. First, consider who God has put in your life for training, guidance, and spiritual encouragement. Don't let a narrow model of mentorship overshadow God's intentional equipping of you. Second, don't be afraid to put yourself out there. Ask people to mentor you. It can be intimidating, but I suspect some of us lack mentors for fear of asking.
Until the number of women in leadership equalizes, we will have to be wise and resourceful to make up for the absence of female mentors. At the same time, I'm optimistic about what God is doing among women, even with this professional disadvantage. The women I interviewed were intelligent, motivated, passionate, and, most importantly, committed to Christ. I left each interview convinced that God is raising up an awesome generation of women. He's doing something amazing and new. The new model of mentorship is just a tiny sliver of it.
Sharon Hodde Miller is a writer, speaker, pastor's wife, and mom. She earned her PhD on the subject of women and calling. You can read more of her writing at SheWorships.com.