Shut Up and Show Up
Become a minister of presence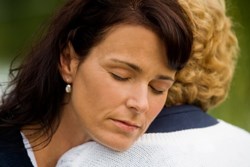 My husband and I couldn't eat or sleep. We couldn't think clearly enough to work and yet couldn't imagine being home with the walls caving in around us. We had cried until we were surprised there were any tears left. The news we had received was devastating. We found ourselves in one of those time-stands-still experiences that we had seen happen to others but never expected to happen to us. There was no fix or solution or possibility of wishing it away.
And then my parents showed up. They dropped everything in their lives after our call that morning and made the five-hour drive to our door. Not telling us ahead of time, knowing we would try to talk them out of it, they came not to make it better, but to simply be with us.
And then our friend Colleen showed up. She did the only thing she could think of–she made a huge meal and brought it over, knowing we couldn't imagine eating and yet would eventually be famished. And she hugged us with tears rolling down her cheeks.
And then our friends TJ and Micha showed up. When Micha called, asking what they could do, I was awkwardly vulnerable and told her that being alone that afternoon felt like torture and asked if we could hang out with them that night. And so she invited us to come to their house to watch American Idol and eat pizza and just be together.
There were so many who ministered to us in those dark days with cards, prayers, and words of encouragement. But the ministry I learned most about during that time was the ministry of presence.
My chaplain friend Ann Golding offers workshops on the how-to of this simple yet profound ministry. Ann defines it this way: "A minister of presence is one who comes alongside another in a time of crisis, personally attending to an emotional or spiritual need by their physical, spiritual, or emotional presence." The dear ones mentioned above offered us what they could: no solutions or words, just their presence. And their presence was just as valuable, and just what we needed.
In my years of pastoral ministry, I encountered countless situations where people in our community would experience a crisis for which I had no context. It's natural for me to offer strategic solutions to problems or organize people or processes. But when the situation at hand didn't call for any of those skills, I would feel in over my head and wonder what good I could do them at all.
And then God would remind me of the ministry of presence.
So I would fill my bag with Kleenex, snacks, and my Bible and just offer to be with them in the middle of whatever was going on. Sometimes the ministry of presence looked like sitting in a hospital waiting room and offering a safe place to fall apart after a woman had held it together for everyone else. Another time it looked like baking a pie and saying, "I remember." And one time it meant showing up at a woman's house to play with her daughter as she packed to leave for her father's funeral.
I don't always get ministry of presence right. Sometimes I let my fear of not wanting to get in the way or of saying the wrong thing make me freeze or retreat. But I have found that if I can just get over my fear and awkwardness, if I'll just shut up and show up, if I'll just be fully present, I can't really get it wrong.
Now I consider the ministry of presence to be one of the most powerful aspects of my personal and professional ministry life. For whom do you need to shut up and show up? How can you minister through your presence today?
Julie Pierce empowers leaders to change the world through coaching, consulting teams, and communicating with groups. You can follow her on Twitter at julie_pierce or read her leadership blog at www.empoweredbypierce.com