Savor Advent, Feast on Christmas
My family's new traditions made the season richer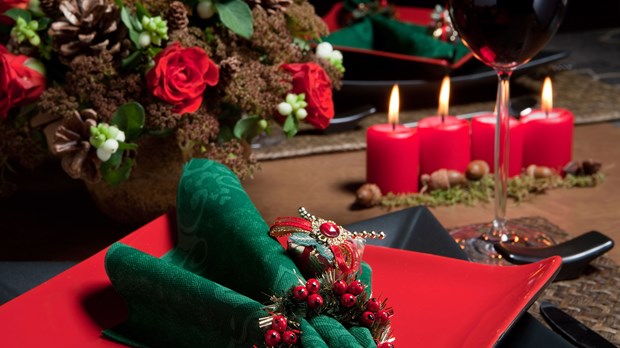 Savor Advent, Feast on Christmas
It may be easier to roll a boulder up hill than to change holiday traditions. Several years ago, when I declared to my family that we would start new practices in the month of December, their response was not thundering applause.
"Ugh," grunted my firstborn. (Insert tween attitude, eye rolls, and drama here.) "Why do we have to be so different from every other family? Everyone else starts doing Christmas stuff right after Thanksgiving! Why not us?"
The Light Shines in the Darkness
In medieval times, Christmastide, or the Christmas season, began not the day after Thanksgiving (or even earlier, as modern retailers' displays suggest), but on Christmas Eve. Outward expressions of merrymaking in the forms of feasting, jousting, caroling, football, and other games celebrated the birth of the Messiah.
Gifts were exchanged, but they weren't the highlight. The foundation of Christmas joy was light—God's light, overcoming darkness. As the prologue to the Gospel of John confirms, Jesus is this light.
The Ultimate History Project explains the significance of light overcoming darkness for medieval Christians. In a world whose evenings were lit by fire and candlelight, winter months were long and dark, especially in northern Europe. For medieval Europeans, Christmas had a strong appeal, as it came just a few days after the winter solstice, the longest night of the year. The celebration of the Messiah's birth was about both his mission and their much-needed pick-me-up in the middle of what was often a long and dark winter.
The arrival of the Christ child signified warmth and light, a literal salvation from the bleakness of everyday winter life. I wanted my family—and me—to experience this all-but-desperate need for Christ too.
Wait for the Lord; Renew Your Strength
As the Black Eyed Peas noted in their 2009 song "Now Generation," folk today "ain't got no patience," and we want almost everything immediately. Each year Christmas decorations and advertisements appear earlier and earlier. Retailers can't wait to bring their sales into the black, and we want to feel Christmas joy and cheer…well, now. Never mind that we miss what is right in front of us when we rush and we take retail therapy to an extreme.
Among other things, Advent teaches us to wait and to draw near to God while we do so. Jesus points his followers towards active waiting, and being ready, for only God knows when the Messiah will return (Matthew 25:13). During Advent my family does this in two ways. First, through spiritual disciplines—meditation and prayer, self-examination and repentance, Scripture reading and discussion. Second, by being more intentional to do as Jesus did to feed the hungry, clothe the naked, speak out against injustice, and welcome everyone to join us as we seek to follow God.
My family adopted the habit of gathering around our wreath nightly throughout Advent. We light the number of candles corresponding to the present week. My daughters, 10 and 8, take turns reading the daily Scripture passage and devotional material, and each family member shares her or his take on the message. And when we miss an evening, as we inevitably do, the girls are the ones who urge us to get back on track. The family time around the candles, the wreath, and the Story is a priceless, continuously giving gift.
As part of our Advent observation, my family volunteers with an organization that supports local families in need. In the past we have gathered and organized canned goods, categorized toys, purchased requested items, and delivered Christmas gifts and one month's worth of food to people we'd never met previously. Several families joined us in prayer, and one hung in with us as we all did our best communicate via broken Spanish and English. Hardly ever has the Holy Spirit been more palpable, and we all felt it.
A Christmas Feast
My family aids our wait by putting up our tree on the first Sunday of Advent, but decorations are minimal. The primary color is purple, the liturgical color of Advent, throughout the four weeks prior to Christmas. We don't sing Christmas carols, and no presents go under the tree.
After we get home from worship on Christmas Eve, we welcome the Christmas season the same way the church does. We redecorate, changing the colors on our tree from purple to white, and light the Christ candle in the center of our wreath. Next we add lights to the tree, add glittery ornaments, and proclaim Christ born, the Light of the World come. We sing hymns of Christmas joy into exhaustion and flop into bed on that most divine of nights. On Christmas Day, we awake in the morning to presents, then feast on food and quality family time the rest of the day.
"Let every heart prepare him room," the hymn says. It's difficult to make room for Jesus when checking things off one's to-do list is the holiday motivator. There are many ways for a family to savor Advent. What matters is that you find your own way, and stick to it. Regularity and consistency are key to embracing new practices.
After four years of celebrating a more robust Advent, my oldest now says that our practice makes Christmas better.
"I wish that other families did Advent the way that we do," she said recently. "Then they could better appreciate the reason for the season—Jesus."
Amen, baby girl. Amen.
Rev. Angie Mabry-Nauta is a writer and an ordained Minister of Word and Sacrament in the Reformed Church in America (RCA). She served as a solo pastor for six years. A member of the Redbud Writer's Guild, Angie blogs at "Woman, in Progress…". Follow her on Facebook and Twitter @Godstuffwriter.