Pastor's Library
Access the complete Leadership Journal archives. Containing over 35 years of issues. These archives contain a trove of pastoral wisdom, leadership skills, and encouragement for your calling.
How churches are reaching "the least of these".
Fall 2007: On the Margins
Volume 28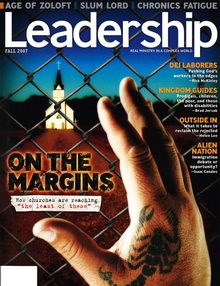 Subscribe to Christianity Today and get access to this issue and the entire CT Pastors archive.
10 award-winning print issues
PDFs of each issue
Full web access to ChristianityToday.com
60+ years of magazine archives
In this Issue
Features
Parse
Commentary
Good Marginal Thinking

The heroes of church history began as reflective Christians who doubted what everyone else took for granted.

Want to Be Wonder-full?

We really like our Vaseline tubes. That's what makes us less likely to follow Jesus to the margins.
Toolkit
Bonus Article
Subscribe to Christianity Today and get 2 special issues from CT Pastors each year plus instant access to the digital archives.