Ignatius of Loyola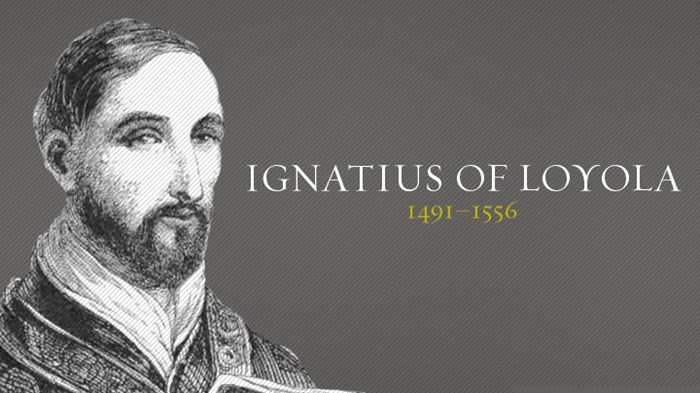 "Without seeing any vision, he understood and knew many things, as well spiritual things as things of the faith."
—Ignatius of Loyola, writing of himself
"Soul of Christ, make me holy." So says the first line of a prayer that Ignatius of Loyola recommends to those who take up his Spiritual Exercises, one of the most influential devotional books in the church's history—it's still being published, and followed, some 460 years after he first conceived it.
In fact, whatever Ignatius touched seemed to be set apart as something special: the order he founded, the Society of Jesus, became one of the most influential of Catholic orders.
Yet Ignatius' little prayer sums up not only his legacy but also his person.
Given to vanities
He was born Iñigo Lopez de Loyola, to a noble and wealthy Basque family, and sent to the Spanish court to become a page. He embraced court life with enthusiasm, learning weapons, gambling, and courtly love—he was "a man given to the vanities of the world," he later wrote in his autobiography, "whose chief delight consisted in martial exercises, with a great and vain desire to win renown."
In a battle with the French for the town of Pamplona, Spain, he was hit by a cannon ball the size of a fist. The five-foot-two-inch Iñigo was helped back to Loyola by French soldiers (who admired his courage). He underwent surgeries to reset his right knee and remove a protruding bone. For seven weeks he lay in bed recuperating.
During this time, he began reading spiritual books and accounts of the exploits of Dominic and Francis. In one book by a Cistercian monk, the spiritual life was conceived as one of holy chivalry; the idea fascinated Iñigo. During his convalescence he received spiritual visions, so that by the time he recuperated, he had resolved to live a life of austerity to do penance for his sins.
In February 1522, Iñigo bade farewell to his family and went to Montserrat, a pilgrimage site in northeastern Spain. He spent three days confessing his life sins, then hung his sword and dagger near the statue of the Virgin Mary to symbolize his break with his old life. He donned sack cloth and walked to Manresa, a town 30 miles from Barcelona, to pass the decisive months of his career (from March 1522 to mid-February 1523). He lived as a beggar, ate and drank sparingly, scourged himself, and for a time neither trimmed his tangled hair nor cut his nails. He attended Mass daily and spent seven hours a day in prayer, often in a cave outside Manresa.
While sitting one day by the Cardoner River, "the eyes of his understanding began to open," he later wrote, referring to himself in the third person, "and, without seeing any vision, he understood and knew many things, as well spiritual things as things of the faith." At Manresa, he sketched the fundamentals of his little book Spiritual Exercises.
After a pilgrimage to the Holy Land, he headed back to Europe: "After the pilgrim he learned that it was God's will that he should not stay in Jerusalem," he wrote, "he pondered in his heart what he should do and finally decided to study for a time in order to be able to help souls."
He chose to defer priesthood, which would have taken but a few years of study, for a more intense and lasting 12 years of education. Iñigo studied at Barcelona, then Alcala, where he acquired followers. But Iñigo soon fell under suspicion of heresy (as a non-ordained person encouraging others to reflect on their spiritual experiences, he was distrusted by the church hierarchy), was imprisoned and tried by the Spanish Inquisition—the first of many such encounters with the Inquisition. He was found innocent, left for Salamanca, where he was imprisoned (and acquitted) again. With this, he and his companions left Spain for study at Paris.
During his long stay in the French capital, where he changed his name to Ignatius, he won the coveted master of arts degree, gathered more companions (among them Francis Xavier, who became one of the order's greatest missionaries). In 1534 he and his little band bound themselves by vows of poverty, chastity, and obedience—though they had not yet decided to found a religious order.
Jesus incorporated
Then they made their way to Venice, and there, in 1537, Ignatius and most of his companions were ordained. For the next 18 months they ministered and prayed together. One companion later remembered about Ignatius, "When he did not weep three times during Mass, he considered himself deprived of consolation."
During this time Ignatius had one of his most decisive visions. While in prayer one day, he saw Christ with a cross on his shoulder, and beside him was God the Father, who said, "I wish you to take this man [meaning Ignatius] for your servant."
Jesus said to Ignatius, "My will is that you should serve us."
Ignatius was also told that his group was to be called "the company of Jesus," that they were to be like a company of fur traders yet focused on doing God's will.
In 1540 the small band gained the pope's approval and was named the Society of Jesus: they determined a method of decision making, vowed to obey the pope as the voice of Christ, and elected Ignatius as superior general. Thus began 15 years of administrative life in Rome for Ignatius.
The vision and disciplines of the "Jesuits," as they came to be called, caught the imagination of Europe. Soon Jesuits were found in Europe's major cities as well as in the new world: Gao, Mexico City, Quebec, Buenos Aires, and Bogota. They opened hospices for the dying, sought financial support for the poor, founded orphanages, and opened schools.
The Constitutions of the Society of Jesus was probably the most important work of Ignatius's later years. His followers abandoned some traditional forms of religious life (such as chanting the divine office, physical punishments, and penitential garb), in favor of greater adaptability and mobility. The Society was above all to be an order of apostles "ready to live in any part of the world where there was hope of God's greater glory and the good of souls."
His greatest legacy is his Spiritual Exercises, which has been in constant use for 460 years. The Exercises lead a person through four "weeks" (a flexible term) of meditations and prayers, guided by a spiritual director, generally during a retreat (though there are provisions for non-retreat direction).
Purifying one's soul is the object of the first week; greater knowledge and the love of Christ, the second; freeing the will to follow Christ, the third; and releasing the heart from worldly attachments, the fourth. The perfection of the soul, the imitation of Christ, and the soul's attachment to God are goals for the exercises that reflect the holy ambitions of Ignatius from his conversion.
Ignatius was canonized by Pope Gregory XV in 1622. In 1922 he was declared patron of all spiritual retreats by Pope Pius XI.
Timeline

1453

Constantinople falls; end of Eastern Roman Empire

1456

Gutenberg produces first printed Bible

1479

Establishment of Spanish Inquisition

1491

Ignatius of Loyola born

1556

Ignatius of Loyola dies

1565

Teresa of Avila writes The Way of Perfection