Brother Lawrence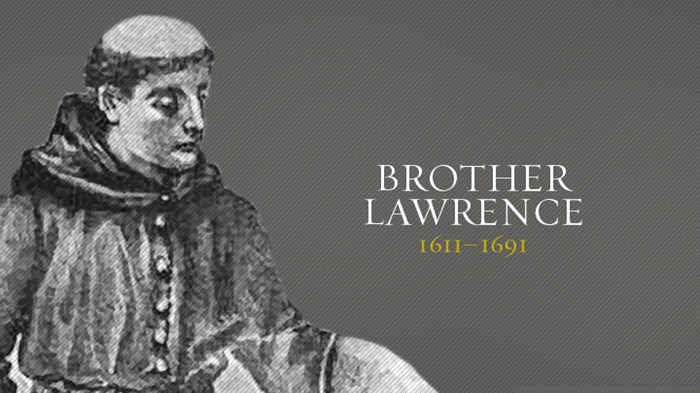 "It is enough for me to pick up but a straw from the ground for the love of God."
In tumultuous seventeenth-century France, with its power struggles, debts, and perpetual unrest, lived several spiritual luminaries whose wisdom still guides people today. Francis de Sales, Blaise Pascal, Madame Guyon, and Francois Fenelon all pursued an inner path of devotion to Jesus that shed light on both their world and ours.
Of all the shining lights of that century, though, none speak with the simplicity and humble grace of one lay monk whose quiet presence resided in the heart of turbulent Paris. More than any other of his day, Brother Lawrence understood the holiness available within the common business of life.
Timeline

1589

Moscow becomes independent patriarchate

1598

Edict of Nantes (revoked 1685)

1609

John Smyth baptizes self and first Baptists

1611

Brother Lawrence born

1691

Brother Lawrence dies

1707

J.S. Bach publishes first work
Most of what is known about Brother Lawrence comes through the efforts of Abbe de Beaufort, the Cardinal de Noailles's envoy and investigator. By 1666 Brother Lawrence's unusual wisdom had caught the cardinal's attention, and Beaufort was directed to interview the lowly kitchen aide. Upon ascertaining that Beaufort's interest was genuine, and not politically motivated, Brother Lawrence granted four interviews, "conversations," in which he describes his way of life and how he came to it.
Besides these recorded thoughts, Lawrence's fellow monks found in his personal effects several pages of Maxims, the only organized written material Brother Lawrence left. These, the conversations (now entitled The Practice of the Presence of God) and 16 letters represent Lawrence's full teaching.
God is in the kitchen
>He began life as Nicholas Herman, born to peasant parents in Lorraine, France. As a young man, his poverty forced him into joining the army, and thus he was guaranteed meals and a small stipend. During this period, Herman had an experience that set him on a unique spiritual journey; it wasn't, characteristically, a supernatural vision, but a supernatural clarity into a common sight.
In the deep of winter, Herman looked at a barren tree, stripped of leaves and fruit, waiting silently and patiently for the sure hope of summer abundance. Gazing at the tree, Herman grasped for the first time the extravagance of God's grace and the unfailing sovereignty of divine providence. Like the tree, he himself was seemingly dead, but God had life waiting for him, and the turn of seasons would bring fullness. At that moment, he said, that leafless tree "first flashed in upon my soul the fact of God," and a love for God that never after ceased to burn. Sometime later, an injury forced his retirement from the army, and after a stint as a footman, he sought a place where he could suffer for his failures. He thus entered the Discalced Carmelite monastery in Paris as Brother Lawrence.
He was assigned to the monastery kitchen where, amidst the tedious chores of cooking and cleaning at the constant bidding of his superiors, he developed his rule of spirituality and work. In his Maxims, Lawrence writes, "Men invent means and methods of coming at God's love, they learn rules and set up devices to remind them of that love, and it seems like a world of trouble to bring oneself into the consciousness of God's presence. Yet it might be so simple. Is it not quicker and easier just to do our common business wholly for the love of him?"
For Brother Lawrence, "common business," no matter how mundane or routine, was the medium of God's love. The issue was not the sacredness or worldly status of the task but the motivation behind it. "Nor is it needful that we should have great things to do. . . We can do little things for God; I turn the cake that is frying on the pan for love of him, and that done, if there is nothing else to call me, I prostrate myself in worship before him, who has given me grace to work; afterwards I rise happier than a king. It is enough for me to pick up but a straw from the ground for the love of God."
Brother Lawrence retreated to a place in his heart where the love of God made every detail of his life of surpassing value. "I began to live as if there were no one save God and me in the world." Together, God and Brother Lawrence cooked meals, ran errands, scrubbed pots, and endured the scorn of the world.
He admitted that the path to this perfect union was not easy. He spent years disciplining his heart and mind to yield to God's presence. "As often as I could, I placed myself as a worshiper before him, fixing my mind upon his holy presence, recalling it when I found it wandering from him. This proved to be an exercise frequently painful, yet I persisted through all difficulties."
Only when he reconciled himself to the thought that this struggle and longing was his destiny did he find a new peace: his soul "had come to its own home and place of rest." There he spent the rest of his 80 years, dying in relative obscurity and pain and perfect joy.