Catherine of Siena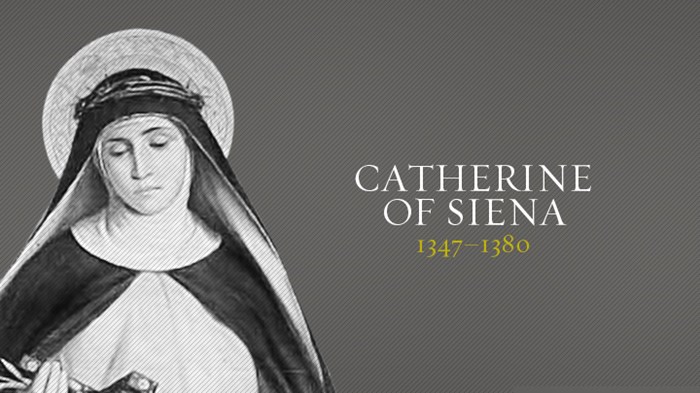 "[You are] not to love Me for your own sake, or your neighbor for your own sake, but to love Me for Myself, yourself for Myself, your neighbor for Myself."
—from a divine vision to Catherine of Siena
As a young girl, Catherine often went to a cave near her home in Siena to meditate, fast, and pray. At about age 7, she claimed to have seen a vision of Jesus with Peter, Paul, and John the evangelist; then she announced to her parents her determination to live a religious life. Convinced of her devotion, they gave her a small room in the basement of their home that acted as a hermitage.
This extraordinary girl blossomed into a no less extraordinary woman whose spiritual, moral, and political efforts had a lasting effect.
Timeline

1302

Unam Sanctam proclaims papal supremacy

1309

Papacy begins "Babylonian" exile in Avignon

1321

Dante Completes Divine Comedy

1347

Catherine of Siena born

1380

Catherine of Siena dies

1418

Thomas á Kempis writes The Imitation of Christ
Mystical child
Caterina Benincasa's birth into a middle-class Sienese wool dyer's family caused scarcely a ripple; she was the twenty-third of 25 children. Another event that year, a flea full of the bacillus Yersinia pestis entering the Italian port of Messina, brought a tidal wave of disease called the "Black Death." In just three years, 1348 to 1350, more than one-third of Europe died. Baby Catherine survived the onslaught and, in adulthood, saved many plague victims through her compassionate nursing.
After moving into her hermitage, she slept on a board, used a wooden log for a pillow, and meditated on her only spiritual token, a crucifix. She claimed to have received an invisible (for humility) stigmata by which she felt the wounds of Christ. At one time, her parents tried to persuade her to marry, but Catherine was steadfast and at age 15, she cut off her hair to thwart their designs.
Catherine was not satisfied living a contemplative life; she wanted to help the poor and sick. But she did not want to be an ordinary nun. Through the influence of her cousin, a Dominican priest and her first confessor, Catherine joined the Dominican Order of Penance (later known as the Dominican Third Order) in 1363. This "third way" was an organization of religious lay people who lived at home, wore distinctive dress, and directed their own activities in sacrificial service to the poor and sick.
From ages 16 to 19, Catherine continued living a secluded life at home and attracted many followers, who were drawn by her feisty personality and exemplary sanctity. During this time, she learned to read and became familiar with the church fathers, like Gregory the Great and Augustine, as well as popular preachers of the day. At the end of this three-year seclusion, Catherine experienced what she later described as "spiritual marriage" to Christ. In this vision, Jesus placed a ring on her finger, and her soul attained mystical union with God. She called this state an "inner cell in her soul" that sustained her all her life as she traveled and ministered.
Mysticism in action
Catherine began an active ministry to the poor, the sick, and the imprisoned of Siena. When a wave of the plague struck her hometown in 1374, most people fled, but she and her followers stayed to nurse the ill and bury the dead. She was said to be tireless by day and night, healing all of whom the physicians despaired; some even claimed she raised the dead.
When the crisis abated, she embarked on a letter-writing ministry to convert sinners and reform the church and society. Like many reformers of the day, she was disturbed by the rampant corruption of the church, and she believed the source of the problem was the so-called Babylonian Captivity. Because of early fourteenth-century political intrigue, the papacy had moved to Avignon, France. This scandalized people for two reasons: first, the papacy was divorced from the special sanctity of Rome. Second, the popes became increasingly captive to French politics and lifestyle, which were decadent and corrupt.
In a series of letters, Catherine exhorted the pope to address the problems of the church and charged him to return to Rome: "Respond to the Holy Spirit who is calling you! I tell you: Come! Come! Come! Don't wait for time because time isn't waiting for you."
One year later, in 1377, after Catherine had visited with him in Avignon, Gregory XI finally returned to Rome. It was the great moment of her public life.
In her 383 extant letters and The Dialogue, which she referred to as "my book" and which describes her mystical experiences, she expressed her driving motivation to love God. She wrote that God told her "not to love Me for your own sake, or your neighbor for your own sake, but to love Me for myself, yourself for Myself, your neighbor for Myself."
At the heart of Catherine's teaching was the image of a bleeding Christ, the Redeemer—ablaze with fiery charity, eager sacrifice, and unqualified forgiveness. And it was not the cross or nails that held Christ to the tree; those were not strong enough to hold the God-Man. It was love that held him there. She records God's words to her: "My son's nailed feet are a stair by which you can climb to his side, where you will see revealed his inmost heart. For when the soul has … looked with her mind's eye into my son's opened heart, she begins to feel the love of her own heart in his consummate and unspeakable love."
Catherine died in Rome at the age of 33. In 1970 the Roman Catholic Church declared her a doctor of the church, an honor bestowed on only 31 others (and only one other woman).