Catherine Booth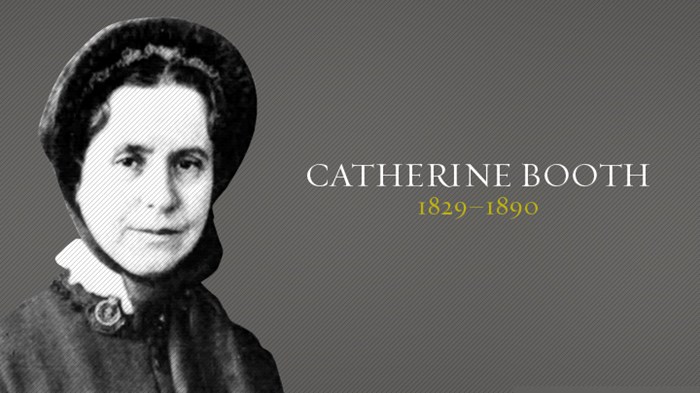 "If the Word of God forbids female ministry, we would ask how it happens that so many of the most devoted handmaidens of the Lord have felt constrained by the Holy Ghost to exercise it? … The Word and the Spirit cannot contradict each other."
They were unlikely evangelists. Eighteen-year-old Rose Clapham stood with her colleague, Jenny Smith, and invited hundreds of world-weary coal miners in Yorkshire, England, to a meeting in the local theater. At that 1878 meeting, Rose, an uneducated factory worker, persuaded 700 men to make decisions for Christ—140 of which became the first members of a new church.
Rose was but one of the new "Hallelujah lasses" who were making the Salvation Army one of the most effective missions in England. Who inspired these young, working-class women to minister in such an unusual way? Catherine Booth, co-founder of the Salvation Army.
Liberating gospel
Catherine was raised in the pious and sheltered world of small-town Victorian England, and her mother was a model of Methodist piety. In her teenage years, Catherine suffered from a spinal curvature and was forced to lay in bed months at a time. She read voraciously, especially the writings of Charles Finney and John Wesley, and she not only became assured of her own salvation but also gained a glimmer of her own calling to public ministry.
When people suggested that a woman's place was in the home, she wondered if the Christian church, which preached a liberating gospel to both men and women, could keep women from expressing their manifold ministry gifts. She eventually concluded that a false interpretation of Paul's comment about women keeping silent in church had resulted in "loss to the church, evil to the world, and dishonor to God."
In the early 1850s, she met and married William Booth, a young preacher who was making a name for himself. When she shared her emerging convictions with her new husband, he said, "I would not stop a woman preaching on any account." But he added that neither would he "encourage one to begin."
Timeline

1804

British and Foreign Bible Society formed

1807

William Wilberforce succeeds abolishing slave trade

1817

Elizabeth Fry organizes relief in Newgate Prison

1829

Catherine Booth born

1890

Catherine Booth dies

1896

Billy Sunday begins leading revivals
Her book, Female Ministry, soon followed, a short, powerful defense of American Phoebe Palmer's holiness ministry. It was not a plea based on natural rights or other feminist themes of the day. Instead, she founded her argument on the absolute equality of men and women before God. She acknowledged that the Fall had put women into subjection, as a consequence of sin, but to leave them there, she said, was to reject the good news of the gospel, which proclaimed that the grace of Christ had restored what sin had taken away. Now all men and women were one in Christ.
In responding to her critics, she asked, "If the Word of God forbids female ministry, we would ask how it happens that so many of the most devoted handmaidens of the Lord have felt constrained by the Holy Ghost to exercise it? … The Word and the Spirit cannot contradict each other."
Counsel for the defense
Catherine herself, however, had yet to venture to preach or teach publicly. That occasion finally came in 1860, when she first preached during an evening Army service. Her abilities were soon apparent, and her reputation spread.
Her hearers were taken with her gentle manner as well as her powerful appeal. One of her sons later remarked, "She reminded me again and again of counsel pleading with judge and jury for the life of the prisoner. The fixed attention of the court, the mastery of facts, the absolute self-forgetfulness of the advocate, the ebb and flow of feeling, the hush during the vital passages—all were there."
Or as another man put it, "If ever I am charged with a crime, don't bother to get any of the great lawyers to defend me; get that woman."
Though she cared for a household of six at the time (she eventually raised eight children), her preaching schedule increased. She soon felt the pressure: "I cannot give time to preparation unless I can afford to put my sewing out. It never seems to occur to anybody that I cannot do two things at once." On top of that, her husband began falling ill, so she added the administration of the Army to her duties—and thus she grew into her matriarchal role as "the Army Mother."
Small wonder, then, that hundreds of "Hallelujah lasses," as they made their way in the wretched streets and alleys of industrial England, saw the Army Mother as their mentor. And no wonder that the once-lukewarm William, in drafting his Orders and Regulations for the Army, incorporated statements like these: "Women shall have the right to an equal share with men in the work of publishing salvation."