What Language Shall I Borrow?
Bach was not the first to try his hand at telling the story of Christ's suffering and death in musical form; such settings of the Gospel accounts were common from the Middle Ages onward. Yet Bach's settings of the Passion story endured because of their ability to place the listener at the foot of the cross—and some of the hymns he used became famous in the process.
Bach's Passions present both the onward march of the biblical narrative toward the cross and devotional commentary on that narrative. A soloist representing the Gospel writer (e.g. Matthew or John) narrates the biblical text, while the choir sings the part of the crowd. Other solos and chorally sung hymns, usually in the first person, apply the Scripture story to the life of the individual believer. To drive this application home, Bach used hymns familiar to churchgoers of his day—including two 17th-century texts still sung today, Paul Gerhardt's "O Sacred Head Now Wounded" and Johann Heermann's "Ah, Holy Jesus."
Luther built a strong tradition of congregational hymn singing characterized, in his hands, by hymns like "A Mighty Fortress" (termed by one music historian "that triumphant war-cry of the Reformation"). But violent theological controversy in the 16th century between two strands of Protestantism (the Lutherans and the Reformed), the devastation of the Thirty Years' War (1618-1648), and periodic outbreaks of the plague prompted later German hymn writers to focus more deeply on the inner spiritual life of the believer. Both Heermann and Gerhardt were part of this transformation. They were also no strangers to personal suffering.
Sifted in Satan's sieve
Born in Silesia (at the time part of Germany, but now in Poland), Johann Heermann (1585-1647) was the only surviving child of five and was in poor health throughout his life. After an eye infection ended his brief teaching career, in 1611 he became deacon and then pastor of the Lutheran church in Köben near his hometown.
The Thirty Years' War was hard on Köben, which was burned, plundered, and ravaged by the plague over the next several decades. Heermann lost all his possessions more than once, and was nearly killed or forced to flee several times. In 1634 a throat problem brought an end to his preaching, and he retired from the ministry in 1638.
Heermann published three collections of hymns. His hymn "Ah, Holy Jesus" was loosely based on a Latin poem attributed to St. Augustine in his day but now thought to have been the work of medieval monk-theologian Jean de Fécamp. Composer Johann Crüger soon united the hymn with a tune inspired by the Genevan Psalter.
Paul Gerhardt (1607-1676) was born in Saxony, part of modern-day Germany. Like Heermann, he grew up in the shadow of the Thirty Years' War. While he was studying theology at the University of Wittenburg, Swedish soldiers set a fire in his hometown of Gräfenhainichen that destroyed over 400 buildings, including the Gerhardt family home.
Ordained in 1651, Gerhardt pastored several Lutheran churches in and around Berlin. Here he came into conflict with Elector Frederick Wilhelm of Brandenburg-Prussia, a follower of the Reformed faith. In 1662 the Elector issued an edict forbidding preachers to mention the theological differences between the Lutherans and the Reformed in their sermons. Gerhardt refused to abide by this rule and lost his job in 1666. By this time, all but one of his six children had died in infancy, and his wife Anna Maria died in 1668, leaving him a widower with a young son. He obtained another church position in Lübben at the age of 63 and died there seven years later, reportedly with a stanza from one of his hymns on his lips. The motto on his official portrait read, "A theologian sifted in Satan's sieve."
Gerhardt wrote or translated over 130 hymns, many of which appeared in collections published by Johann Crüger. "O Sacred Head," first published in 1656, was a translation of a medieval poem sometimes attributed to Bernard of Clairvaux. The Latin text was in seven parts, one for each day of Holy Week, each contemplating a different aspect of Christ's body on the cross. Gerhardt chose to translate the last section addressing the head of Christ. (Interestingly, Crüger set Gerhardt's text to the tune of a well-known love song beginning, "Confused are all my feelings—a tender maid's the cause.")
All for sinners' gain
Like many of the popular hymns Bach used in his Passions, Gerhardt's and Heermann's lyrics paint a vivid picture of the Crucifixion and make the experience intensely personal.
"O Sacred Head" puts the singer at the foot of the cross and describes Christ's suffering body in vivid and frequently gory detail—a quality somewhat obscured by our modern translations. Our familiar opening stanza is actually a combination of Gerhardt's first two stanzas, which reads in the original: "O Head full of blood and wounds, full of pain and full of scorn, / O head, bound in mockery with a crown of thorns, / O Head, once decorated with the highest honor and adornment, / But now insulted to the utmost—I greet you!/ Noble face, before you at other times the world takes fright and shakes in fear. / How have you become so covered with spit? How have you grown so pale? / Who has so shamefully mauled your eyesight, which no other light outshines?"
After further contemplating Christ's suffering, Gerhardt asserts that it was all for our sake (the stanza we know as "What thou, my Lord, hast suffered/ Was all for sinners' gain"). He makes a passionate statement of love for Christ not usually found in modern translations: "Receive me, O my shepherd. / By you, O fountain of all good things, much good has been done to me; / Your mouth has refreshed me with milk and sweet food; / Your Spirit has bestowed much heavenly pleasure on me."
Gerhardt proclaims a willingness to stay with Christ to the end, unlike the faithless disciples: "I want to stay here with you—do not reject me. / I will not go away from you as your heart breaks. / When your head grows pale in the last stroke of death, / Then will I clasp you in my arm and bosom." The final stanza connects Christ's death with his power to save: "When I finally depart, do not leave me. / When I shall suffer death, then walk with me. / When my heart is stricken with complete anxiety, / Then pull me out of that anguish by the strength of your anguish and torment."
Love without measure
"Ah, Holy Jesus," though not as gory, is equally passionate. Our modern translation omits the fact that Heerman addresses Jesus not objectively as "holy" but personally as "beloved of my heart." Where Gerhardt focuses on describing the Crucifixion, Heerman emphasizes how our sinfulness led Jesus to be crucified: "O great love, O love without any measure, / Which has brought you to this road of torture! / I lived with the world in pleasure and joy, / And you must suffer."
Gerhardt wants to comfort Jesus in his anguish, but Heerman cannot think of any act he can offer and finally exclaims, "No human heart can invent anything to give you back in return. / With all my senses I cannot perceive / Anything to compare to your compassion./ How then can I repay/ Your deeds of love?" Our modern translation's last stanza ("Therefore, kind Jesus, since I cannot pay thee") leaves us contemplating Jesus' great sacrifice, but Heerman goes a step further as he envisions himself contemplating the resurrected and glorified Christ: "When, O Lord Jesus, there before your throne, / The crown of honor sits upon my head, / Then, when all around rings out beautifully, / I will sing praise and thanks to you."
The Cross of life
Bach used "Ah, Holy Jesus" in both the St. John Passion and the St. Matthew Passion. Stanzas of the hymn appear when Jesus predicts his crucifixion, when the soldiers come to arrest him in the garden, and when he proclaims before Pilate that his kingdom is not of this world. "O Sacred Head" appears only in the St. Matthew Passion (although in the St. John Passion Bach used another famous Gerhardt hymn that we know today as "Upon the Cross Extended"), but it reappears throughout the work, illustrating everything from Jesus' prophecy of his suffering, to the disciples' desertion in Gethsemane (where Bach uses the stanza professing a willingness not to desert Christ), through the scourging and mocking, to the moment when he breathes his last.
We do not know whether Bach knew the details of Gerhardt's and Heermann's lives. But he shared their faith in the face of tragedy—a faith devoted to Christ who suffered yet was triumphant, who was crucified by human sin yet forgave his betrayers. In Bach's Passions, these hymns become the suffering believer's voice, expressing both anguish and redemption. As one modern version of "O Sacred Head" puts it: "My days are few, O fail not, with thine immortal power, / To hold me that I quail not in death's most fearful hour, / That I may fight befriended, and see in my last strife / To me thine arms extended upon the cross of life."
Jennifer Woodruff Tait is an adjunct professor of church history at Asbury Theological Seminary.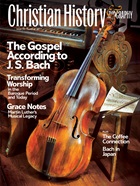 07/01/2007