Huguenots and the Wars of Religion: Did You Know?
Hu-gue-what?
No one knows for sure how French Protestants got the nickname "Huguenots" (pronounced HYU-ghe-nahts in America, HYU-ghe-nos in Britain). One theory proposes that the word was derived from German Eldgenosen, "oath fellows," which was used to describe a Genevan political movement. Or perhaps a leader of that movement, Besancon Hughes, lent his name to the group. Scholar Janet Gray, however, supports a more colorful—and philologically sound—theory. In Tours, an early Protestant stronghold, a spirit called King Huguon was believed to haunt one of the city's gates at night. Protestants held their illegal religious services near the same gate after dark. According to a manuscript from 1566, "The one who derived Huguenot from Huguon was a monk who, in a sermon reproaching the Lutherans, as those who met at night were called, said that it was necessary henceforth to call them Huguenots because they went out at night like him."
Creed-crossed lovers
The Saint Bartholomew's Day Massacre began soon after Protestant Henri of Navarre wed Catholic Marguerite of Valois. More than 400 years later, the prospect of a cross-confessional marriage once again sent shudders through the upper echelons of French society. In the summer of 2001, Chartres Cathedral was booked for the wedding of Duchess Tatjana d'Oldenbourg, a Protestant German aristocrat, and Jean d'Orléans, a Catholic noble who would be in line for the French crown if that country ever reinstituted its monarchy. But even though Jean is heir to only a theoretical throne, his family opposed the marriage, fearing it would undermine their legitimacy. Jean broke off the engagement.
Stranger than fiction
Cardinal Richelieu (see "Gallery"), the Huguenots' worst enemy during the reign of Louis XIII, is famous as the bad guy in Alexandre Dumas's The Three Musketeers. (A smarmy Tim Curry played him in the 1993 movie.) If Dumas had wanted to stock his novel with really outrageous characters, though, he should have included Richelieu's siblings. One of the cardinal's brothers at times believed himself to be the first member of the Trinity, and one of his sisters thought her posterior was made of glass.
Midnight ride of Paul de Rivoire?
Paul Revere's Huguenot parents may have changed their foreign-sounding moniker to better blend in with American society, but that didn't keep the Revolutionary hero from making a name for himself in his new homeland. Other famous Americans of Huguenot descent include:
"Swamp Fox" Francis Marion
Federalist leader Alexander Hamilton
Naturalist John James Audubon
President Theodore Roosevelt
Mixed-up monarch
If, after reading this issue, you're still not sure what to make of Henri IV—the French king who changed religions about as often as he changed his socks—don't fret. French historians and citizens have judged him in drastically different ways since his death in 1610. In his day some artists portrayed him as Hercules, Mars, Perseus, and Alexander, while some biographers cast him as a cross between Satan and the village idiot. In 1728 Voltaire extolled him in an epic poem La Henriade; in 1792 revolutionaries tore down his statue on the Pont Neuf in Paris. Perhaps historian Jules Michelet, writing in 1857 and reflecting the high Romanticism of his own era, came closest to an apt description: "He cried out of love, he cried out of friendship, and he cried out of compassion. But none of this made him any the more constant in anything." Today Henri is France's most beloved king.
Generation gap
A counselor to King Henri IV, politician and poet Agrippa d'Aubigné tirelessly promoted the Protestant cause (see "Slaughter, Mayhem, and Providence"). Partially as a result of d'Aubigné's influence, Henri's policies introduced broad toleration for the Huguenots. Unfortunately both Henri and d'Aubigné's son, Constant, abjured the Calvinist faith. In the next generation, d'Aubigné's grand-daughter married Henri's grandson Louis XIV, the king who put even more effort into expunging Protestantism from France than d'Aubigné had put into saving it.
Massacre—live onstage!
When Giacomo Meyerbeer's opera Les Huguenots opened in Paris in 1836, reviewers had grave doubts. "[I]t was a bold and even hazardous attempt to bring such a subject as the religious disputes between the Catholics and the Huguenots, and the horrors attached to the Massacre of Saint Bartholomew, within the range of the lyrical drama," one critic wrote. But most Parisians agreed that Meyerbeer, a Jew who sided with neither faction, managed the feat. "Any criticism would have to fall silent in the face of such an overwhelming success," a reviewer crowed. The show brought in 11,300 francs in its first two months—an unheard-of amount—and in 1900 became the first opera to rack up 1,000 performances.
Stamp of approval
Though commissioned for the 300th anniversary of one of the bleakest events in Huguenot history, the revocation of the Edict of Nantes (see "Escape from Babylon"), this stamp proclaims "Welcome Huguenots." It also features the distinctive Huguenot cross. Each arm of the cross broadens and splits into two points. The eight total points represent the eight Beatitudes. The spaces between the arms are sometimes stylized as four hearts, representing loyalty, topped with four lilies, representing purity. The appendage, a dove, symbolizes the Holy Spirit.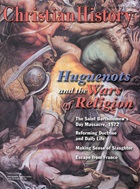 07/01/2001