Olaudah Equiano's Argument Against Slavery Was His Life Experience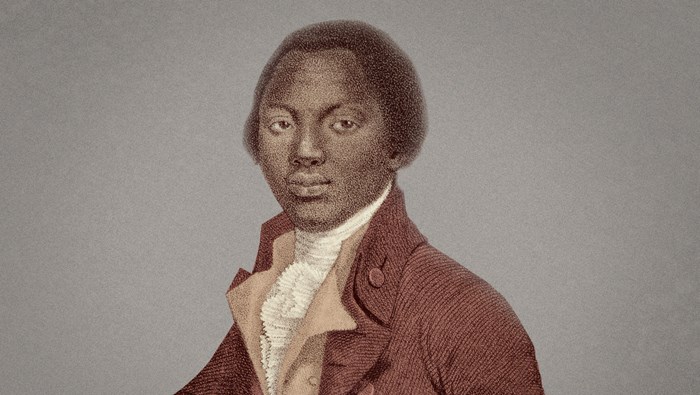 The word of God was sweet to my taste, yea sweeter than honey and the honeycomb. Christ was revealed to my soul as the chiefest among ten thousand," wrote an 18th-century British seaman in 1789 as he reflected on his conversion that occurred five years previously. This Christian was a previously enslaved man known as Gustavus Vassa, who, through writing his own life story, became the founder of a literary movement known as slave narratives. His work was published under his birth name: The Interesting Narrative of the Life of Olaudah Equiano.
A resident of London during the 1780s, Equiano became involved in British abolitionism and was a vocal opponent of the slave trade and slavery until his death in 1797. His Interesting Narrative served as the foremost abolitionist writing of the day because he was an African voice that described the violence and degradation of the slave trade and of slavery itself. Equiano's narrative spurred nine English editions through 1794 and was published in Dutch, French, and Russian.
Distinguishing itself from the arguments of abolitionists Thomas Clarkson and John Newton, Equiano's Christian argument against the slave trade and slavery proved historically unique because he wrote about the horror of slavery, having experienced it firsthand. In his memoir, he drew connections between his traumatic life experiences and meeting God:
Now every leading providential circumstance that happened to me, from the day I was taken from my parents to that hour, was then, in my view, as if it had but just then occurred. I was sensible of the invisible hand of God, which guided and protected me, when in truth I knew it not: still the Lord pursued me.
Life in Igboland
Much of what we know today about Equiano comes through his own words. According to his Interesting Narrative, the author was born in what is now eastern Nigeria, in Igboland, in 1745. (Note: While historians have questioned his account, after reading their arguments and doing my own assessment of the documents, I am inclined to trust the veracity of Equiano's story.) Unlike accounts of enslaved people that begin in the Western Hemisphere, Equiano introduces his readers to his homeland and people and focuses on the type of government established in his Igbo village, as well as his community's marriage customs, arts, and agriculture.
According to Equiano, one of the Igbo community's key beliefs was in a "Creator of all things" who "governs events, especially our deaths and captivity." It was this Igbo predestinarian conviction among Igbos that likely made it easier for Equiano to accept the Christian doctrine of the Providence of God and is a major theme of the work.
His writings also compare Igbo and ancient Israelite practices, noting Igbo circumcision, and suggest that Igbo and Jewish naming practices are similar because the two cultures name their children in light of an important event or a notable circumstance surrounding one's birth. In fact, the text goes so far as to argue that Igbos—all Africans in fact—originated from the Jews.
As one of only a handful of 18th-century Afro-British writers, Equiano makes the countercultural argument that Igbos (and Africans) are equal image-bearers to Europeans, and they live in functioning societies complete with a sexual division of labor, a robust system of justice, and a complex religious system. Equiano's description of his people contains none of the stereotypes that Europeans employed to paint Africans as savages. Further, he refutes the idea that darker skin denoted inferiority, instead, drawing upon European writings that argued that climate produced dark skin. He also turns to the Bible, citing Acts 17:26: "God 'who hath made of one blood all nations of men to dwell on all the face of the earth.'"
The End of Innocence
Equiano was 11 years old when Igbo-speaking slave catchers stole him and his sister away from their home. But he wasn't immediately shipped off to the British colonies. Instead, he worked as a slave in numerous households in what is now Nigeria before reaching the coast. While enslaved in his homeland, kidnappers kept Equiano separated from his sister. In his memoir, he writes that he grew to the point where he yearned for death. While he did not record any harsh thoughts he had about his African masters and mistresses, Equiano had choice words for African slave catchers and called them "uncircumcised."
After about half a year, Equiano arrived on the west coast of Africa, where he was sold once more to European slave traders, and then boarded a slave ship bound for the Caribbean. Equiano refers to his treatment by European slave traders in the Middle Passage as "a new refinement in cruelty" and paints a picture of a harrowing journey on board a slave ship.
No other slave narrative offers an account of the ship ride as lengthy or descriptive as Equiano's; he describes the filthy living conditions he and fellow Africans endured, the suicide of a couple of captives, and other types of cruelties hurled at him and his shipmates. At the end of his account of the Middle Passage, Equiano pauses his narrative and addresses the reader: "Might not an African ask you, learned you this from your God, who says unto you, Do unto all men as you would men should do unto you?"
The slave vessel carried Equiano to Barbados, the eastern-most Caribbean island and an inglorious port of entry for thousands of captive Africans. Equiano remained in Barbados for only two weeks before embarking on another voyage to Virginia. He remained there briefly before he was purchased by Michael Henry Pascal, a lieutenant in the British Royal Navy. Under the ownership of Pascal, Equiano traveled to England, was baptized into the Church of England in 1759, and learned that his baptized state afforded him his freedom.
But this legality did little for Equiano. After serving his master for a number of years—even serving in the Seven Years' War (French and Indian War)—Pascal decided to sell Equiano. Upon learning this, Equiano protested, arguing that Pascal had no right to sell him because he had "been baptized; and by the laws of the land no man has a right to sell me." Unfortunately for Equiano, there was no law; he once more had to swallow the bitter pill of slavery in the Atlantic World. About a century before, British colonies had ruled that baptism had no bearing on the status of an enslaved African. Early in his time as an enslaved boy on a ship, Equiano became obsessed with learning how to read after he saw English people onboard poring over books. During a stay in London in the late 1750s, Equiano worked for two sisters who sent him to school where he began to learn to read and write.
After living on the confines of Navy vessels in the Atlantic during the Seven Years' War, Equiano was sold to a Quaker who transported goods and enslaved people throughout the Caribbean and in North America. Equiano initially worked on his owner's small ship, traveling to different Caribbean ports to sell fruit, tumblers, and other items to Europeans. While Europeans often sought to cheat him out of his money, Equiano nevertheless soon amassed enough money to purchase his freedom in 1766.
Though Equiano gained his freedom in the Caribbean, he was also simultaneously confronted with the reality of the unimaginable violence perpetrated against slaves. As Equiano later recorded in his writings, this was a place where slave women were raped and where one slave was punished by being staked to the ground and having hot wax poured on his back. Although free, Equiano himself was nearly beat to death after visiting a local physician's slave.
Equiano later recounted a conversation he had with a Mr. Drummond who boasted of selling 41,000 Africans into slavery. Drummond had once cut off a slave's leg who had attempted to run away. Equiano confronted his action, asking Drummond how he would answer to God, and how did that accord with the Golden Rule. Drummond tersely responded that "answering was a thing for another world," but his action prevented the slave and others from running away.
God's Plan for Equiano
In 1773, Equiano returned to London after a harrowing voyage during which he almost died. His near-death drowning experience had turned his mind to his eternal destiny, and he later wrote that the voyage had "caused me to reflect deeply on my eternal state, and to seek the Lord with full purpose of heart ere it was too late." He also explained that he "was determined to work out" his "own salvation, and in so doing procure a title to heaven."
Equiano began attending Anglican churches and Quaker meetings, he studied Roman Catholic teachings, and he even considered Judaism. He then consented to just read the four Gospels "and whatever sect or party I found adhering thereto such" he "would join."
The following year, Equiano attempted to help a formerly enslaved person win back his freedom after the man's former master illegally re-enslaved him. Despite his efforts and those of other abolitionists, the man was taken back to the West Indies where he died.
Equiano was miserable after this news. He wrote, "Suffering much by villains in the late cause, and being much concerned about the state of my soul, these things … brought me very low; so that I became a burden to myself, and viewed all things around me as emptiness and vanity, which could give no satisfaction to a troubled conscience."
It in the midst of his depression, Equiano returned to the sea, traveling back to England. During the voyage, he became introspective and began considering the ways in which God had predestined every good and bad step of his life: "I was from early years a predestinarian, I thought whatever fate had determined must ever come to pass."
Through the cultural worldview he had learned as a child, Equiano found God at work in his life when he been enslaved and when he had been rescued from near-death experiences. He had survived these things to be able to finally receive the grace offered to him by Christ.
Though Equiano desired to return to Africa, he never did. "Whether the love of one's country be real or imaginary, or a lesson of reason, or an instinct of nature, I still look back with pleasure on the first scenes of my life, though the pleasure has been for the most part mingled with sorrow," he wrote. Though he admired England and its people and was a committed Christian, he was still an Igbo whom God had chosen. Equiano lent his voice and his pen to the cause of suppressing Britain's role in the Trans-Atlantic Slave Trade. In 1797, he died in England, around the age of 52, without seeing the goal come to fruition. Yet the seeds he planted eventually bore fruit when Great Britain abolished the slave trade in 1807.
Eric Michael Washington is an associate professor of history at Calvin College, Grand Rapids, Michigan. His research interests are in African history and the history of Africans in the Atlantic World.