John Calvin and the Princess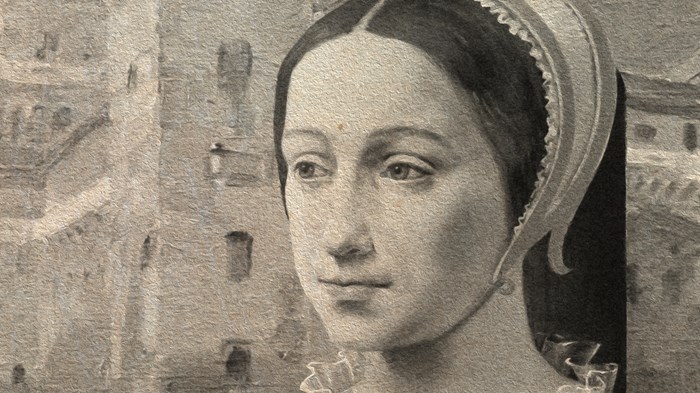 A little girl's dreams: With her friends in frilly dresses, she becomes a beaming princess at her birthday party. She shops with her mother for a princess costume on Halloween. But the real story of a princess rarely fits the fantasy. So it was with Princess Renée of France.
"Had I had a beard I would have been the king of France," she fumed. "I have been defrauded by that confounded Salic Law." Renée was convinced that she was as fully qualified to succeed her father as a male heir.
The Salic laws of the Franks had been codified some 1,000 years earlier. Most often cited was the law excluding females from ascending the throne. Renée would become an important figure in the political and religious wrangling of the 16th century, but not as Queen of France. In fact, she would be the Protestant Reformer John Calvin's leading lady—a strategically positioned woman with influence in both France and Italy.
As much as a contemporary feminist might want to grasp the hand of Renée and make her one of us, she lived in a vastly different world. Hers was at the crossroads between medieval and modern, and hers was a world of royalty with all its refinement as well as its reprehensible rules and customs.
Royal pawn
Born in the autumn of 1510, Renée was a year younger than John Calvin and was less than a week shy of her seventh birthday when Martin Luther nailed his 95 Theses to the church door in Wittenberg. Her father was King Louis XII of France. In many respects, he could be classified as a good king. A devout Catholic, he was known as "the Father of the People" for his tax and legal reforms.
Her mother, Anne the Duchess of Brittany, was a shrewd administrator, a devoted mother, and regarded as the richest woman in all of Europe. She fought hard to keep Brittany out of reach of her husband's control and hoped to have Renée succeed her. But she died before Renée reached the age of four. Her husband granted her realm to his successor, thus bringing Brittany under French control.
Renée had every reason to be miffed by the Salic Law that made her third cousin, Francis, king after her father died. None of her father's three wives bore him a son; thus his nephew would inherit the throne. But a daughter was valuable in other ways. In foreign policy, Louis XII was an expansionist. It was in this arena that Renée became a prized pawn.
Scandalous in-laws
The process of matchmaking began when Renée was a young girl. At 17 she was married to Ercole II of Italy, the son of none other than femme fatale Lucrezia Borgia. Lucrezia's father was the infamous Rodrigo Borgia (a.k.a. Pope Alexander VI), and her brother the even more infamous Cesare Borgia.
Before she reached her teen years, Lucrezia had twice—through her father's schemes—become engaged only to have both weddings called off. Her first marriage was annulled because it had not been consummated, though Lucrezia was pregnant with the child of another man—some say her brother Cesare. When the little boy was three, Pope Alexander VI issued a papal bull establishing the boy as the son of Cesare, but he quickly changed his mind and issued another bull (kept secret for many years) claiming the boy was his own son. Lucrezia's name was left entirely out of the Pope's bulls.
Lucrezia married again but became a widow after her husband, according to rumor, was murdered by Cesare. She then married the Prince of Ferrera, Alfonso d'Este, the man who would become Renée's father-in-law. Imagine having Lucrezia for a mother-in-law! Lucrezia died in 1519 when Renée, living in France, was only nine. Nevertheless, Renée surely must have been aware of the gossip surrounding this most celebrated and scandalous woman—a woman whose life has since been widely portrayed in art and literature and film.
Renaissance high culture filled court life in Ferrara. Renee enjoyed not only palatial living and dazzling dresses and jewels, but also the finest art and music the era had to offer.
A strong-willed wife
Renée's marriage to Ercole, despite her hefty dowry, was not always an amiable one. Contemporaries portrayed her as strong-willed. One spoke of her great beauty; another said that her figure was defective and her features were plain, while "her personal deficiencies were more than compensated by her superior intellect."
She was anything but a submissive wife. Indeed, she seemed at times to flaunt a defiant autonomy that John Calvin would later encourage. Her first disagreements with Ercole centered on her French entourage now housed in her palace in Ferrara. In addition to ladies-in-waiting and an assortment of servants, she brought Madame Soubise, who had served as her governess when she was growing up motherless in France. Ercole would have sent them packing as soon as they arrived, but touchy political alliances were at stake.
Eventually Soubise and others were forced out of the Ferrara court, but Renée was not about to acquiesce altogether. Her religious sympathies would soon become a serious bone of contention. Back in France, the news—perhaps conveyed by her friend and cousin Marguerite of Navarre—was alarming. Marguerite openly supported Protestants at a time when they were being hunted down like animals.
Harboring heretics
In 1533, Nicholas Cop, the new rector of the University of Paris, gave a rousing evangelical address on All Saints' Day calling for reform in the church. There was a bitter backlash fed by fears of a Protestant Reformation in France. Cop fled town, and his friend John Calvin, who may have co-written the address, went into hiding. A year later, Calvin joined Cop in Basel.
The occasion of his exodus was the Affaire des Placards, which occurred in mid-October of 1534. Posters blasting the Mass as "execrable blasphemy, pretending to be a sacrifice to God" were surreptitiously left in key locations not only in Paris but also surrounding towns—and in the very bedchamber of the king. Until this time, Francis I had sought accommodation with Protestants, but no longer.
Here is where Renée stepped to the fore. As Protestants were fleeing the fury of Francis, she—perhaps with Marguerite's encouragement—opened her palace doors to them. In the midst of this crackdown in France, Ercole's father died on All Saints' Eve in 1534, making Ercole the Duke of Ferrara. When French "heretics" sought refuge in Ferrara, he was suspicious—even though Renée had not yet played her Protestant card.
Fortunately for Renée, Ercole had many other things on his mind, particularly problems with the pope and foreign policy matters. If Renée was patronizing a nest of heretics, she was hiding them behind her vast skirts and more. Among the French heretics to show up in Ferrara was none other than John Calvin (in disguise and using the alias Charles d' Espeville). He arrived in the spring of 1536 and stayed for a month.
A Protestant in Catholic clothing
By the time Calvin left Ferrara, Renée was more convinced of the truth of Reformed teachings, though she would never be a submissive student of Calvin's or anyone else's. Yet from his correspondence it appears as though a budding friendship had developed. "If I address you, madam," he wrote, "it is not from rashness or presumption, but pure and true affection to make you prevail in the Lord."
"When I consider the pre-eminence in which He has placed you," he wrote her, "I think that, as a person of princely rank, you can advance the kingdom of Jesus Christ." He went on to praise her spiritual maturity: "I observe in you such fear of God, and such a real desire to obey Him, that I should consider myself a castaway if I neglected the opportunity of being useful to you."
But Renée did not kowtow to Calvin. She continued to give the public pretense of being a faithful Catholic. Calvin was incensed: "I have heard that your domestics have been scandalized by the word of a certain preacher who says that one may go both to Mass and to the Lord's Supper," he wrote, alluding to her as well. "I cannot suffer a wolf in sheep's clothing. I esteem the world of this preacher no more than the song of a jackdaw. The Mass is an execrable sacrilege and an intolerable blasphemy."
But the Catholic side was no less adamant in battling for Renée's soul. In 1544, King Henry II of France wrote to Renée, his "only aunt" whom he "loved and esteemed." He expressed his grief in learning of her apostasy and begged her to be "restored to the bosom of our holy mother church, cleansed and purified from those cursed dogmas and reprobate errors." He told her that he would be sending the Inquisitor Ori to counsel and teach her and threatened that if this did not work he would bring her "to reason by severity."
Henry also sent a letter to Ercole. When Ercole challenged Renée, he discovered for the first time how deep her religious convictions were. She had outwardly gone along with Catholic rituals, but now she was forced to acknowledge her Reformed bias. On September 17, 1544, she was forcibly taken away from the palace by carriage and placed under house arrest with no one but her attendants. Her daughters Lucrezia and Leonora were placed in a convent.
Renée was understandably distraught, and in less than a week she sent for a priest—perhaps at her husband's pleading—so that she might make her confession and take communion. With this she got what she wanted—not necessarily her own freedom, but her girls back under her own care.
When Calvin heard the news he was deeply offended. "I fear you have left the straight road to please the world," he wrote her. "And indeed the devil has so entirely triumphed that we have been constrained to groan, and bow our heads in sorrow." He went on to admonish her to humble herself before God and come back to the faith—and, we may presume, to give up her girls to the convent. The letter was signed "Your very humble servant, Charles d' Espeville." The correspondence continued in the years that followed.
Violence in France
When Duke Ercole died in 1559, his son Alfonso succeeded him. Renée thought she could practice her Reformed faith more openly, but her son warned her that if she did she would have to leave the country. Soon after that, she returned to France. It was said that the poor people of Ferrara wept at her departure, for she had been known as a very generous benefactor to the needy.
In France she stood by the Reformed "heretics," with continued admonitions from Calvin. As in the past, she strongly challenged him on a variety of matters. She grieved when her son-in-law was assassinated and accused Calvin of consigning him to hell. She also argued with the Calvinist pastor Francois Morel about being given a role in church decision-making. Morel wrote to Calvin: "Renée wants to attend the meetings of the synod … . But if Paul thought that women should be silent in the church, how much more should they not participate in the making of decisions. How will the Papists and the Anabaptists scoff to see us run by women!"
But Renée was far more concerned about the terrible atrocities conducted against Catholics by Reformed Christians in their homeland of France: "Monsieur Calvin, I am distressed that you do not know how the half in this realm behave. They even exhort simple women to kill and strangle. This is not the rule of Christ. I say this out of the great affection which I hold for the Reformed religion." Calvin placed the blame on others.
Among Calvin's final letters were ones to Renée. He died in 1564. She lived on for more than a decade after his death. During that time, Protestants of France suffered unspeakably—especially in what became known as the St. Bartholomew's Day massacre in 1572. A plot believed to have been hatched by Catherine de' Medici (a staunch Catholic and mother of the king) was carried out during the aftermath of the marriage between the king's sister and Henry III of Navarre, a Protestant. The initial attacks were on prominent aristocrats, but in the end thousands died. The Protestant cause in France had been dealt a mighty blow.
Renée, old and perhaps in seclusion, survived. When she died, her Reformed faith died with her. An evangelical in hostile surroundings, she influenced neither her countrymen nor her family. Her great disappointment was that none of her children confessed the Protestant beliefs they had learned as little ones under her supervision.
Had Renee not been defrauded by that "confounded" Salic law, she would have become Queen of France. Through her influence, the Reformation might have blossomed in her homeland as it did in Germany and Switzerland.
Ruth A. Tucker, Ph.D., History, has taught at Trinity Evangelical Divinity School and Calvin Theological Seminary and is the author of 18 books.
Sources
Bainton, Roland H. Women of the Reformation in Germany and Italy. Minneapolis: Augsburg, 1971.
Young, M. The Life and Times of Aonio Paleario, Chapter XII, "Renée Duchess of Ferrara." London: Bell and Daldy, 1860.