The Monks Did It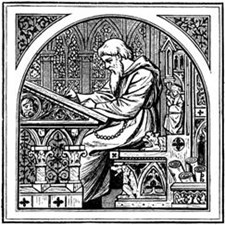 This weekend I am attending the 44th International Congress on Medieval Studies at Western Michigan University in Kalamazoo. This is the largest and most prestigious international gathering for medievalist scholars, convening over 3,000 scholars in over 600 sessions of papers, panel discussions, roundtables, workshops, and performances.
Frankly, though I am no medievalist, just thinking about being there is making me drool.
What's an American church history geek doing attending a meeting that will feature hundreds of highly technical papers in a field I hardly know, based on texts in languages I've never learned - Latin, Old English, Old Norse?
Maybe it's the new monastics' fault.
For several years, I've been a sympathetic follower-from-afar of this movement.* I have to say that the new monastics sometimes seem curiously oblivious to those values that animated the original monastics. However, they have cautiously reached out to the "old monastics" in venues such as the annual Monastic Institute held at St. John's Seminary in Collegeville, Minnesota. This has led to some interesting meditations on the value for today's Christians of monastic disciplines such as obedience, stability of life, and the like. For a fascinating glimpse of this engagement, see Inhabiting the Church, co-authored by Jonathan Wilson-Hartgrove, Tim Otto, and Jon Stock.
Another thing that has spurred me to engage medieval history is . . . well . . . this will raise eyebrows, but I'll say it: I am a long-time fan of fantasy literature, and a one-time enthusiastic player of Dungeons and Dragons. Both that genre and that game (with all of its countless spinoffs) were inspired by the writings of J. R. R. Tolkien. And if the number of sessions at the Medieval Congress dedicated to Tolkien is any indication, there are plenty of folks doing medieval studies today who love Tolkien - including, I don't doubt, many who got into the field of medieval studies through reading Tolkien.
The potential lesson here for evangelicals goes beyond The Lord of the Rings. Some of modern evangelicals' favorite writers are scholars of the medieval period: along with Tolkien we can list C. S. Lewis, G. K. Chesterton, Charles Williams, and Dorothy L. Sayers. Surely we should stop cherry-picking these authors, concentrating on the "mere Christianity" that they defended so eloquently and imaginatively, and ignoring their strong sense that the medieval world has something to show and tell us today.
One more thing that has spurred me to dig into the Middle Ages has been the trend among younger evangelicals toward returning to "tradition" as a resource for tomorrow's church. Though the main energies of this movement are still focused on the early church, younger Christians in particular are going on retreats at monasteries, practicing the Lectio Divina, and walking labyrinths.
Surely evangelicals who are sampling these medieval wares would benefit by moving beyond a piecemeal, "consumer" approach to medieval Christianity into a more systematic, in-depth study. Beneath the surface of now-trendy medieval practices, and amidst that era's wrong turnings and corruptions, lies a rich vein of spiritual, intellectual, and practical resources. I can think of at least nine facets of medieval faith and life that we can stand to learn from today:
their willingness to engage in spiritual disciplines,
their theologically grounded devotional and even "mystical" practices,
their high valuation of tradition handed down in texts,
their passionate search for theological knowledge (fides quaerens intellectum--"faith seeking understanding"),
their moral seriousness, expressed for example in the lists of "deadly sins" and "cardinal virtues,"
their adaptation of classical learning to Christian theology (which paved the way for the birth of modern science and continues to provide a model for Christ-culture engagement today),
their deep affection for the doctrines of creation and incarnation, issuing (for example) in many profoundly spiritual treasures of Western art and literature,
their high valuation on eternity over temporal life, and the "art of dying well" (ars moriendi) that developed from this commitment, and
their insistence on works of charity (fides caritate formata–"faith formed by love").
Well, these sorts of thoughts have spurred me to start reading seriously in the area of medieval studies (still as an amateur, rather than as a scholar), seeking a "usable past." At the outset, I focused on three figures: Gregory the Great ("father of medieval spirituality" and "Doctor of Desire"), Dante Alighieri (author of the Divine Comedy: Inferno, Purgatorio, and Paradiso), and Margery Kempe (a charismatic and odd laywoman from late-medieval England who has recently been enjoying a resurgence of interest among modern readers - see for example "Mapping Margery Kempe."). Each of these has become a chapter in my forthcoming IVP book Patron Saints for Postmoderns.
A couple of years ago, given some gracious funding from the Alumni Association at Bethel, I was able to spend a week at Wheaton College's Marion Wade Center, pulling medieval strings leading from Tolkien, Lewis, Chesterton, and Sayers, to see where they would lead. I was also able to purchase a small starter library of primary and secondary sources in medieval studies. This work morphed into a course at Bethel Seminary, "Medieval Wisdom for Modern Ministry." (And will soon, I hope, become a book.)
And so tonight at 9 pm, after teaching an internet-based class session from my St. Paul office, I will get into my car, plug in cassette #1 of the BBC's dramatization of J. R. R. Tolkien's The Hobbit, and strike out for Kalamazoo. Perhaps by next month's blog entry, I will have processed that conference's rich smorgasbord of scholarly medievalism enough to report a few highlights.
Until then, peace - and may the God of Abraham, Isaac, Jacob, Gregory, Dante, Margery, and all the saints be with you.
* What are the "new monastics?" In his influential 1981 book After Virtue, Catholic philosopher Alasdair MacIntyre compared the state of the West to the decadence of the late Roman Empire and called for "another - doubtless very different - St. Benedict." Then in 1998, in a little book called Living Faithfully in a Fragmented World, Protestant theologian Jonathan R. Wilson transformed McIntyre's call into a plea for a Protestant "new monasticism." Since then, Wilson's own son-in-law Jonathan Wilson-Hartgrove and such other self-identified "new monastics" as Shane Claiborne have "joined up," forging a new communal lifestyle in urban "abandoned places of empire," lived out in solidarity with the poor.
Image: Medieval writing desk via Wikimedia Commons from the G. F. Rodwell's "South by East: Notes of Travel in Southern Europe" (1877)