Eager to Study the Early Church?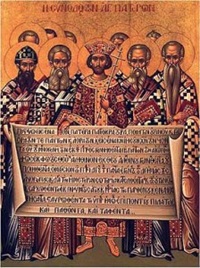 When theologian George Kalantzis returned to the Wheaton College campus last fall after spending the summer in the Holy Land, he had a very pleasant surprise. While he was out of the country, two donors had approached the college administration about funding a program that would encourage interaction between Eastern Orthodoxy, Roman Catholicism, and Protestantism over their mutual legacy from the early church.
No one at Wheaton knew just how much these donors would fund, but George and his colleagues decided to dream big: they envisioned a Center for the Study of Early Christianity, with a vertically integrated program from undergraduate courses up through master's and doctoral studies.
Their big vision was rewarded.
Two physicians from San Diego, Frank and Julie Papatheofanis, have now made that dream possible. (Julie Papatheofanis is a Wheaton alum.) You can see the beginnings of this vision at the Wheaton Center for Early Christian Studies website.
Evangelical Christian interest in the early church has been growing for about 30 years. Much of the impetus for that interest can be traced to the work of the late Robert Webber, who was teaching at Wheaton in 1978 when he wrote Common Roots about the importance of the early church for evangelical life. "Without the work of Bob Webber, this would not be possible," George told me over coffee in Wheaton's Beamer Student Center. "He plowed the ground," George continued, alluding to 1 Corinthians 3:6.
There seems to be a real hunger for the systematic study of the early church. Wheaton College has not yet begun to advertise this program and already, George says, he has close to 30 students engaged with it. On his desk are about 10 applications for the master's program, a similar number for the undergraduate certificate program, plus a number of students applying for the doctoral program (only one doctoral student can be accepted each year).
A handful of teachers at the conservative Protestant colleges and seminaries have specialized in patristics. Dan Williams at Baylor University is a leading light. Others George mentioned to me include Bradley Nassif at North Park University, Bryan Litfin at Moody Bible Institute, and Jeff Bingham at Dallas Theological Seminary.
Students interested in patristics can take courses here and there, but Wheaton is the first to offer such a concentrated and structured study opportunity.

What does George Kalantzis hope to accomplish? He is very clear that this should not be a nest from which students can swarm to Eastern Orthodoxy. It is not what the donors had in mind (although they are themselves Greek Orthodox). Instead, this program is about seeing the early church tradition as the common roots of evangelicals, Catholics, and Orthodox.
"By studying the early church," George says, "we are studying about our commonalities much more than our differences.
"Our goal is to understand our common tradition, explore it, live with it, be with it, instead of just going back and plundering it - finding the eight quotes to justify whatever I want to do."
One reason for George's emphasis on the tradition we hold in common is his own biography. He was born in Greece in a Greek evangelical home. As a fourth-generation Greek evangelical, he is unwilling to surrender the Great Tradition to the Orthodox, as if it were their exclusive property.
The Tradition belongs to Protestants as well, he reminds us. Without the story of the early church, the Protestant Reformation would make no sense. The Reformers appealed to the pattern of the early church. We cannot be true Protestants without knowing that history.
A few other facts about George:
He came to America to study medicine, but after his first year of medical school, he says, God opened his eyes to a different calling, the study of history and theology.
He chose to do his doctoral work at Northwestern University in order to stay in Chicago and relate to the Greek evangelical community here. While at NU, he wrote his dissertation on Theodore of Mopsuestia's Christology.
After his doctoral work, he taught at Garrett Evangelical Seminary for 10 years. If you visit ratemyprofessor.com, you'll see what his students thought about him. One student from 2006 wrote: "George is FABULOUS and his lectures are brilliant. He doesn't coddle anyone but has very high expectations."
Well, we think Wheaton College and the Doctors Papatheofanis are FABULOUS for opening a new Center for the Study of Early Christianity. And we have very high expectations. Congratulations to all on a ground-breaking move.
* * *
Image credit: Icon of the First Council of Nicaea via Wikimedia Commons.