Sports
Feet pounding against the turf, sweat dripping down the brow, cheers echoing across the stadium, and the metallic racket of the overtime score buzzer are all a manifestation of the Sabbath—at their best, a way to foster community, challenge the physical body, and glorify God. In a sports culture dominated by multi-million dollar contracts and often plagued by steroid use, crass language, and a lack of integrity on and off the field, interpreting what we see and how we participate has become an important faith endeavor.
Featured Articles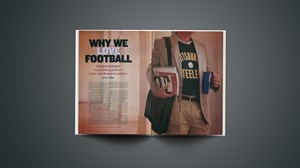 Why We Love Football
Grace and idolatry run crossing patterns in the new American pastime.
Sports with a Deeper Purpose
Wheaton College's new athletics director responds to The Atlantic's controversial indictment of college sports.
Sports Fanatics
How Christians have succumbed to the sports culture—and what might be done about it.
loading more