Religious Right
The Religious Right (or sometimes called the Christian Right) is a phrase sometimes used to describe Christian political groups or activists that take socially conservative positions on issues like abortion and same-sex marriage. Few leaders use the term to describe themselves as it has become more pejorative in recent years. As Focus on the Family's Gary Schneeberger said, "[T]erms like 'religious right' have been traditionally used in a pejorative way to suggest extremism. The phrase 'socially conservative evangelicals' is not very exciting, but that's certainly the way to do it." After the deaths of leaders like Jerry Falwell and Charles Colson, some have raised the question of whether the Religious Right still exists.
Featured Articles
Phrase 'Religious Right' Misused, Conservatives Say
Leaders often identified with the Religious Right want journalists and academics to lay the term to rest.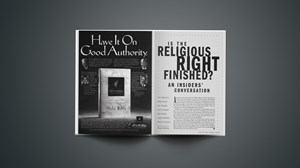 Is the Religious Right Finished?
Responses to the call of Ed Dobson and Cal Thomas for "some sort of quarantine."
Changing of the Guard
What happens to the Religious Right?
loading more