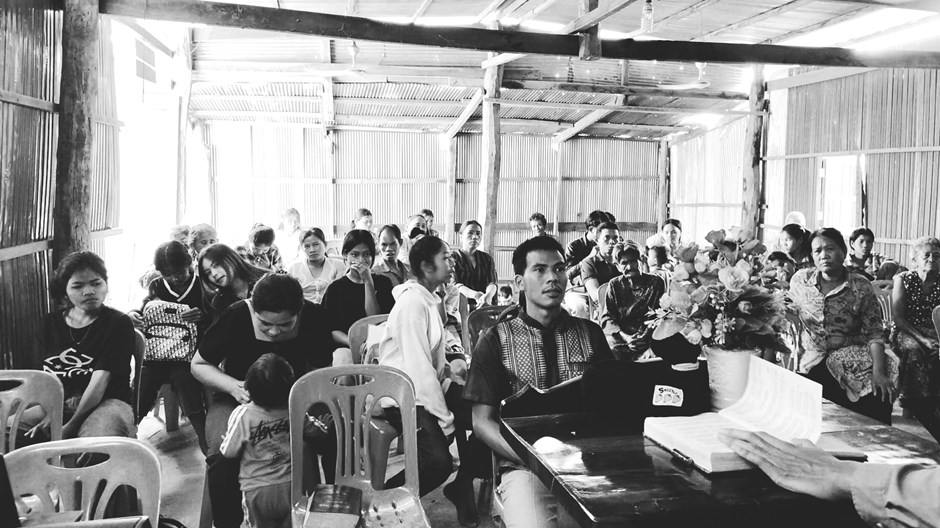 Image: Courtesy of Pastor Phearum Eam / Edits by Christianity Today
When the world locked down in early 2020, orders to Cambodia's thriving garment factories dropped, shutting down factories and leaving more than 50,000 people jobless. The Cambodian government's quick action kept COVID-19 at bay that year, yet the economic impact was devastating for many.
A COVID-19 outbreak in February 2021 led to several months-long lockdowns, where freedom of movement was limited in the worst-hit areas. Only authorized personnel could pass the police barricades that blocked off each zone. Much of life in the Southeast Asian country from education to job security was deeply affected.
Cambodian Protestants, which make up 1 to 2 percent of the population in the predominantly Buddhist country, have also seen their lives turned upside down since the pandemic. Churches that relied on foreign missionaries and funding were suddenly cut off. With churches closed, believers turned to online resources only to be led astray by false teaching. They struggled with isolation and addictions while stuck in their homes.
Yet the pandemic also opened up new opportunities: Churches learned to be more self-reliant, stepping up to provide food for impoverished neighbors, teach them about hygiene, and tell them about the hope they have in Jesus. They also learned to use the internet to record and share sermons—something foreign in a country that only started having reliable internet in the past decade—to reach more people.
CT spoke with five Christians in Cambodia—from a lay pastor in the factory district of the capital of Phnom Penh to a pastor of a small house church situated near the border of Thailand—about how the pandemic impacted their church and changed their ministry:
Timothy Aehk, lay pastor and prayer leader at New Hope Phnom Penh:
Our church is in Stueng Mean Chey (a poor, densely populated neighborhood where factory workers lived). There was a lot of need there. The pastors spent a lot time during the pandemic visiting church members. We were already outward-focused and involved in outreach, so we continued caring for the community and neighbors by meeting physical needs.
The emphasis on being a light for Christ became stronger during COVID-19. People around us were dying, and several members became very ill. Death became more of a reality. We realized we do not know when we will die or how much time we have left, so we need to use it for the gospel. We are not promised tomorrow.
Our church shrank because many members are factory workers. They lost their jobs during the pandemic and returned to the province where there were fewer restrictions. They had to find work with extended family on their farms. Several have not returned because they have not recovered from the economic implications of COVID-19.
We used social media to livestream worship and sermons. However, most people liked the social aspect of a corporate gathering and have returned once we could meet in person. Caring for communities during the pandemic and our livestream brought more people to our church and allowed us to create more small groups that gather in new parts of town.
Tep Ro, designer at ACTION Cambodia and member of Fruits of Christ Church in Kandal Province in southeast Cambodia:
My church was founded by Korean missionaries who left at the beginning of the pandemic. They had made members dependent by giving them food and paying for things like school fees. So some people attended because they were incentivized by money rather than to be a part of the body of Christ and learn about God. When they left, so did some church members.
Without the missionaries, our Cambodian pastor no longer received a salary, but he continued to serve the community with his finances. He gave out laundry detergent and hand sanitizer. And when the lockdowns made it so we could not gather, he visited members regularly.
However, the most negative impact on our church was that false teaching slipped into the church due to social media. Some pastors claimed divinity, some taught syncretism, others made end-times predictions. It caused a divide in my family. They scattered to different churches once restrictions were lifted. I addressed the problem with the head pastor, but he remained focused on maintaining unity, which came at the cost of the truth. Members left anyway.
At ACTION Cambodia, my coworkers and I worked to battle the false teaching. J. D. Crowley, a missionary in Cambodia, wrote a book in Khmer and English called True Religion & Counterfeit Religion. It was published to help protect the local church. We put out resources and videos for people to understand how to filter biblical truth.
Phearum Eam, pastor of New Life in Christ Church in Banteay Meanchey Province in northwest Cambodia:
Here in the rural area, there was little COVID-19. However, finances shifted as people lost their jobs. We are on the border of Thailand, where most people work. They could not go back across the border once the pandemic hit.
Everyone continued to regularly attend church, except for two Sundays when a few community members got COVID-19 and the village chiefs asked us not to meet those weeks. I shared sermons online for those weeks, but not everyone could join since many church members do not own phones or know how to use technology. If they had a phone, they shared it with three to four others to listen together.
The church also took up offerings for the people most in need. The poor farmers and migrant workers were in so much debt and unable to pay back loans. As I taught about loving our neighbors, our members stepped up to help others. Some members bought rice to share.
We witnessed miracles too. None of the followers of Christ caught COVID-19. They would go to the markets and get food to share with others, yet they never got sick.
I regularly reminded the church that God cares for us and longs for a personal relationship. When the pandemic came, people realized God wanted to know them as individuals, not only in groups. (Due to lower literacy rates in rural Cambodia, Christians rely on weekly gatherings that include testimonies, teaching, and corporate prayer to inform their understanding of God.)
It was the most positive shift I saw during this time. While some people were busy and worked on Sundays, most learned to make time daily to meet with God.
David Manfred, country director of Christian & Missionary Alliance (C&MA) Cambodia in Phnom Penh:
C&MA works closely with the Khmer Evangelical Church (KEC), which includes about 220 churches consisting of house churches, as well as more traditional churches. In the early days of the pandemic, the KEC saw one of the most fruitful times in our history as we started 21 new church groups. The first year of COVID-19 was a time of openness to the gospel. Fear and uncertainty gripped Cambodians, and they began to notice dynamic church leaders passionate about loving the people in their communities.
A miraculous healing in Anlong Veng, near the border of Thailand, resulted in 11 new church plants. Kong, a man known for his violent temper, was badly injured when the wall of a charcoal oven collapsed on him. After several clinics were unable to help, he asked his wife to take him to her church. The local pastor prayed for him and he was healed. Immediately, Kong went from village to village sharing his testimony and calling others to follow Christ. Not only did people witness his physical healing, but they saw the change in his character. (Kong later died in a car accident in 2022.)
Another miracle was that of the 50 C&MA missionaries in Cambodia, none left due to the pandemic. Due to the placement of the churches throughout the country, we were uniquely positioned to help the communities around us. Partnering with the Christian NGO World Relief, the KEC leaders went to thousands of homes to train them on basic hygiene. Their presence and knowledge alleviated many fears.
Since the pandemic ended, the love of the church leaders for their communities in a time of need drew many new people to the church and led to more than 20 new church plants. The verse that resonated throughout this time was Ephesians 3:20–21: "Now to him who is able to do immeasurably more than all we ask or imagine, according to his power that is at work within us, to him be glory in the church and in Christ Jesus throughout all generations, for ever and ever!"
Bora Chheang, translator at ACTION Cambodia and member of Redemption in Christ Church in Phnom Penh:
COVID-19 did not change much of our church's focus because missionaries had planted our church to stand independently. Because the zone where our church is located allowed more freedom of movement, we were able to take supplies and food into areas that our sister churches could not access. We assisted our fellow Christians who could not leave their homes.
We already ran outreaches, classes, and kids' clubs in several communities. The pandemic opened the door for more activities in areas we had not been able to reach. The same programs remained in place but could only meet with 10 people or fewer to abide by the local restrictions and rules.
We focused on using resources to help neighbors and surrounding communities. The pandemic gave us an open door to people who were previously more hostile or ambivalent to the gospel.
One significant change was that COVID-19 helped the Khmer church learn to use social media and technology. Before, we relied on outside sources, including teaching and writing by foreigners, but during the pandemic, the local church started recording teaching and preaching, which they could share and use in the future. Before the pandemic, ACTION Cambodia had started to take local pastors' sermon notes and turned them into articles. The pandemic restrictions made them speed up the process so local believers could access more materials.
Yet not all of COVID-19's impact on the church was positive. Being at home all day with unlimited access to phones and technology and very little outside influence created problems: People were more easily indoctrinated by false doctrine. Pornography addiction increased, especially among the youth.
Since the pandemic began, my view of the church did not change. The church is still about the body of Christ. Zoom is not the church; it cannot replace gathering. Having technology available was better than nothing, but to be a true church, it needs to be in person. As it says in Hebrews 10:24–25 (ESV), "Let us consider how to stir up one another to love and good works, not neglecting to meet together, as is the habit of some, but encouraging one another, and all the more as you see the Day drawing near."
Nothing goes to waste in God's economy. God is and was still at work, despite COVID-19. He uses all of it for his glory.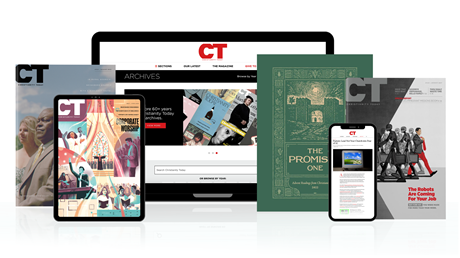 Annual & Monthly subscriptions available.
Print & Digital Issues of CT magazine
Complete access to every article on ChristianityToday.com
Unlimited access to 65+ years of CT's online archives
Member-only special issues
Subscribe
Miracles, Self-Reliance, False Teaching: COVID-19's Impact on Cambodian Churches
Miracles, Self-Reliance, False Teaching: ...