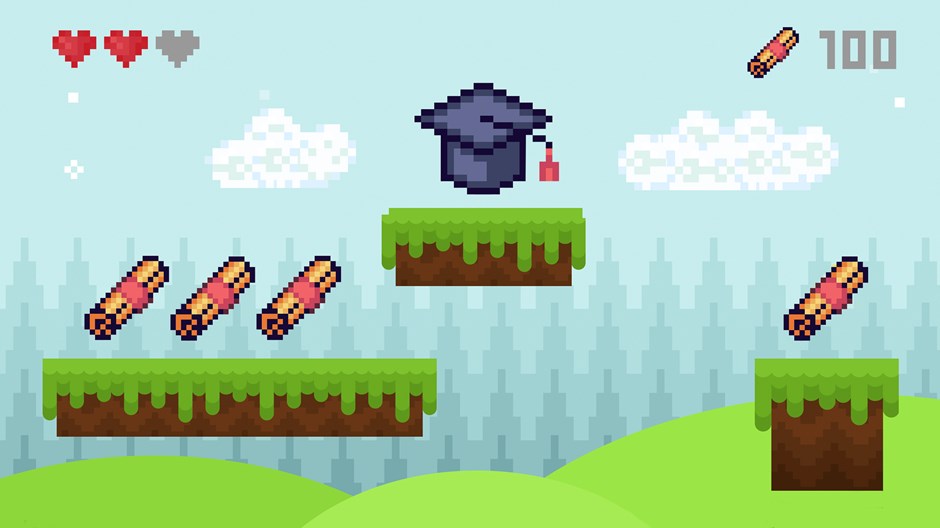 Image: Illustration and animation by Mallory Rentsch / Source Images: Getty
Across the years—and gaming systems—Christians have engaged the realm of video games. They've played, discussed, and developed games, but they haven't always had formal training in the theology of video games.
Now, more than a dozen Christian colleges offer video game majors, minors, and concentrations, giving students called to game design the chance to learn in settings that integrate their faith.
Messiah University students in the mobile application and game design concentration are "bringing a Christian perspective to bear on the digital world they will be helping to create." Abilene Christian University students learn from Christian instructors in the field of digital entertainment technology and are challenged to "change the game" as they dream and create.
At Oklahoma Christian University, class enrollment in the gaming and animation program has tripled over the past seven years. Biola University's degree in game design and interactive media began as a concentration in its cinema program in 2019 but quickly became its own major the following year.
The program equips students to see the growing medium as a mission field and a platform for compelling storytelling.
"Anywhere where there's a powerful means of communication, it makes sense for Christians to be in that space," said Michael Steffen, who heads the Biola program and owns Lantern Tower Games.
While Biola teaches video game majors about programming, the primary focus is gameplay: storyline, characters, world-building, and the themes and messages embedded within. A video game allows its audience to interact with the work and be impacted by it in an experiential way, rather than exclusively through visuals.
"Through video games, we could bring people into our Christian community," said rising senior Aiden Arrendondo, who will be part of the program's third graduating class next spring. He considers the idea of using video games to spread the gospel to be a "really cool, unique thing" that holds promise. "We haven't tapped into yet, but we're striving for it," he says.
Last month, Arrendondo attended the Christian Game Developers Conference, where speakers highlighted the importance of God's gift of creativity and how Christians could use that to glorify him.
Budding game designers like Arrendondo are part of a community of Christian gamers across the web that celebrates video games' potential to bring people together and reflect the ways of God.
"Jesus talked about loving your neighbor as yourself," said Brock Henderson, chief technology officer and co-founder of PxlPug, which specializes in games that "can spark great communities."
"He also talked about being salt and light in this world," Henderson continues, citing also how in Genesis, we are given "the cultural mandate where we're supposed to cultivate and create."
"Because games are such a cultural force, I think they're the preeminent art form of the century. I think we need to take them seriously."
Efforts to take the "cultural force" of video games seriously have ranged widely among Christians. Some evangelical schools have introduced increasingly popular esports programs—or video game competitions—to reach students and expand into new ministry opportunities.
One video game demo released last year gave gamers the chance to walk in Jesus' sandals and play as the Messiah. But Christian designers aren't confined to overtly faith-based games. They can reflect a worldview, a sense of morality, and a delineation of good and evil, without bringing a Bible character or reference onscreen.
Biola's game design program teaches students how to integrate faith by helping them recognize Christian worldviews in existing media and within their own ideas. Students then learn how to emphasize those sorts of elements in their work.
A student-created game called Surface Runner, for example, explores subtle Christian themes. Immersed in the story of an AI character, players can hear the voice of a "creator" guiding them throughout the game. Eventually, players hear a new voice—one that is antagonistic. This part of the game is an indirectly Christian concept reflective of how outside voices can attempt to influence people, luring them away from God.
"If I'm designing a game, I should be thinking about the players first and how this game is going to ultimately serve the player," Steffen at Biola said. "The best way to serve them is to point them to God. But maybe there's also other ways, [like] how [do] we serve our team? When we're working in a game company or with a game development team, how do we love them?"
Henderson agrees. Some games, he said, simply seek players' attention and monetize their experiences through ads—practices that don't necessarily "love" the player.
"Creating things that are true, beautiful, and good point to God and provide the salt and light. So that's kind of what I'm focused on. I really want people to think critically about what they're creating," Henderson said.
Allegorical games—ones that tell stories similar to the style of J. R. R. Tolkien and C. S. Lewis—are also ways that video game creators can spread the gospel. But outside of classic fantasy-driven plotlines lies another narrative option: testimonials.
Testimonials can evangelize and break down certain barriers in a way that an obviously Christian-themed game might not be able to accomplish, Henderson said.
That Dragon, Cancer was a video game released in 2016, designed by Ryan and Amy Green as a love letter to their son during his battle against cancer. It immerses its players in the Greens' heartbreaking battle, introducing the challenges and doubts the family faces and showing how their faith played a huge part in it. While the game doesn't have any score or point system, the power of the narrative is what drew players in.
Steffen knows believers working in major game companies, like Insomniac or Riot, who start Bible study groups within their work context.
"If you're a Christian at a game company, you have an opportunity to bring the kingdom," Steffen said. "I was thinking the other day about how we are, as Christians, representatives of God's kingdom. So if you're a Christian working in the secular games industry, you are a representative of the kingdom at that company."
Arredondo's favorite part about the Biola program is the collaboration—the opportunities he has to work with a team in a creative context.
He sees creativity as a blessing, a way to showcase art as a form of ministry. While he said that he's excited to share his passion for video games, he's also grateful for the opportunity to integrate his faith into the field.
"The one thing I wanted to take away after I graduate is that I glorify God through the abilities that he's gifted me—whether it's in game design or my athletics and academics."
Samantha Saad is CT's 2023 Habecker Fellow and a student at Taylor University.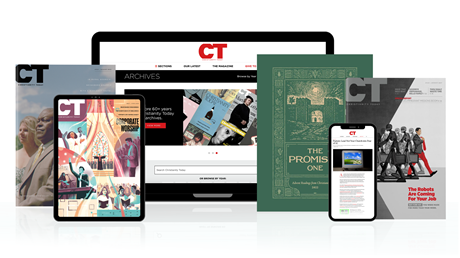 Annual & Monthly subscriptions available.
Print & Digital Issues of CT magazine
Complete access to every article on ChristianityToday.com
Unlimited access to 65+ years of CT's online archives
Member-only special issues
Subscribe
Christian Colleges Level Up Video Game Degrees
Christian Colleges Level Up Video Game Degrees