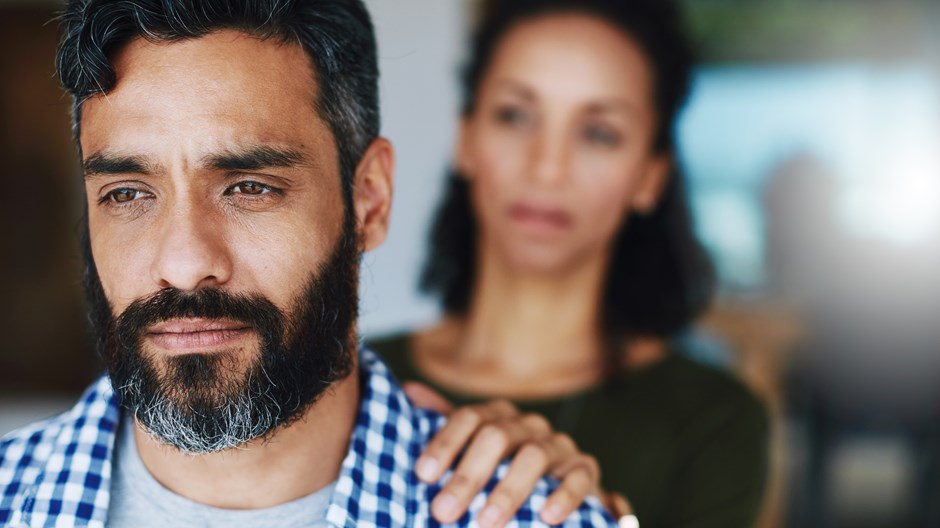 Image: laflor / Getty Images
"I feel like a silent warrior," a fellow military wife told me. "I don't want people to think badly of him. They have no idea what he's been through. But they also have no idea what I'm going through."
Though she felt isolated, this military spouse was far from alone. Posttraumatic stress disorder (PTSD) disability claims by military veterans have soared to over 940,000 cases. More concerning is the fact that many veterans are unlikely to speak up about their symptoms due to fear of being viewed as weak or experiencing negative repercussions in their military career. Spouses often fear that speaking out to others about PTSD-related struggles at home may permanently sever an already strained marriage. Though this military wife had sought my advice as a counselor, she could not have anticipated how deeply I understood.
As the wife of a soldier who served for three years in Iraq, I had wrongly assumed that because my husband was so strong, he would somehow be immune to the toll war would take. He shared only tiny glimpses of war with me at first: describing car bombs targeting mosques and the pandemonium that ensued or what it was like watching hysterical family members search for loved ones in piles of charred bodies that included women and children. The sights, sounds, smells, and feelings of horror and helplessness he experienced mingled to form memories that would stay with him indefinitely. He was just 22 years old.
Over the years, he shared even less with me. I would question how he earned awards, including a Bronze Star, and he would give vague answers to dismiss my questions. He'd share bits occasionally, but he mostly sought to forget—and to protect me from—the kind of evil that civilians have trouble comprehending.
A hidden injury
PTSD was first accepted as a diagnosis in 1980 by the American Psychiatric Association, but it is not a new phenomenon. The symptoms that can afflict combat veterans have existed throughout history. It was described as "soldier's heart" after the Civil War, "shell shock" after World War I, and "battle fatigue" after World War II. Today over 2.7 million service members have deployed to either Iraq or Afghanistan. Many have deployed multiple times. Studies have shown that while some individuals experience an improvement in symptoms of combat stress, many experience a chronic problem. Despite the availability of counseling, the US Department of Veterans Affairs reports that the risk of suicide is still 22 percent higher among veterans than non-veterans.
Just as ignoring a physical wound causes it to fester and get worse, failure to deal with combat-related trauma exacerbates injury. But deployed soldiers don't have the luxury of stepping off the battlefield to process all they've encountered and experienced. They must lace up their boots and get back to the mission. Many spend months in situations in which their lives are in constant danger—being shot at, receiving frequent mortar fire, and traveling areas where any roadside object could be disguising an improvised explosive device (IED). As a defense mechanism, they often become desensitized to fear and operate on instinct. Their vigilance serves them well and keeps them alive.
Eventually, when these soldiers return home, they are met with messages that tell them they can relax and be happy now. Unfortunately, the hypervigilance they've developed as a survival mechanism can't always be suddenly shut off. The brain never forgets. The memories and grief follow them home. If they manage to suppress them throughout the day, nightmares are often waiting to remind them when they try to go to sleep.
PTSD may be diagnosed when symptoms last longer than three months and fall into four categories:
Re-experiencing the event, whether through intrusive memories, flashbacks, or nightmares.
Avoiding situations, people, or activities that serve as reminders of the traumatic event.
A negative perception of people, circumstances, and life in general.
Hyperarousal, trouble sleeping, trouble concentrating, and anxiety.
The diagnosis also requires that the individual has been exposed to a traumatic event in which they felt intense fear, helplessness, or horror. In fact, many now argue that PTSD should be viewed as an injury rather than a disorder. Symptoms may have delayed onset, first appearing months or even years after the initial trauma.
Families in crisis
The trauma of war often follows combat veterans home—and can cause further trauma, pain, and confusion in families. Spouses and children who have been waiting with bated breath to reconnect with their loved one may be confused when their hero seems emotionally detached. Personality changes, constant criticism, and angry outbursts can be common for PTSD sufferers—and can be frightening and devastating for the entire family. Bewildered spouses often don't have enough information to understand what is causing the outbursts, especially if they first appear years after the deployment. They can't understand why their once easygoing spouse would blow up and punch holes in the wall or seemingly reject the love of a family that needs them. Without counseling, the soldier may not fully understand either. If he or she could explain it, verbalizing his or her struggle would build empathy in the relationship and make it easier for the spouse to forgive and offer support. Unfortunately, though, sharing often feels difficult or impossible for the PTSD sufferer.
"We walk on eggshells to make sure we don't trigger his temper," the military wife seeking my counsel confided. "I can't seem to do anything right, and he'd rather isolate himself in front of the TV than have anything to do with me or the kids. I miss the man he used to be." Though this woman attends church regularly, she can't bring herself to tell others at church about the chaos she lives in behind closed doors. "It's hard enough to get people to take a chance on getting to know you when they think you might only be here for a couple of years," she explained. "If they knew this, it would really scare them away."
Her dilemma is common. Multiple studies have found that spouses of veterans with PTSD can become socially withdrawn or suffer from depression. One study found that nearly half of spouses of PTSD sufferers have felt "on the verge of a nervous breakdown." Further, children with a family member that has deployed have greater odds of experiencing sadness or hopelessness, depressive symptoms, and even suicidal thoughts.
Spouses often deal with intense loneliness. "He lost his sense of humor and was always aggravated with me or the kids," one wife told me. "He even lost interest in me physically. I worried he might be having an affair but never dreamed it was PTSD. One day we were arguing about how he wouldn't go to church with me, and he said God could never forgive him. That's when I started putting the pieces together."
What the church can do
Treatment of PTSD requires the expertise of mental health professionals. However, the need for a professional counselor never negates the need for a loving church family. The church is uniquely positioned to wrap around both veterans and their families: loving them, supporting them, and praying for them. A strong support system—like what a church family can offer—is crucial for healing.
But are we meeting the needs of these hurting families in our pews? We fail them if we treat our churches like miniature seminaries, where we simply come to hear good teaching from pastors on Sundays. As the church, we must build deeper relationships that enable us to recognize when there is a problem. We must foster the trust that hurting families need in order to feel safe sharing honestly. Many civilian Christians may feel ill-equipped to help military families. In reality, there is a great deal the church can do.
• Provide a safe place to wrestle. Pat answers and Christian clichés are not helpful for anyone in crisis, and this is especially true for those dealing with PTSD. Yes, "God is good all the time." But it is difficult to reconcile that truth with memories of an IED ripping through a buddy's Humvee or watching with horror as innocent victims suffer and die in the wake of a terrorist attack. Not unlike a young mother diagnosed with cancer or a parent who has lost a child, veterans need a safe place to wrestle and ask the difficult questions. Who better than the church to love them as they do?
• Draw close. It wouldn't be appropriate for civilians who have not experienced the same combat-related trauma to say, "I understand." Nonetheless, Christian brothers and sisters can provide tremendous and meaningful support. When my husband returned from battle, he and I learned a great deal from friends and mentors who knew nothing about the evils of war but who still choose to walk with us through the messy, broken places. In the process, they not only helped us heal, but they modeled how we could serve others by inviting them into our circles and loving them unconditionally while they grappled with the effects of war. This is biblical hospitality at its best.
• Love faithfully. Along with prayer support, these families need us to take the initiative to ask how they are and care about the answer. They may need our assurances of confidentiality. They likely need encouragement from others to seek out professional counseling. Most of all, they need to be loved with Christ's unconditional love. Someone dealing with PTSD will likely try to push you away. Don't let them. We must be consistent in these friendships even when they seem like they don't want or need it. They do.
A different kind of warrior
The Bible is not silent on the kind of pain and struggle associated with PTSD. King David was a man who knew about military battle and the effects of war. He was also no stranger to depression or anguish. An accomplished warrior, he also penned prayers like this: "You, Sovereign Lord, help me for your name's sake; out of the goodness of your love, deliver me. For I am poor and needy, and my heart is wounded within me" (Ps. 109:21–22).
Trauma changes a person, but that doesn't mean healing will elude them forever. Often, our scars can be a reminder of God's redemptive work in our lives. Even the resurrected Christ still bears his scars. Whether these "silent warriors" with PTSD are non-believers or wounded saints, great need can precede great redemption. PTSD sufferers may initially bristle at verses like Romans 8:28, which promises that, "God causes all things to work together for good to those who love God, to those who are called according to His purpose" (NASB). They may wonder how something so horrific could ever be used for good. Yet, the wisdom and intimacy with God they'll gain as they heal can be used to shine a powerful light into someone else's darkness. It will not happen without the courage to make the daunting journey through their own healing process, hopefully with the faithful support of a church family.
Churches can rally around these families, speaking life and encouragement into their darkest days. We do not need to know or understand the details of their trauma. We simply need to know, and continually point them to, the One who does.
God is not naïve about the evil that humans are capable of, and he is not oblivious to the trauma many have endured because of it. He does not recoil at deep wounds or abandon families when they are falling apart. He is a faithful companion who walks through the messy, painful places with us. May the same be said of his church.
Bridget Kessler is a freelance writer, wife, and mother of six. She holds a master of arts in human services counseling: marriage and family. You can read more of her writing at TheKesslerDiaries.com.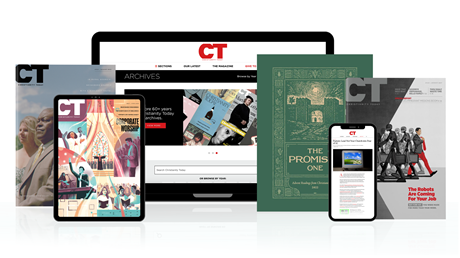 Annual & Monthly subscriptions available.
Print & Digital Issues of CT magazine
Complete access to every article on ChristianityToday.com
Unlimited access to 65+ years of CT's online archives
Member-only special issues
Subscribe
When Combat Trauma Tests a Marriage
When Combat Trauma Tests a Marriage