true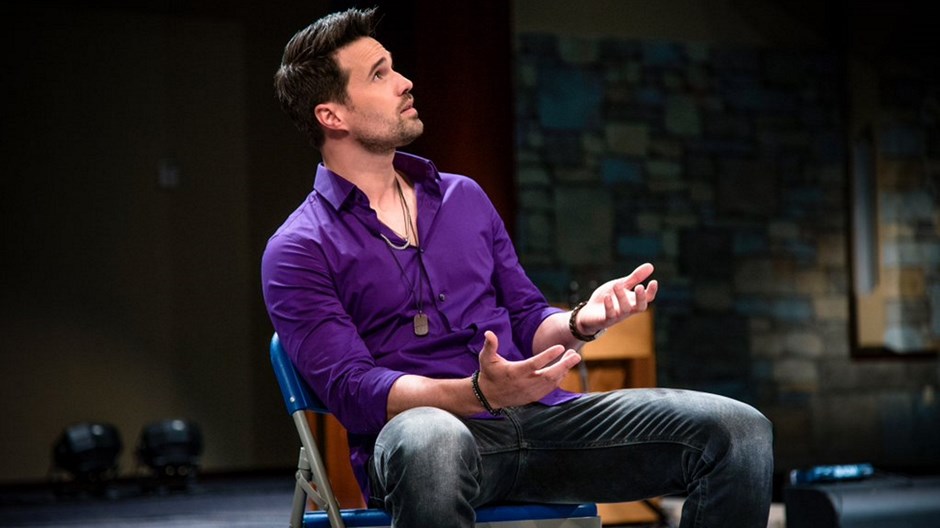 Image: Courtesy WWE Studios, BH Tilt, and Walden Media
Like many faith-based films, The Resurrection of Gavin Stone, the newly released comedy created by Dallas Jenkins, Walden Media, Vertical Church Films, and WWE Studios (yes, that WWE) occasionally made me wince. The film's premise is standard fare for a Christian audience: a non-believing TV celebrity gets sentenced to community service at a suburban church, where he gets to know a set of quirky small-town Christian neighbors who will inevitably change his life.
For all its predictability, though, Gavin Stone also has charm. More than cringing, I found myself laughing aloud—and for the right reasons. And the filmmakers clearly want audiences to know that they empathize with criticisms of awkward Christian movies. Leading up to its release, for instance, the film's creators sponsored a Babylon Bee post spoofing bland evangelical flicks with "the predictable conversion scene and subsequent end credit worship song." The sponsored-post text even conceded that "faith-based films don't have the best reputation" before making the humble suggestion: "Take a chance … go see The Resurrection of Gavin Stone."
Admittedly, part of what makes the film refreshing is that Jenkins and his crew actually aim beyond the more familiar genres into which Christian movies fall—morality fables (Courageous, War Room), miracle dramas, cultural revenge fantasy (God's Not Dead), or biblical historical fiction (Risen). Yet instead of trying to impress skeptics or fulfill evangelicals' expectations for message-driven movies, Gavin Stone aims to avoid being taken too seriously—and unlike typical inspirational fare, it gets closer to showing an evangelical culture that audiences can actually recognize and laugh alongside.
As its title suggests, Gavin Stone notably places its protagonist front-and-center—a sure sign of its writers' confidence in their central character. That faith is warranted: Stone is played well by a bemused, clean-cut Brett Dalton, who most recently took a turn as Hydra-hailing and alien-devil-possessed Agent Grant Ward on Marvel's Agents of S.H.I.E.L.D. Here, though, Dalton's role is more human: a former child actor of corny 1980s-90s sitcom fame with a persistent bad-boy reputation.
We're told (but never see) that Stone trashes a hotel, which lands him a community service gig mopping floors at an Illinois megachurch. When he happens upon Easter pageant tryouts, he's desperate to act—and to show off a little—so he applies for the pageant's starring role: Jesus Christ. The pastor tells Gavin they want only Christian actors. "I am one," Gavin lies. "I've had the—passion of the Christ for a couple years now." Before we know it, he's doing his best to blend in and trawling YouTube for religious jargon to use in his (faux) testimony.
Given its lighthearted premise, Gavin Stone is strongest when it affectionately parodies Midwest megachurch Christianity—a slightly different flavor from the down-home Baptist faith of Sherwood Pictures films. I laughed outright at Gavin's attempts to speak Evangelese, find a perfect upright-Christian uniform, and snack wafers straight out of the communion plate. It's a bit believably unbelievable, too, how well the kind-hearted Christians around him tolerate these eccentricities.
Along the way to Gavin's inevitable conversion, the story turns are pleasant, if foreseeable. The play starts off badly, but gets better thanks to Gavin's input. Meanwhile, Gavin and the preacher's daughter, Kelly (Anjelah Johnson-Reyes) share a low-key romance. Naturally, Gavin's pretense can't last long. Like any similar story, Christian or not, Gavin will have to face the inevitable red-and-blue siren call back to his big-city life and away from his newfound, small-town friends.
Gavin Stone's cast largely succeeds at crossing the "uncanny valley" of portraying movie-world Christians without making us recoil. Gavin's evangelical friends may fit certain stereotypes (the Motorcycle Convert, the Single Nerd, the Sincere-but-Sensitive Wild at Heart Guy), but the very fact that I don't feel silly speaking about Gavin Stone by name, and not "so-and-so's part," confirms the story's emphasis on character over caricature. Even Kelly, despite her "good girl" role, doesn't quite inhabit the angelic female archetype seen in some other Christian movies.
That said, the film's production and plotting struggle. Some tighter editing could have helped the story move more quickly, dialogue tends to drag on or feel stilted, and while Gavin's final ad-libbing as Jesus in the Easter performance offers a few profound moments, his change to a new life follows expected beats. The obligatory scenes of Gavin's partial "relapse" may have lost me the most: when Gavin is recruited back to Hollywood by a stereotypically flashy agent and a grungy TV director, "worldliness" briefly ensues, but a sinful lifestyle that is so obviously unappealing doesn't realistically present any competition to Stone's potential conversion.
Sadly, this is where Gavin Stone repeats a persistent flaw in Christian movies: even when our films effectively reflect the church, they're not often accurate in reflecting even a cinematic version of an outside-church world. That world may be portrayed as an overall nice and friendly middle-class planet (that is, when it's not ripe for a Rapture) or a den of iniquity, all booze and blinking neon—but it rarely shows hints of the common grace, beauty, and truth that reflect God's purpose and the future Creation that Jesus promises to renew.
Fortunately, though, Gavin Stone does plant seeds for potential genre growth, including the previously underexplored (albeit partly developed) theme that talented non-Christians might actually have something to teach church-folk. Even as Gavin learns from his Christian neighbors about Jesus and the gospel, he teaches acting skills that give them a second chance at visual creativity. Thanks to this outsider's "worldly" skills, these Christians are better equipped both to meditate on and to worshipfully portray Jesus's life and death.
Yes, Gavin must hear the gospel to reconcile with his Creator and join the church; when his friends teach him, they fulfill Jesus's Great Commission to make disciples among all nations. But they must also learn from Gavin how to tell better stories. When Gavin and his Christian friends intentionally pursue excellence in their artistry, they align with God's older "cultural mandate": they create something beautiful not just to remedy sin, but to imitate their Creator.
In light of that mission, it's worthwhile to applaud what evangelical-friendly films like this one get right, even as we challenge ourselves to move beyond initial "conversion" to mature "discipleship" in visual creativity. After all, if Gavin Stone aims to teach audiences anything, it's that worldly sinners and Christian creators alike need repentance and deserve second chances.
E. Stephen Burnett writes about biblical truth and fantastical stories at Speculative Faith and Christ and Pop Culture. He lives with his wife, Lacy, in their Austin-area home.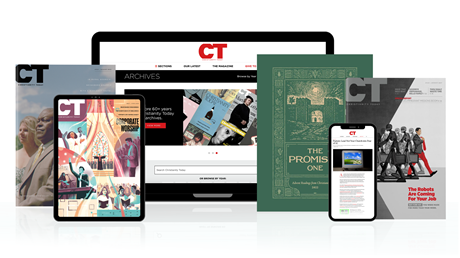 Annual & Monthly subscriptions available.
Print & Digital Issues of CT magazine
Complete access to every article on ChristianityToday.com
Unlimited access to 65+ years of CT's online archives
Member-only special issues
Subscribe
Can 'The Resurrection of Gavin Stone' Raise Christian Movies from the Dead?
Can 'The Resurrection of Gavin Stone' Raise ...