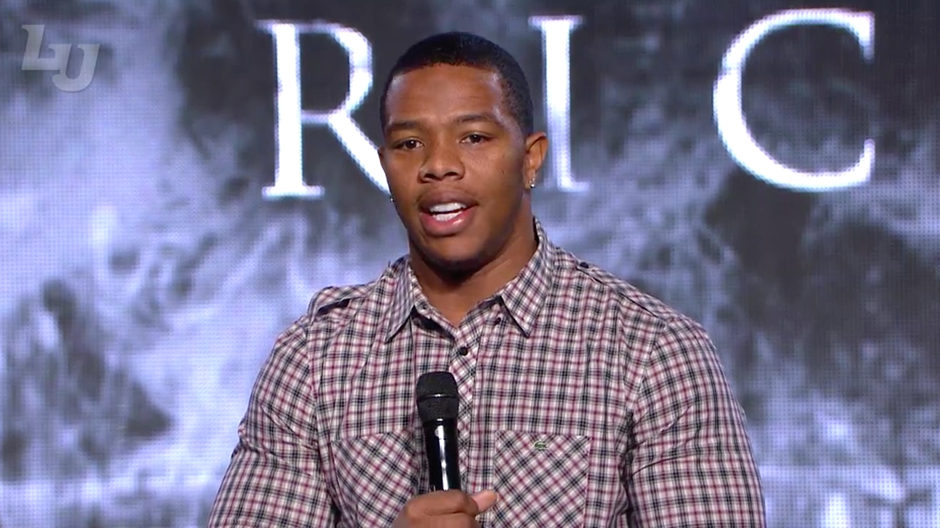 Image: Liberty University Media
On February 3, 2013, Baltimore Ravens running back Ray Rice was riding high. That was the day he helped his team win the Super Bowl in a historic game against the San Francisco 49ers.
But just one year later, Rice hit rock bottom after being caught on camera brutally knocking his then-fiancée unconscious in the elevator of an Atlantic City casino. After the dramatic and disturbing video footage was leaked on TMZ for all the world to see, Rice was fired by the Ravens, and he hasn't played professional ball since.
Now Rice has a story to tell, a story of how this was the turning point in a lifetime characterized by various kinds of abuses and a deformed image of what it means to be a man.
This week 30-year-old Rice shared that story at Liberty University in a special, extended convocation that featured the former NFL player along with a panel of students, administrators, and counselors who shared stories of domestic violence as well as avenues of change and resources for help. (The entire convocation can be viewed here.)
The unceasing revelations of recent days of ongoing abuse and harassment by celebrities, leaders, and politicians leave the church with myriad questions, including how to prevent such actions and how to respond to both victims and abusers.
As one victim of domestic abuse at the hands of her minister husband, Ruth Tucker writes, "For too long we've let external appearances, assumptions about socioeconomic status or education levels, or even a 'spiritual' veneer and churchy language hide patterns of abuse."
Another question, however, perhaps the hardest one amid the rawness of these revelations, is this: If we want abusers to repent and be restored, what will we do to facilitate and receive that repentance and restoration?
To that point, the backlash on social media to the announcement that Ray Rice would be addressing students at Liberty was swift and cynical. Yet, Rice used his talk to openly confess his own abuse and present a way to repentance for the abusers out there who are yet to be revealed.
Growing up in an impoverished home and community, Rice strove to be the man, he explained. But after being caught beating up a woman, he realized that he had no idea how to be a man. He said his violent attack "uncovered the brutal truth that I was becoming a better football player but becoming a bad person."
In a follow-up interview, Rice added, "Masculinity comes in many forms," but—he realizes now—"it should not come in forms of abuse."
While he said the incident in the elevator was the first time he had been physically abusive, he admitted he had long been emotionally and financially abusive, making the line into physical abuse easier to cross. He went on to say he had learned about this and had experienced this as a kid in his mother's home.
Growing up, the New York native didn't have a vision of "what life should look like," Rice said. His own father was killed in a drive-by shooting before he turned one, and the home he grew up in was both financially unstable and verbally abusive. Football became the "blanket" that comforted him and kept him away from the turmoil. And although he grew up in the church, his life was disordered. Football came first, then family, then God. By putting these out of order, his "dream became a nightmare."
Despite whatever factors might contribute to the increased likelihood of abuse, it's important to understand that such factors do not determine that one will abuse. As Christians Justin and Lindsey Holcomb, authors of many works dealing with abuse, wrote earlier about Rice's case:
The truth is, the only reason an abuser abuses is because he chooses to. Abusers are able to control their behavior—they do it all the time. Just look at how they behave when they are not around their victims.

We know that certain factors intensify an abuser's desire to abuse, but none of those factors cause abuse. Abusers abuse for one reason: because they want to.
But nearly four years after the life-changing incident, Rice tells the story of his background and the bad decisions he made "without making excuses," a point he repeated throughout the talk.
"Vulnerability is a good thing," he said. "You have to be courageous enough to ask for help." He speaks of God, the church, and the pastor who has become his mentor without the usual, empty Christian jargon and clichés. By all appearances, Rice is owning his failings, his faith, and his ongoing change.
Rice had actually quit drinking and already begun to receive counseling before his attack. He told me he had realized that his life was out of control and he needed help. Rice still receives pastoral counseling once or twice a week. His counselor has become a mentor, too, and Rice contacts him beyond that whenever he feels stressed or in need of extra support.
This kind of humility, one in which the abuser recognizes his own "powerlessness" and "the need for help from a pastor, counselor, and the community," is an essential characteristic of true repentance and a necessary ingredient of lasting change, Justin Holcomb told me in a phone interview.
While nearly every abuser is sorry to be caught, it takes more to demonstrate repentance: acknowledgment of wrongdoing, apology for the harm done, and awareness of the destruction caused to all who have been affected. Ultimately, repentance results in changing abusive behavior, submitting to consequences determined by legal and church authorities, and making restitution for losses (such as costs for the survivor's counseling or medical bills or property damage), Holcomb said.
The abuser's repentance is only part of the domestic violence story, however. The first things the church must do are to serve and support survivors and to pursue justice. I asked Ray if his wife, Janay, had received counseling. He said that she had received her own separate counseling and now speaks about her experiences as an abuse survivor. "But I don't want to speak for her," he added. "She's a strong woman, a superhero."
When it comes to the Christian obligation to forgive (not a substitute for justice), Holcomb offers important distinctions among forgiveness, reconciliation, and restoration. Christians are called to forgive whether or not the person has repented or asked for forgiveness. Even after forgiveness, restoration of the relationship is not always, or even often, possible; wisdom must dictate what it looks like. (In the case of child sexual abuse, for example, while forgiveness and reconciliation might occur, it would be foolish to put children in danger of further harm by allowing a perpetrator to have fully restored access to children.)
According to the National Coalition Against Domestic Violence, more than 10 million men and woman are abused by a partner each year. One out of three women and one out of four men have been subject to some form of physical violence by a partner in their lifetime. In one sense, Rice is just one in a sea of statistics. Yet, in sharing their experience, he and his wife offer a cautionary tale that might put a tiny dent in those overwhelming figures.
Rice thinks about the coming day when his daughter, now five, will stumble across the video of him assaulting her mother on the elevator. Rice says, he wants to be able to use it to explain to her what life "is supposed to look like"—and what it should not.
More important than telling her, however, will be showing her. That will take years of ongoing change, according to Holcomb, the kind of change that takes humility and courage as well as gifted counselors and a community that can offer knowledgeable and equipped support. Sadly, in the case of spousal or partner abuse, the rate of recidivism is "through the roof."
He advises those in abusive situations maintain a safety plan (and provides a free resource for doing so here). Abused women leave and return to their abusive partner an average of 7–12 times, Holcomb said.
ESPN interviewed Rice and his wife earlier this year. Ever since the incident, Janay said she felt judged for standing by him and choosing to continue their relationship. They got married just a month after the tapes released and then renewed their vows the following summer.
"I live every day as if it didn't happen," said Janay, who continues to attend counseling with Rice. "At least I try to, at least for my kids, for our own sanity and for our relationship. If we continue to live in that moment, we'll never move on. So we have moved—moved on a lot."
I asked Ray Rice what words he would have for those whose abuses are still hidden, who have not yet received the merciful gift of God's intervening revelation of sin. "If someone needs such help," he advised before being whisked away to share his story with the university's football team, "don't wait for the dramatic moment."
Karen Swallow Prior is a professor of English at Liberty University.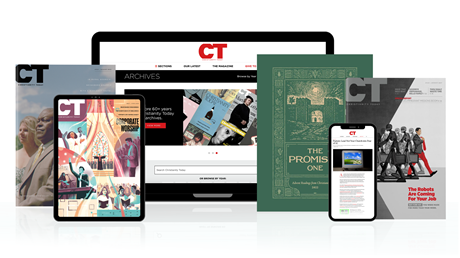 Annual & Monthly subscriptions available.
Print & Digital Issues of CT magazine
Complete access to every article on ChristianityToday.com
Unlimited access to 65+ years of CT's online archives
Member-only special issues
Subscribe
The Real Story Behind Ray Rice Speaking at Liberty
The Real Story Behind Ray Rice Speaking at Liberty