true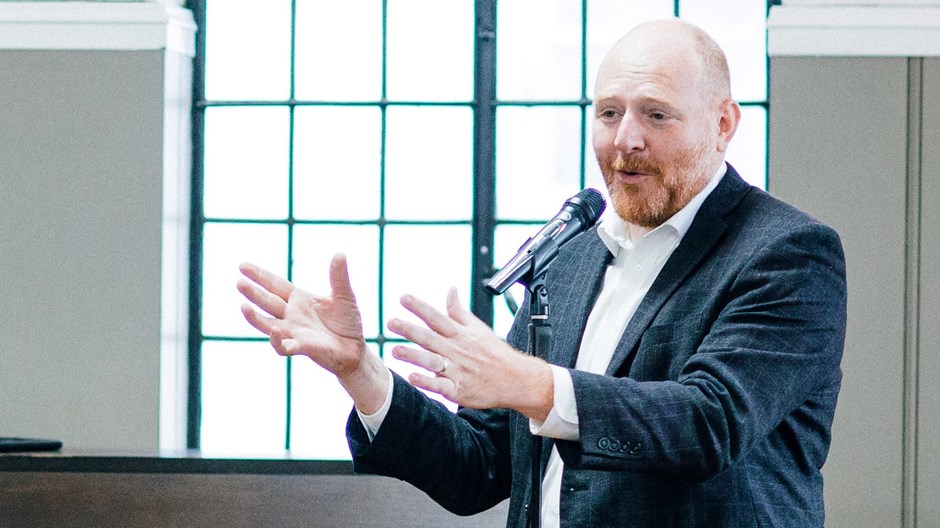 Image: Brittany Fan
Let all guests who arrive be received like Christ, for he is going to say, "I came as a guest, and you received me." And to all let due honor be shown, especially to the domestics of the faith and to pilgrims. … Let the head be bowed or the whole body prostrated on the ground in adoration of Christ, who indeed is received in their persons.
— The Holy Rule of St. Benedict, Chapter 53, "On the Reception of Guests"
Imagine this: You're visiting a church for the first time. As you approach the entrance, you spot the designated greeter, who is wearing a nametag and a warm smile.
You're expecting the usual handshake and hello. Instead, the greeter suddenly drops to ground, lies face down at your feet, and pronounces a blessing of peace upon you.
If you were a medieval traveler, walking your way across what is now Europe, you'd be used to it. Every time you stopped to spend the night at a monastery on your journey, you'd be greeted that way.
There may have been no more welcoming place than monasteries of the Middle Ages. They took hospitality seriously, treating every guest as if he were Christ himself.
Isaac Wardell would like to see a little more of that in modern churches. Maybe not to the extreme of falling prostrate before every visitor, but at least in the spirit of such Benedictine hospitality.
That's why Wardell, director for worship arts at Trinity Presbyterian Church in Charlottesville, Virginia, has launched The Porter's Gate Worship Project, a self-described "creative movement aimed at reimagining and recreating worship that welcomes, reflects, and impacts both community and the Church."
When Christianity Today recently sat down with Wardell after a Sunday morning worship service at Trinity, he was especially enthusiastic about discussing the "welcome" element of that mission statement.
"[As the church], we've lost a vision of ourselves as being a place where people come for welcome," he says. "But it's a beautiful opportunity for us: When a stranger walks through our doors, that stranger is Jesus to us."
Practically speaking, The Porter's Gate is an always-evolving collective of singers, songwriters, musicians, pastors, scholars, and others from a variety of traditions and backgrounds. They recently gathered in New York City to record a live album and a series of accompanying videos, packaged together as the project's first album, Work Songs, modern hymns affirming vocation as an integral part of a life of worship.
The album features such musicians as Josh Garrels, Audrey Assad, Liz Vice, Stuart Townend, Will Reagan, and Sarah Hart.
Wardell, who also co-founded Bifrost Arts (with Joseph Pensak) and oversaw that collective's three releases, talked to CT about the transition from Bifrost to The Porter's Gate — including the story behind that name, which has everything to do with being a more hospitable church.
Let's start with a little bit of your background.
I've led worship on Sunday mornings for 25 years, starting with my youth group at age 13. I had a Christian rock band back in the '90s, The Eleventh Hour; we played Cornerstone Festival. By the time I got to college [Covenant College, where he studied music composition], I had eschewed contemporary Christian music.
After college, I led worship at a few church plants—in Tennessee, Georgia, and Brooklyn. Because I wasn't listening to modern worship music, I was trying to bring the principles of hymnody to bear in those churches. The worship we were doing at that Brooklyn church [Resurrection Williamsburg, founded by Vito Aiuto of The Welcome Wagon] began having its own unique sound and feel. We decided to record the songs, and that became Bifrost Arts.
Lately, I'm recognizing that this Presbyterian, broadly Reformed tradition here at Trinity is like one strand of what God is doing all over the world, particularly in worship. As I've spent more time with worship leaders in other traditions—the Roman Catholic Church, African American churches, mainline churches—I've realized how impoverished some of the Bifrost Arts stuff was, when it was just coming out of my vision, because I wrote all the songs. I realized that Bifrost had run its course.
Is that when the idea for The Porter's Gate came about?
Yes. And here's the story behind that name. Greg Thompson, our pastor at Trinity at the time, did a series from the Book of Ruth, with the subject of missionary hospitality. He gave us a metaphor of a medieval monastery. He said, "Imagine you live anytime between about the 6th and 17th centuries, anywhere as far east as the Middle East, as far west as Spain, as far north as Ireland, and as far south as Northern Africa. If you were traveling alone, your eyes would search the horizon for one of those monasteries, because they were known as being places that would take you in. When they came to one of these monasteries, especially in the Benedictine tradition, these sojourners would find a person at the door, and that person was called the porter. He's supposed to represent the church to the world, to extend hospitality, to get the visitor anything they needed. He lets the whole monastery know there's a guest, so the monks and even the abbot would come out, bow down before the guest, kiss their feet and say, 'You are Christ to us, Jesus in the flesh to us.'"
That image is powerful. It's beautiful to think about that kind of opportunity we have as the church: When a stranger walks through our doors, that is Jesus to us. But it's also a pretty haunting image, because people are still lost, still wandering, still seeking—but they're not looking for welcome in churches.
Even sadder is that we're not looking for them. We don't have a porter at the door who's saying, "How can I serve you? What can I do for you?" So we shouldn't be surprised when people say, "Oh, the church, they hate gays, they don't care about the marginalized, or it isn't a welcoming place for people touched by disability." Because we've lost a vision of ourselves as being a place where people come for welcome.
It's not a perfect analogy, but I think those of us who lead worship on Sunday mornings are in many ways the closest thing to the role of a porter, in terms of making people feel welcome.
How did choose vocation as the theme for this album?
Greg Thompson did a video series fleshing out six virtues of what it looks like to be a welcoming church—identity, community, confession, vocation, formation, and context. We simply decided that, for the first album, we would focus on vocation. These are worship songs. Some are much better suited to congregational singing, while others are more like offerings to the Lord.
About a year ago, I reached out to musician friends from a broad spectrum of traditions—Calvary Chapel, Vineyard, Roman Catholic, Episcopal—for a collaborative project. But instead of bringing them in at the end of the creative process, I invited them in from the beginning. I said, "We have a dearth of resources on vocation." I first noticed this when I was doing worship for Redeemer's Faith and Work conference a few years ago, when they asked, "Can you sing songs about calling and vocation?" (laughs) I opened up the hymnal and I'm like, "All right, 'Take My Life and Let It Be,' and … nothing else."
So I approached all these different writers and pastors asking if they had anything to contribute. Then we had a songwriting contest, 400 people writing in ideas for songs about calling and vocation. We did three different songwriting retreats.
Finally, we had an invitation-only gathering of about 50 folks in New York in June. By then, we had written all the songs, so that's when we performed all the songs. We taught them to everyone, and everyone—even the non-musicians—sings on the album. We also invited a videographer, who set up three cameras and some audio recording gear, and we recorded these music videos live as we performed the songs.
What comes next?
It's my intention to do a series of five more of these over the course of about 10 years. We can probably do one every 18 months. Some of the same people, and depending on the content of the next record, there will be different conversation partners too.
The next album will be about community. I'd like to include people like Barb Newman, who has spent her whole life equipping churches to welcome people of varying abilities. I want to bring in someone to help us think about aging and death in the context of community. I'd like to bring in Wes Hill or someone from the Spiritual Friendship community, to talk about singleness and sexual identity in community. And then a couple people helping us think through education, race, and class in community.
We'll ask the questions about what kind of songs will help us better understand the topic of community. We don't even know the questions yet! But we're looking forward to asking them.
Watch Josh Garrels and other Porter's Gate artists sing "Christ Has No Body Now but Yours." The lyrics are from a prayer by Teresa of Avila, circa 1571.
CT editor at large Mark Moring is managing editor of Orbiter, a magazine exploring the intersection of science and meaning. He is also senior writer for Polymath, a creative agency.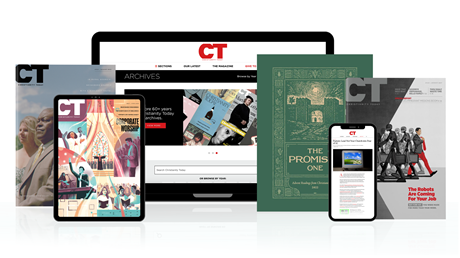 Annual & Monthly subscriptions available.
Print & Digital Issues of CT magazine
Complete access to every article on ChristianityToday.com
Unlimited access to 65+ years of CT's online archives
Member-only special issues
Subscribe
Creating Worship Songs for a Welcoming Community
Creating Worship Songs for a Welcoming Community