When Franklin Graham came to my hometown of Vancouver last month, it caused a great deal of controversy—and I found myself caught in the middle of it.
I treasure and place great personal importance on my relationship with the extended Graham family. Leighton Ford, Franklin Graham's uncle, has been my longtime mentor. I also served on a seminary board for seven years with Franklin's sister Anne Graham Lotz and their father, Billy Graham.
Given Franklin Graham's controversial public comments about gay people and Muslim immigrants, however, I joined the local Christian leaders who were concerned that Graham would not be the best person to preach the gospel in our liberal-leaning city. We worried that the controversy surrounding his well-publicized Festival of Hope might steal the spotlight from the gospel.
Canada isn't the only country where Graham has been given a mixed reception.
I regularly preach in Japan, the country where I was born. While on a speaking tour there a year and half ago, and again this March, a Japanese pastor confided in me that controversy has also surrounded the global evangelist's presence there. Graham preached in the country back in 2015.
He noted that Graham has advocated the use of nuclear weapons against America's adversaries after 9/11, seemingly countering the Sermon on the Mount's message of "love your enemies." In light of this position in particular, Christian leaders in Okinawa were divided over whether to receive him. Hiroshima and Tokyo canceled their plans to host Graham as an evangelist because of his partisan political statements. My conversation with Japanese Christian leaders affirmed the importance of engaging this issue.
In the spirit of Galatians 2, where Paul confronts Peter for no longer eating meals with Gentiles (Peter's withdrawal from the table implied that the gospel excludes Gentiles), we in Vancouver felt we needed to affirm our commitment to the wide mercy of the gospel through an open letter to Graham and an invitation to engage in a civil discussion with our ministry colleagues.
Scripture calls us to pray for and respect our government leaders (Romans 13), but we are also warned against colluding with the beast of the sea (Revelation 13), a symbol for government under the influence of the powers of darkness. South African pastor Allan Boesak, a prominent spokesperson against apartheid, notes that a government has power and authority only so far as it reflects the power and authority of God.
We are generally wise as Christian leaders to avoid making partisan political statements. However, there are times when we need to speak courageously in the public square on religious, political, or moral issues in the tradition of Dietrich Bonhoeffer during Hitler's rise in Germany. I also think of Tadao Yanaihara of Japan, a Christian scholar who spoke against the injustices of the Japanese government during World War II, of Desmond Tutu in South Africa, and of Martin Luther King Jr. in America.
When conversations become polarized, the middle ground slips away. We are then called to express our convictions on moral issues with the help of the Spirit, with candor, respect, and humility.
Prior to the Iraq War, some in the media described President George W. Bush's plans for a pre-emptive strike as a "Christian holy war" against Muslims. On the eve of the strike in March 2003, a national public radio program interviewed me and a Toronto-based Muslim imam. When questioned, I first affirmed that Bush was a brother in Christ. I then explained that I didn't see how Scripture necessitated a pre-emptive strike, particularly without definitive evidence that Saddam Hussein possessed weapons of mass destruction. Under the circumstances, I favored pursuing diplomatic options.
In an interview with The Washington Post on the eve of Graham's coming to Vancouver, I echoed those sentiments: I do not personally denounce Graham, but rather want to affirm a more inclusive vision of the Christian gospel.
I believe we can be both candid and respectful. Even when Christians disagree, we can do so with love and humility as we recognize the image of God in those who may hold a different perspective. Humility also helps us acknowledge the limitations of our own perspective.
Those of us who supported an alternative to Graham did not encourage a boycott of the Festival of Hope. We prayed that God would use him and the rally to draw many people to Christ. I was deeply thankful that some 1,900 people came forward to make some kind of profession of faith or recommitment to Christ. Those of us who signed the open letter have also initiated a lunch with the local leaders who sponsored the outreach as a way to affirm our ongoing relationship and desire to continue working together for the cause of Christ. (The lunch, unlike our leaked letter, hasn't made headlines.)
If I see Franklin at a Graham family gathering in North Carolina, I plan to speak with him and thank him for the important work of Samaritan's Purse and to affirm my gratitude for his extended family. I want to learn from him. I also want to continue speaking the truth with grace, with the belief that in doing so, we are better able to fulfill our mutual desire to faithfully represent the beautiful character of Jesus to the world.
Ken Shigematsu is senior pastor of Tenth Church in Vancouver, one of the largest and most diverse urban churches in Canada. He is a graduate of Wheaton College, Gordon-Conwell Theological Seminary, and San Francisco Theological Seminary. Shigematsu previously lived and worked in Tokyo, Japan.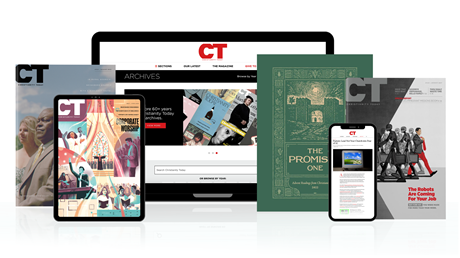 Subscribe to Christianity Today and get access to this article plus 65+ years of archives.
Home delivery of CT magazine
Complete access to articles on ChristianityToday.com
Over 120 years of magazine archives plus full access to all of CT's online archives
Subscribe Now
Franklin Graham's Global Fallout, from Canada to Japan
Franklin Graham's Global Fallout, from Canada to Japan