Image: Gino Santa Maria / Shutterstock
Yesterday morning at 3 a.m., Donald J. Trump stood on stage in New York City and made remarks that most of us—both supporters and detractors—never expected to hear from him. "Now it is time for America to bind the wounds of division… To all Republicans and Democrats and independents across this nation, I say it is time for us to come together as one united people," he said. Later in the speech, he added: "We will seek common ground, not hostility; partnership, not conflict."
For a candidate who built his campaign with fiery rhetoric and urgent demands for change, he seemed unusually open, invitational, and conciliatory. We can only conjecture, of course, about whether his change in rhetoric is a sign of a new tone going forward.
Trump secured the presidency by winning the Electoral College, but Hillary Clinton won the popular vote by a narrow margin. Election maps and exit polls reveal stark divisions across the electorate.
But of this we can be sure:
Although the election is over, the level of angst in our country will likely persist for months, maybe even years.
Presidential elections tend to evoke strong reactions and fuel controversy, but this election amplified the negativity beyond politics as usual, bringing new levels of animosity, vulgarity, and offensiveness to everyday political discourse. In many social media forums, diatribes have replaced dialogue to the extent that many people are unwilling to listen to or consider any perspective that veers from their own. As a result, opportunities for meaningful political dialogue and respectful disagreement are shrinking.
In this increasingly polarized environment, Christians have great opportunities to model a different approach to politics and witness to the gospel. The results of yesterday's election will shift power to new political actors with competing visions of what is best for the nation. Many evangelicals will look to President-elect Trump to champion their priority issues. Others will likely disagree with Trump on a range of policies and will want to voice their concerns. But when we disagree, those policy differences need not turn to anger or disgust. In times of agreement and disagreement, we can approach politics in a manner that honors God and gives glory to Christ.
Scripture speaks directly about how we are to interact with those in power. Romans 13 reminds us to submit to authorities and show them honor and respect. In 1 Timothy 2:1–2, we are called to pray for political leaders and thank God for them: "I urge, then, first of all, that petitions, prayers, intercession and thanksgiving be made for all people—for kings and all those in authority, that we may live peaceful and quiet lives in all godliness and holiness." As the new president and Congress assume office, we should commit them to prayer, whether we voted for them or not.
We can also commit to positive political engagement. Governmental decisions affect our lives and those of our neighbors we are called to love, so it's healthy and good for us to follow politics and advocate for a range of issues. But how we seek political change—and the manner in which we approach those with whom we disagree—matters a great deal.
In politics, as in all endeavors, Scripture calls us to be people of virtue, not vice. We should seek to be more deeply formed in godly virtues, as Paul exhorts:
Therefore, as God's chosen people, holy and dearly loved, clothe yourselves with compassion, kindness, humility, gentleness, and patience. Bear with each other and forgive one another if any of you has a grievance against someone. Forgive as the Lord forgave you. And over all these virtues put on love, which binds them all together in perfect unity. Let the peace of Christ rule in your hearts, since as members of one body you were called to peace. And be thankful. (Col. 3:12–15)
If we are clothed with these virtues as we engage in politics, especially on the most divisive issues, we can offer a positive witness to the gospel. At a very practical level, this includes researching political controversies and checking the facts before commenting, looking for opportunities to learn about different perspectives, and listening with genuine interest. When we disagree with policy proposals and actions, we should offer a vigorous yet respectful critique.
The 2016 election left many people feeling frustrated and even disgusted with the political process, the presidential candidates, and each other. As we say farewell to a contentious and difficult election season, Christians have the opportunity to model a different way of approaching politics and help rebuild trust.
Amy E. Black is professor of political science at Wheaton College and has wide research and teaching interests in the fields of American politics and political behavior. Her recent publications include Honoring God in Red or Blue: Approaching Politics with Humility, Grace, and Reason (Moody Publishers), and Five Views on the Church and Politics (Zondervan).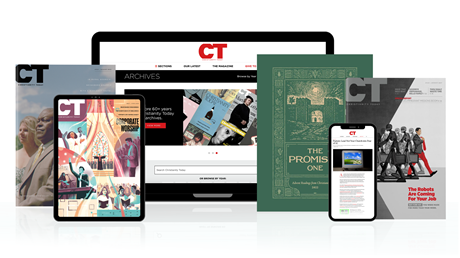 Annual & Monthly subscriptions available.
Print & Digital Issues of CT magazine
Complete access to every article on ChristianityToday.com
Unlimited access to 65+ years of CT's online archives
Member-only special issues
Subscribe
Civil Discourse Is Key to Our Future
Civil Discourse Is Key to Our Future