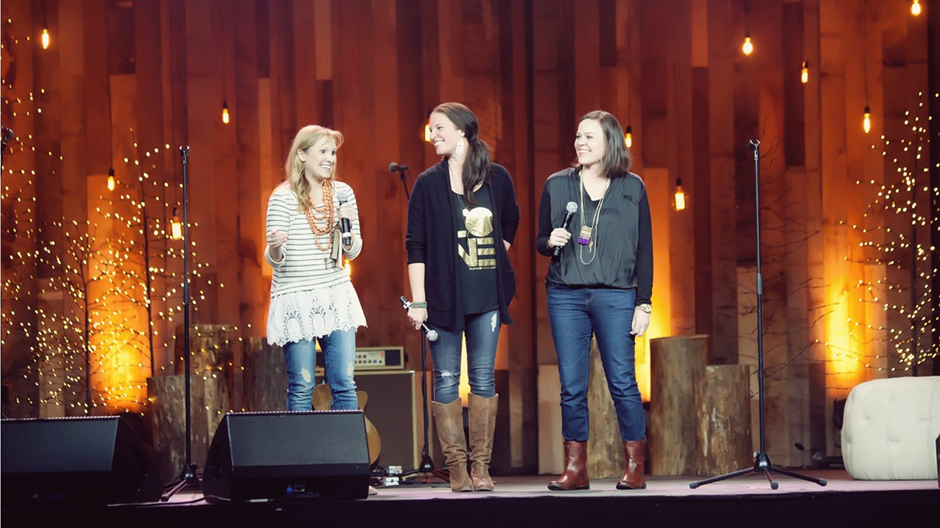 Image: Moxie Collective
The most influential women's leader at your church may be someone who has never stepped inside its sanctuary.
It may be someone your pastor has never even heard of.
"If you had to ask, 'Who's Jen Hatmaker?' it's time to be more directly invested in the spiritual nurture of half your church," tweeted Jen Wilkin last month. The women's ministry leader was responding to the wave of Christian reactions to news that LifeWay Christian Stores had stopped selling books by Hatmaker—one of the biggest writers and speakers among today's generation of evangelical women—after she spoke out in support of same-sex marriage.
Hatmaker's popularity underscores how women's ministry has transformed in the 21st century. Christian women increasingly look to nationally known figures for spiritual formation and inspiration—especially when they don't see leaders who look like them stepping up in their own churches.
While various evangelical subcultures may find different female teachers filling their social media feeds and Amazon recommendations (Austin-based Hatmaker seems especially popular among white women in the South and Midwest), the numbers show that the top names in women's ministry rival or even outdraw high-profile televangelists and megachurch pastors.
Titles by Bible teachers Lysa Terkeurst, Priscilla Shirer, and Beth Moore regularly outsell new releases from pastors such as Max Lucado and T. D. Jakes, according to rankings from the Evangelical Christian Publishers Association. Bloggers such as Hatmaker and Ann Voskamp—with books popular enough to land on TheNew York Times bestseller lists—have triple as many Facebook followers as the biggest congregations in the biggest denomination in the country.
As Wilkin pointed out, while most evangelical women know their Tim Kellers from their Rick Warrens, male pastors aren't expected to parse female teachers.
"The bookshelves in their offices contain no books by contemporary female authors, and their sermons typically do not reference female voices, other than the usual suspects of Elisabeth Elliot or Corrie ten Boom—both dead, for the record," said Wilkin, a minister at The Village Church in Texas. "The typical church organizational structure tends to segregate women's ministry as an autonomous unit—a mysterious kingdom that operates according to its own set of rules."
That kingdom has expanded in the Internet era, when ambitious women can draw mass followings around their writings, teachings, and events without the restrictions of geography, official titles, or other structures.
"These women are role models," said Sharon Hodde Miller, whose doctorate research at Trinity Evangelical Divinity School examined evangelical women's motivations to serve in ministry. "If you are an evangelical woman with teaching gifts, there aren't always role models in your local church. I have met a lot of women, for example, who specifically name Beth Moore as the role model who captivated their imaginations and inspired their calling."
The Houston-based Bible study teacher launched her Living Proof Ministries in the early 2000s, penning Bible studies and speaking about Scripture with the kind of passion that captivated sold-out crowds of evangelical women—and concerned some conservative onlookers.
Moore did what many Christian women before and after her have done: built her own platform to follow her calling. Back in the 1990s, before Brenda Salter McNeil was a professor and ordained pastor, she founded Salter McNeil & Associates to speak and consult on issues of racial reconciliation in the church. Today, women may launch their own organizations—such as Christine Caine's Propel, a ministry for women in the marketplace, or Nancy DeMoss Wolgemuth's True Woman, a spinoff of her radio program—or simply build off the success of a book or blog.
Religion News Service recently covered the Hatmaker-headlined Belong tour (a new iteration of Women of Faith) and there's also the livestreamed IF: Gathering, Q Women, Women of Joy, Declare, Rooted, and many more.
"We need to recognize that the Spirit of God is at work. Because the digital age has changed how ideas spread, women—who have historically existed in the margins of theological conversation—have an opportunity to add to the conversation without ever leaving their desks," said Hannah Anderson, who recently discussed the outsourcing of women's ministry on Persuasion, a Christ and Pop Culture podcast. "In the past, the lack of infrastructure designed to promote female voices would have held them back; but today, women who are gifted to teach, lead, or encourage have opportunity to actualize these gifts in a public way."
One of the biggest benefits of this trend is it gives more exposure to people, topics, and ideas that might not come up in traditional settings. Conferences with diverse lineups introduce women to perspectives beyond their own congregations. As women open up with each other about issues like dual callings, sexuality, gender, body image, and more, they have more freedom to make a statement and challenge assumptions than if they were tied to an organization.
"Those folks are able to embody a point of view and be prophets," said Nikki Toyama-Szeto, a vice president at International Justice Mission (IJM). "You have people who are able to stir the pot and move conversation along."
But there are drawbacks as well. "There's a double pressure for women who live their faith in public life," she said. "And when you're detached from an organization, you don't have the same support structure to nurture and feed you." Working with IJM, and InterVarsity Christian Fellowship before that, Toyama-Szeto has intentionally built support networks among her colleagues, friends, and fellow women of color—people to advise her, pray for her, and hold her accountable.
Church organizations, of course, also offer doctrinal accountability and a degree of security that can be absent from self-made ministries that depend on book sales, speaking gigs, and other measures of popularity.
Anderson pointed out in an email to CT:
This entrepreneurial dynamic also affects the shape and philosophy of women's ministry, even if only inadvertently. When a woman has to create her own position and then maintain that position apart from the contribution (both financial and spiritual) of a larger institution, her target demographic can disproportionately affect the shape of her ministry.
This is true of many entrepreneurial endeavors, not simply women's ministry; but if the majority of female leaders are operating in the marketplace (as opposed to the institutional church), women's ministry as a whole can reach a point of critical mass where an audience-centric philosophy creates wider expectations about style, topics, and content.
The biggest names in women's ministry—from Hatmaker to authors like Shauna Niequist—remain intimately involved in their own local churches, and most have Bible college or seminary degrees. Still, without traditional structures in place, followers can find themselves wondering about a leader's stance on a particular issue or surprised by her sudden change in approach. (This scenario can happen within ecclesiastical or organizational hierarchies from time to time, but doctrinal policies usually give followers a better sense of what to expect.) Hatmaker's fans include women who celebrate her decision to affirm same-sex marriage, as well as many who are, in her words, "angry or shocked or confused" by it.
In a response to LifeWay's decision to pull Hatmaker's books from its stores, Housewife Theologian blogger Aimee Byrd (who supports traditional marriage) questioned why it seems like resources undergo more scrutiny regarding social positions than their teachings on "God and his Word."
Byrd has repeatedly called for more theological oversight of materials marketed to the church, particularly to women. As she wrote last year:
Every now and then I get a disturbing email from a pastor or concerned woman about the women's ministry in their church. The scenario is usually about a group of well-intentioned women studying a popular book that is marketed for women's ministry groups, and it is full of bad doctrine. But the author is extremely likable, she has done many good deeds in the name of the Lord, and frankly, the women in the group are now invested. They are offended that someone is questioning what they think has been an edifying study. So you can see how I usually get this email after significant damage has already been done.
"National women leaders should be a reference point, but not a replacement for female leadership at the local church level." ~ Jen Wilkin
While the decline of traditional women's ministry is largely anecdotal, it is tied to some well-documented trends in the American church, including the rise of working women and the gap between younger and older generations. While research by Barna Group has found that women are more involved than men in church "extracurriculars" such as Bible studies and small groups, plenty of today's churches lack robust women's ministries—perhaps due to lack of resources, or deliberate efforts to do away with stereotypical ladies teas and craft bazaars. Churches can sometimes view events, materials, and books offered by nationally popular parachurch teachers as an easy way to expand their offerings.
Wilkin, who leads a citywide women's Bible study in the Dallas area, wants to see more churches focus on the gifts of the women in their own congregations. "Local churches of all sizes tend to forget to identify, equip, and celebrate 'church mothers' who can—among other things—serve those younger in the faith in tangible, relational ways," she said. "When these women are missing, the voices of women with national platforms can become too loud in the ears of younger women, in particular.
"National women leaders should be a reference point," she said, "but not a replacement for female leadership at the local church level."
If women's groups feel exclusive or isolating, they can detract from the greater purpose of the church as a whole. "There's a place for women-only and men-only, as long as that time spent together is first about affirmation and addressing unique needs with an eye toward, 'How will this enhance the body?'" said Alexis Abernethy, a psychology professor at Fuller Theological Seminary who has written about women's leadership in African American churches. She sees similar benefits to people of color or women of color gathering to build themselves up to better serve the church body. "For people of color, part of what is derived from those kind of groups is support. Often there's been a common oppression."
The popular Austin-based conference IF: Gathering—which sells out in minutes and gets watched online by more than 400,000 women—has come to typify a certain stereotype in contemporary women's ministry. But the organization's leaders deliberately emphasize the role of the local church "as the primary means of faithful expression to God" and continued discipleship among groups of women through its year-round Bible studies, called IF: Equip. Founder Jennie Allen never wanted a big event, or even a movement, that didn't deepen women's relationships with each other around the Word.
"My dream for IF: Gathering is to give women the depths of knowing God in an accessible way and to unleash them live out their purpose," said Allen, who remembers being in the female minority when she attended Dallas Theological Seminary in the early 2000s.
"We are in the middle of a study on church history at IF: Equip right now," said Allen, the author of Restless and Nothing to Prove said. "They are growing and so moved by the stories of those who have gone before us, and they are taking steps of obedience to live out God's story in our generation. Jesus taught engaging both the mind and the heart. This is possible and necessary."
The "mind and heart" engagement from women doesn't always resemble men's approaches. But tears, upspeak, and big, colorful accessories do not indicate a lack of depth.
"If Paul is correct that the church is 'the pillar and ground of truth,' the way forward is not to shame female leaders for using their gifts without theological credentials," said Anderson. "The way forward is for the church to identify and support gifted women, partnering with them via theological training and commissioned ministry positions.
"If you don't want women breaking down the doors," she said, "simply open them for them."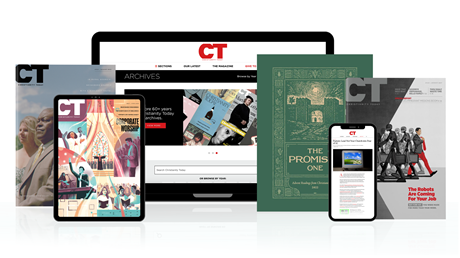 Annual & Monthly subscriptions available.
Print & Digital Issues of CT magazine
Complete access to every article on ChristianityToday.com
Unlimited access to 65+ years of CT's online archives
Member-only special issues
Subscribe
The Bigger Story Behind Jen Hatmaker
The Bigger Story Behind Jen Hatmaker