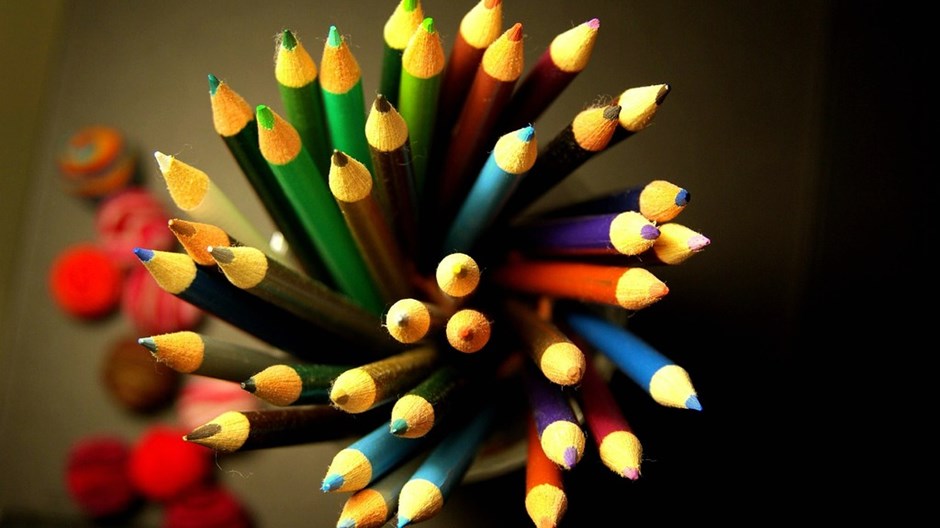 Last year, sales of coloring books in the US shot up from 1 million to 12 million units. The sales spike quickly prompted a slew of articles asking whether our culture is collectively stressed out and/or reverting to childhood hobbies. I, too, mocked the trend right up until I started coloring this year as a therapy tool and discovered that it settles my mind and helps me focus.
Now Christian publishers are jumping on board with "Christian adult coloring books" and even Bibles you can color in. Half of the top ten best sellers for May in the Evangelical Christian Publishers Association (EPCA) are coloring books. The website for book No. 5 on the list, Whatever is Lovely, offers a playlist to "help set the perfect mood for worship, contemplation, and creative expression" when using the book. Similarly, Christian writer and Bible teacher Margaret Feinberg wrote the adult coloring book Live Loved. The pages are filled with elaborately designed Scripture verses that she hopes will help users "unleash the creative talents" God has given them. "Color and sketch," she says on her website. "Whisper the words aloud, commit them to memory, and learn how to live loved in a tangible way."
Is this all just smart marketing and an attempt to make money, or can Bible-themed coloring books actually aid spiritual discipline? I think they can, but like any tool, it depends how we use them.
Coloring has been used as a stress-reliever since Carl Jung, and agenda-based or "study" coloring books are not new, either. One of the first and still most popular adult coloring books is Johanna Basford's Secret Garden, an "inky treasure hunt" so detailed that it's an all-consuming task to color.
For many, coloring is considered a channel to mindfulness (being "present") because your mind can wander away from the task, but not too far. Craig Sawchuk, a clinical psychologist at the Mayo Clinic, told The Washington Post that coloring can help relieve stress, but that like yoga, meditation, and other mindfulness techniques, it's only as good as the discipline that goes with it. "New habits are best learned when you set aside routine time each day to focus," he said.
I have often struggled to find time to catalogue the positive aspects of my day. Now, my new coloring habit helps me to follow and focus on true, pure, and praiseworthy things. The payoff comes not in a decorated page but in the peace of mind that accumulates over time. I don't have to be artistic. I don't need books marketed to Christians or complex, detailed books. The simple process of coloring becomes a meditation tool that allows me to choose what to focus on—whether it's meditating on God, mentally organizing my to-do list, or processing a difficult conversation.
Where, exactly, I put my focus matters a great deal. Lisa Mitchell, a licensed art therapist in California, told the Sacramento Beethat "easy, paint by numbers" coloring can have a numbing effect similar to watching TV. So what we get out of coloring really depends on how we use it.
For those who do like the Scripture-based coloring books, the length of time it takes to color in a verse is long enough for meditation and even memorization of the verse itself. Coloring can work as a wellness tool not just for individuals, but for communities, too. Coloring groups are becoming popular, which means Bible-study-and-coloring groups are bound to emerge. Like group quilting or (my preference) hiking, group coloring allows people to talk side-by-side rather than face-to-face, which can serve as a healthy, laid-back conduit for building relationships and community wellbeing.
I may not be convinced by the arguments that coloring "unleashes creativity" or lowers the activity of my amygdala—in fact, I still feel a little silly every time I pick up the coloring book on my coffee table—but I am starting to crave my coloring time. It's a flexible tool that helps me maintain a healthy mind and a healthy heart.
I'm not sure how long the trend will last, but for now, it's a cheap and accessible hobby that a wide variety of people can share (as the Instagram hashtag #coloringforadults attests), even if it tends to be mainly women talking about it. For all of these reasons, I suspect the debate over adult coloring soon will no longer be "should we or shouldn't we?" but rather "what should we color with?"
For the record, I use colored pencils.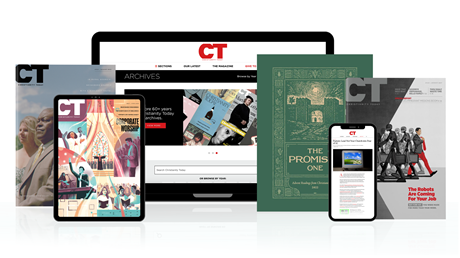 Annual & Monthly subscriptions available.
Print & Digital Issues of CT magazine
Complete access to every article on ChristianityToday.com
Unlimited access to 65+ years of CT's online archives
Member-only special issues
Subscribe
Why Adult Coloring Works for Christians
Why Adult Coloring Works for Christians