true
Image: Lionsgate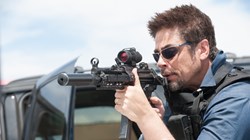 Image: Lionsgate
Denis Villeneuve's Sicario is a one of 2015's best films. Artfully made and intense from start to finish, the drug war-themed thriller (starring Emily Blunt and Bencio del Toro) focuses on CIA operatives hunting down a high-ranking cartel chief whose brutal tactics have left a trail of victims via bomb, acid bath, dismemberment and beheading.
Sicario reminded me of Kathryn Bigelow's controversial 2012 film Zero Dark Thirty, which chronicles the covert hunt for Osama bin Laden. Both films are about retributive justice and the CIA's efforts to end the reign of bloodshed of a terrorist tyrant. Both films end with a violent climax that is simultaneously cathartic and conflicting: cathartic because an evil villain is dispatched in a fittingly violent manner, but conflicting because we aren't quite sure we should feel so good about it.
These sorts of "conflicted catharsis" endings are common in films about revenge and justice. Quentin Tarantino includes denouements of this sort in nearly all of his films, often featuring some sort of previously disenfranchised victim exerting bloody vengeance on their abusive and powerful victimizer. Kill Bill and Death Proof show this in terms of women exacting vicious revenge on abusive males. Django Unchained shows this in terms of a black slave (Jamie Foxx) cathartically killing a comically evil slave owner (Leonardo DiCaprio). Inglourious Basterds gives Jews the weapons to inflict disturbingly mortal wounds on Nazis via knife, gun, explosive, and baseball bat.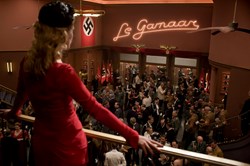 Image: The Weinstein Company
The climactic scene of Inglourious Basterds is perhaps the ultimate in conflicted catharsis. Inside a Parisian theater filled with Nazis and Adolf Hitler himself, Brad Pitt and his band of Jewish soldiers spray bullets from the balcony on the crowd of Germans below, mowing them down in a bloodbath as they stampede for the locked exits. If not killed by the bullets, they are blown up by planted bombs or engulfed in flames. Everyone dies, including Hitler. It's a disturbing and brutal scene, yet undeniably cathartic, playing out like an almost eschatological vision of supernatural justice (the melting-face-Nazi ending of Raiders of the Lost Ark is another example). Its revisionist history offers a satisfying slaughter befitting the villains who exterminated millions of Jews.
I was thinking of this particular scene this week, reading articles and watching the news about the Paris terrorist attacks. Disturbingly, the Bataclan theater massacre bears an eerie resemblance to the ending of Inglourious Basterds: Gunmen in a Paris theater firing indiscriminately on an unsuspecting crowd, sometimes from the balcony, turning the victims' night of entertainment into a horror-show bloodbath of cinematic proportions.
The difference is the Bataclan victims were not Nazis at the height of World War II, but innocent civilians enjoying a rock concert during peacetime.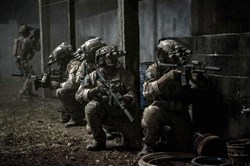 Image: Columbia Pictures
The outrage of these horrific events naturally leads us to desire justice for the perpetrators. I was glad to hear that the terrorists in Paris were killed. I was glad to hear that French fighter jets bombed ISIS strongholds in Raqqa.
But should I be glad? As a Christian, how does this square with Jesus's command in Matthew 5:44 that I love my enemies and pray for those who persecute me?
Can Christians simultaneously pray for ISIS and feel a celebratory catharsis when they are killed?
Was it not a good and valid emotion for my grandparents to have felt joy and relief at the end of World War II when the Axis Powers were crushed and the concentration camps liberated? Is it not a good thing when a SWAT team puts an end to an active shooter situation by shooting and killing the gunman?
This is where "conflicted catharsis" becomes more than just a feeling at the end of a Hollywood movie but an inescapable tension of the Christian life.
Is it incongruent that Christians would pray for ISIS members to come to know Jesus and serve his church, while at the same time supporting government efforts to destroy ISIS via bullet or bomb, before they can behead or blow-up another life?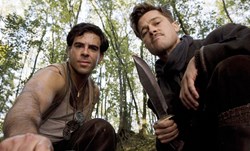 Image: The Weinstein Company
Part of the answer to living in this tension is making a distinction between the church and the government. They are not the same thing, but God does involve government in his purposes. Paul said as much in Romans 13:4, where he compares governing authorities (with militaries) to "God's servants, agents of wrath to bring punishment on the wrongdoer." Expanding on this verse in his book The Skeletons in God's Closet, pastor Joshua Ryan Butler notes that Paul is talking about the purpose of government here: "The reason [government] is given the sword is 'for our good'—for the well-being of society, the flourishing of God's shalom in the world. Whether the Roman authorities know it or not, God's purpose for them is to protect and preserve the thriving of his world."
The police, the military, the enforcement agencies who preserve peace in the world—when they are not abused—are agents of temporal justice in a world desperately seeking shalom.
In an article entitled, "Should We Pray For ISIS to Be Defeated or Converted?" Russell Moore says Christians are called to be "a people of both justice and justification" who simultaneously pray for the salvation of enemies like ISIS and for justice against them.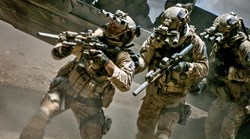 Image: Columbia Pictures
"This terrorist group is raping, enslaving, beheading, crucifying our brothers and sisters in Christ, as well as other innocent people. To not pray for swift action against them is to not care about what Jesus said we should seek, what we should hunger and thirst for, for justice. A world in which murderous gangs commit genocide without penalty is not a 'merciful' world but an unjust horror show."
The complication, of course, is that sin infects not just the "murderous gangs" but also those sword-wielding protectors charged with keeping the peace and crushing the gangs. This is why we must have body cameras on policemen and military courts for errant soldiers. This is why the abuses of Abu Ghraib and Guantanamo Bay happen. This is why we feel unsettled in that "conflicted catharsis" way at the end of Sicario and Zero Dark Thirty.
Little "j" justice is a good thing but will always be an imperfect thing. It will always be a justice that makes us long for the big "J" Justice of the ultimate Judge, Messiah Jesus. He'll arrive in a manner more cinematic than any Tarantino film: Riding a white horse, eyes aflame, sword coming out of his mouth. He will bring a cathartic justice that every revenge film has only faintly foreshadowed: a justice that makes all that is wrong right and all that is sorrow joy; a justice that inaugurates a perfect kingdom and a shalom that lasts.
Brett McCracken regularly writes about film and culture for CT and recently contributed an essay on Quentin Tarantino to the newly published book, Tarantino And Theology. Follow Brett on Twitter @brettmccracken.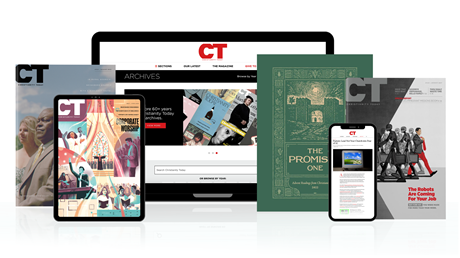 Annual & Monthly subscriptions available.
Print & Digital Issues of CT magazine
Complete access to every article on ChristianityToday.com
Unlimited access to 65+ years of CT's online archives
Member-only special issues
Subscribe
Conflicted Catharsis: On ISIS and Revenge Films
Conflicted Catharsis: On ISIS and Revenge Films