Image: Bob Mical/Flickr
From Peter: There are some who study cross cultural ministry academically, some who live it out practically, and still others who do both. Dr. Russell Jeung, professor at San Francisco State University, is definitely one who does both! I'm excited to have him on the blog, sharing his experiences on raising his family and following Jesus in the Murder Dubs neighborhood of Oakland.
Over a year ago, when our church was holding a meeting, our youth director was tragically killed just outside in a hit-and-run accident; the driver was high on crystal meth. Even today, I am traumatized.
I don't get flashbacks, but flash-forwards. Whenever I watch my own kids or our church kids cross the street, I foresee them getting hit by a reckless driver. Each time, I need to stop to take a calming breath.
My wife, Joan, and I have been raising our son and two foster daughters in an Oakland neighborhood that the youth call the Murder Dubs. The most robbed neighborhood in the robbery capital of the United States, it clearly isn't a safe place for anyone. Nonetheless, we have lived here for over 20 years. Along with our church family, New Hope Covenant, we want our families to receive God's peace. To do so, we seek the welfare of our city.
You may not live in a poor neighborhood, but you might be like us in being helicopter parents, hovering over your children because of your love and concern for them. How can we raise our children in a safe and secure environment while also teaching them to follow Jesus in the radical ways he presented in the Beatitudes?
At New Hope, we have developed some community practices to support families.
Blessed Are the Poor in Spirit and Being the Church
The first practice of our family is simply to be part of a larger family: our church community. When our son, Mathew, was just 8 years old, we were driving along the 880 Freeway in Oakland. We came through our neighborhood, the stretch between 16th Avenue and Fruitvale Avenue, which is considered the area with the most graffiti in California. Ironically, Matthew remarked, "We live in the rich part of Oakland, don't we?"
He said so because of the wealth of friends and family nearby. At New Hope Covenant Church, a large percentage of its members live within two blocks of each other and we interact daily. Matthew receives the blessings of this fellowship every day.
Since our church family is in such close proximity—we live in a condo above one church family and next door to another—Matthew can call a friend to come and play anytime. At New Hope, whenever we need to borrow a minivan or extra ingredients for a community meal, or need an adult to watch a kid for a while, church family is just next door. We are on call for anyone who needs an escort to their parked car at night or a pickup delivery from the taco stand a block away. On our church email discussion group, not a week goes by without a request for something to be shared, such as a ride to the airport or a ¼" drill bit. One parent even asked if anyone had small farm animals available for her kid's birthday party. I want to request to borrow a large bird of prey for my brother's surprise anniversary party, just to see how New Hopers respond.
Our children have learned to be in community with one another as well. When Kai went out for recess on his first day of kindergarten, he ran out to find Sierra, a fourth grader from another New Hope family. The hamster-cheeked kid announced in his squeaky voice, "I'm ready to play now!" Sierra promptly made sure he had little friends to play with.
"It was comforting that our community was looking after our son," said Shauna, Kai's mother. She continued to marvel at the support of the New Hope church family: "Whenever I couldn't pick up my kids, I'd text and I'd have five parents who would respond."
Similarly, when David transferred to Matthew's elementary school, Matthew did something he had never done before. He woke up early and urged me to hurry up to drive him to school. "Why the rush?" I inquired.
"It's David's first day. I want to be there for him," Matthew simply replied.
That's the gift of our church family. Since we are in the same neighborhood, we can be there for one another.
Even though Matthew thought we were rich, our church practices the blessing of being poor in spirit. When we recognize our neediness, when we reach out to God and others for help, we learn that we are members of a kingdom made in heaven, the church. We develop faith as we come to trust God and others for all that we require.
Russell Jeung, PhD, has lived in the Murder Dubs neighborhood for over 20 years. He and his wife, Joan, have raised their two foster daughters, Bethsy and Bonny, and their son, Matthew, in this community where New Hope Covenant Church ministers. This is an excerpt of his spiritual memoir about his Hakka (Guest People) background and his life among refugees and immigrants in the city.
Third Culture
Third Culture looks at matters of faith from the multicultural and minority perspective.
Peter W. Chin is the pastor of Rainier Avenue Church and author of Blindsided By God. His advocacy work for racial reconciliation has been featured on CBS Sunday Morning, NPR, and the Washington Post.
Previous Third Culture Columns: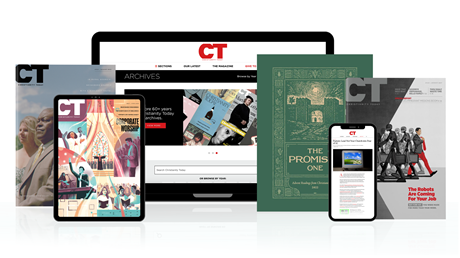 Annual & Monthly subscriptions available.
Print & Digital Issues of CT magazine
Complete access to every article on ChristianityToday.com
Unlimited access to 65+ years of CT's online archives
Member-only special issues
Subscribe
Raising a Generation of Peacemakers, Part One
Raising a Generation of Peacemakers, Part One