true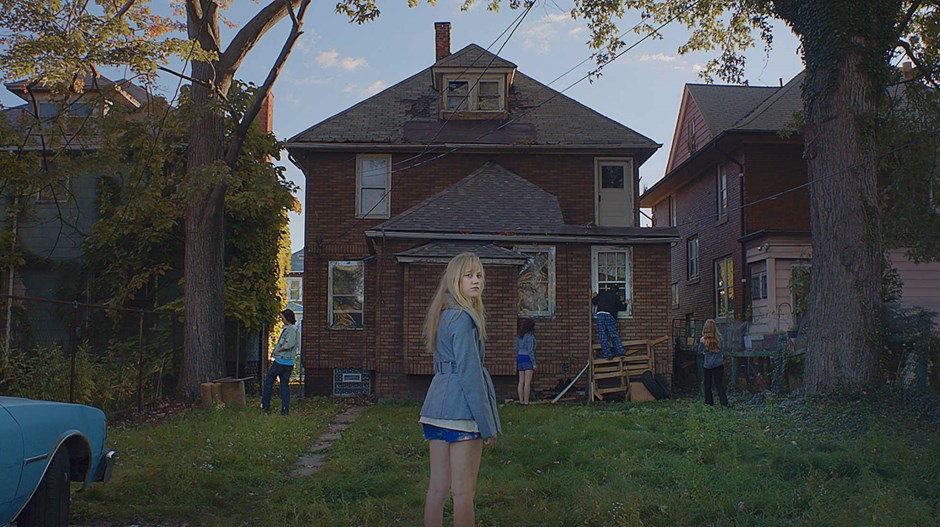 Image: RADiUS-TWC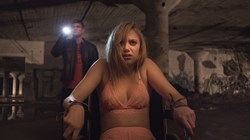 Image: RADiUS-TWC
David Robert Mitchell's second feature is a humming suburban fever dream. It takes a common human worry and heightens it ruthlessly. Formally and visually it is a work of real craftsmanship, and it displays a conscious understanding of the paradoxes of the heart that the horror genre plumbs so well.
Not to overhype, but It Follows is one of the best horror movies of the 21st century. And it's one of the best American films on that list.
Our protagonist is a girl named Jay (an excellent Maika Monroe), who lives a nice life in suburban Detroit. (Reminder: all movies require suspension of disbelief.) She hangs out in the raised swimming pool in her backyard. She watches movies with a loyal group of best friends: her sister Kelly (Lili Sepe) and neighbors Paul (Keir Gilchrist) and Yara (Olivia Yuccardi). And she goes on dates. With boys.
In this case, the boy is a tough but nice older lad named Hugh (Jake Weary). No matter where or when you went to high school, there was a guy there who looked like Hugh. And, no surprise, the night leads to the back seat of Hugh's station wagon. The less traditional part of the date comes when Hugh chloroforms Jay and she wakes up tied into a wheelchair in a burnt-out parking garage.
Here, apologetically, Hugh lays out the situation: he's given her a supernaturally transmitted disease. Some implacable thing will now follow her until it can kill her. Only those who have the curse can see it. It can take different human forms, including those of friends and family. Unlike other STDs, apparently the only way to get rid of it is to engage in coitus with someone else.
It's hard to parse and rank the achievements of this movie. The most obvious, I guess, is its near-perfect ability to create and hold suspense from the core concept of "being followed." Yara sums up what makes It Follows so scary when she quotes Dostoevsky's The Idiot: "The most terrible part of the whole punishment is, not the bodily pain at all—but the certain knowledge that in an hour—then in ten minutes, then in half a minute, then now—this very instant—your soul must quit your body and that you will no longer be a man—and that this is certain, certain!"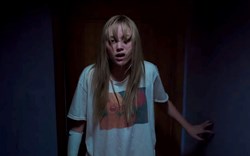 Image: RADiUS-TWC
It takes masterful filmmaking to make an audience feel this. The movie opens with a usual horror aperitif—a beautiful girl screaming her head off while sprinting away from something. The film grammar here is anything but usual, though. Normally, this scene would take place on a dark and stormy night in a close up and rapid succession of short sharp shots.
Here, though, it's shot with a wide angle and few cuts. The distance, finely tuned by the camera movement, belies the frantic subject. From the audience's point of view, there's nothing following her—and so the mystery begins. The scene also showcases the film's great use of color and light, thanks to Mitchell's direction, Mike Gioulakis' cinematography, and Julio Perez IV's editing. This is locally grown, ethically sourced, no-hormones-added free-range filmmaking.
It Follows, though, is not really about how scary it is to be followed by a monster. It is a poignant teenage coming-of-age movie, too. The supporting characters have more to do than take drugs and be killed; there is an unusually sufferable love triangle.
And there's a fantasy quality to the whole thing: we're never quite sure when the movie is set. There are old rusty station wagons and vintage Coca-Cola cans, but there are also distinctly 21st-century classrooms, and one of the characters uses an e-reader. Jay and Hugh go on a date to an old timey movie palace, but their clothing looks modern. The dreaminess of youth, and the role sexuality has both in that dreaminess and in its transition to a nightmare, are the real core of this movie.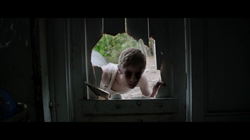 Image: RADiUS-TWC
Now, Grand Unified Theories of horror are a dime a dozen, and pretty much every one of them fails to be comprehensive. But I will venture so far as to say that there is something inherently good, and perhaps even spiritual about the experience of terror.
After all, the first of the 12 steps is about admitting human powerlessness—and there's nothing to take away your faith in the "unlimited potential of the human spirit" or whatever Joel Osteen's next book title is like involuntarily releasing your bowels during a screening of Carrie. (This really happened, to a friend of a friend of film scholar Peter Hutchings.)
It Follows is a masterful, beautiful, terrifying tale of sexual repression and the values of gun ownership in suburban Detroit (you'll see). It will not make you comfortable, but that is not the point. If you're a horror fan, you must see this. And some who aren't yet horror fans probably should see this.
Caveat Spectator
It Follows is rated R for "for disturbing violent and sexual content including graphic nudity, and language." This is true, with a "but." There are several sex scenes in the movie, but there is no nudity in them. The main actress is briefly shown in her underwear at points, but the eroticism is more the subtle matter of heavy breathing or hands holding. The graphic nudity in the film comes from the various forms the monster takes (pox-addled woman, nude adult man). These are extremely grotesque at times, but their purpose is not lust. There are two scenes of corpses, one that has been drained of blood and another with a snapped leg. There is mild swearing. On the whole, I would put this film on the level of The Exorcist in terms of graphic content.
Tim Wainwright's writing has been featured in The Atlantic, CT, and RealClearMarkets. He tweets hereand blogs here.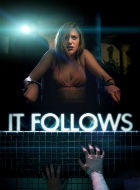 Browse All Movie Reviews By: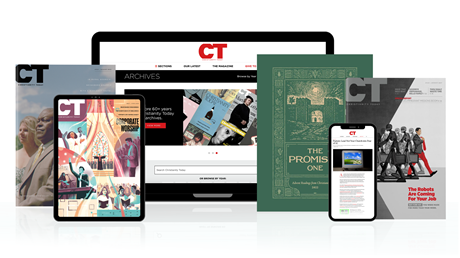 Annual & Monthly subscriptions available.
Print & Digital Issues of CT magazine
Complete access to every article on ChristianityToday.com
Unlimited access to 65+ years of CT's online archives
Member-only special issues
Subscribe
It Follows
It Follows