true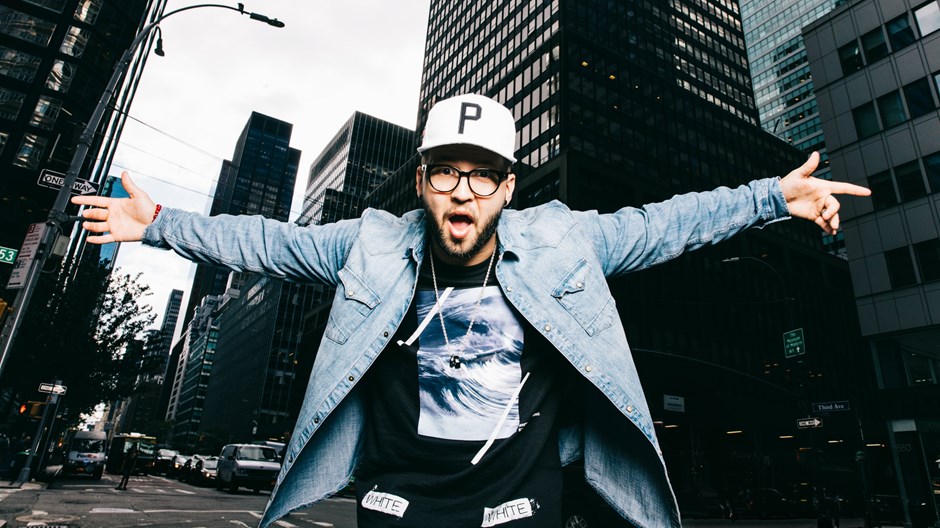 Image: Robby Klein / Reach Records
Rapper Andy Mineo dreams up ways to connect with his fans beyond the music itself.
For his sophomore album Uncomfortable—released by Reach Records, the rap label founded by Lecrae—Mineo invited followers to share their version of the cover art, his bearded and bespectacled face pressed against glass. Hundreds posted pics of themselves (and their babies!) in the pose, enough that Instagram featured the project on its blog.
No wonder crowds pack meet and greets and sold-out shows throughout his 26-city tour (his first as a headliner), which concluded last month. On social media, Mineo posts behind-the-scenes selfie videos, solicits fan feedback, and holds giveaways for fans who send pics of them with the new album or its promo posters. At the listening party for Uncomfortable, he challenged fans to a surprise Nerf gun battle at a custom-decorated skate park.
"You've always had the ill rollouts," radio host and MTV personality Sway Calloway told Mineo. He compared the young rapper to 2Pac, DMX, and Kendrick Lamar—legendary and "God-conscious."
Uncomfortable, which debuted at No. 1 on the Billboard Hot Christian Albums chart, was an effort to pushback against "an inauthentic sense of cleanliness" and safety affiliated with Christianity, he explained at the Catalyst conference in Atlanta this fall. In the title track, he raps, "God prepare me for the war / Comfort be the thing that'll make a king fall."
The Syracuse native met Alex Medina, now a producer with Reach, when he moved to New York City for college several years ago. Mineo became involved with the arts ministry T.R.U.C.E. and launched a rap career. He released his first full-length album in 2013, and has performed with artists such as Tedashii and Lecrae.
As he continues to make music and serve at his Washington Heights church plant, Mineo talked to CT about Christian hip-hop, the role of creators and entertainers in the church, and how he feels God pushing him out of his own comfort zone.
Like many in Christian hip-hop, you say, "I'm a Christian who raps, not a Christian rapper." Why do those labels matter? Who do you see as your audience?
The intention behind not wanting to box yourself in or label yourself in a sub-sub-sub genre is so your music would not be specifically geared towards one group of people. I want my music to reach as many people as possible, help as many people as possible, and inspire as many people as possible.
In the Christian community, they see me removing that label "Christian rapper" and think that I'm trying to remove the identity of being a Christian from my person. I think those are two separate things. I would never deny being a Christian, but I also wouldn't label my art that for the purpose of it being more accessible.
You've talked about the baggage that goes will that label in an artistic setting. Do you see that changing? I haven't heard cheesy Christian rap in a while.
Yeah. The good stuff gets filtered. It gets pushed to the front, and that's good. I'm just not fighting for that culture. I'm not waving the banner of Christian rap as the hill I came to die on and the culture I came to push forward. For people who want what they associate with Christianity—which is positivity and something they can play for their kids, for the most part—[the label of Christian rap] makes it easier for them to find those albums. So there are benefits.
To be honest, if I was all about the money, I would milk the Christian label because there's plenty of money there. But my bigger goal is to impact and inspire culture at large. I think having those titles can limit that.
Do you place boundaries over elements of culture and music that you consume?
Sure. I think it's different for each person. They have to follow their convictions. For me, as a missionary in music, I consume a lot of music. I'm someone who studies the culture and someone who enjoys the culture, too. I think there's a difference between a 14-year-old kid who's listening to Future and Drake and saying, "I'm adopting their worldview. What they say is influencing me in a way that, man, I want to be like them. I want to emulate them. I want to take after their trajectory," and me, having a more established worldview. At this point my life and my faith, I'm able to look at that art objectively and say, "Man, these are the trends where culture is going."
What do you think of Kendrick Lamar and the way he evokes Christianity?
Kendrick Lamar has a history of being around people who have spoken openly about Jesus. In a lot of ways he's seeing what he does as an opportunity to point people to the faith that he has. And his methodology just might look different than a "Christian rapper" in some regards.
There have been rappers all throughout history who have done that. There's been DMX, who on every album had a rap where he would pray like, "Lord Jesus, I need you. I love you," and then on another song he'd talk about having sex with a corpse. I'm literally quoting his lyrics. There was that huge juxtaposition inside those albums.
People were able to accept that amount of Christianity, where it appeared for a moment but didn't run through everything. That's more palpable because people like to segment faith into like a box. They think faith is what happens on Sunday. It doesn't affect everything. But when you run into some guys that see their faith as impacting and affecting all aspects of life—their relationships, their finance, their music, their art, the way they live their life, their worldview—you're going to run into, I think, artists like Lecrae and artists like myself.
What are the lessons for the church more broadly that you've found in Christian hip-hop?
Seeing musicians as missionaries in culture. Being able to understand that will help equip the church to do what it's actually supposed to, which is send people out into the world to do their occupation and their vocation to the glory of God from a Christian worldview.
We have typically tried to reproduce church leaders and not reproduce leaders in whatever sphere that they are naturally gifted in. The church hasn't done a good job of recognizing gifts and talents outside of the ideas of pastoral ministry or worship ministry. Seeing artists like myself as legitimate ministers and missionaries in culture and trying to equip them, pray for them, understand their worldview… those are important things.
Barna Research found that two of the main groups leaving the church because they're not being vocationally discipled were entrepreneurs and creatives. What would your advice be for Christian leaders who want to support people in those fields?
A good leader will know where his or her weaknesses are and be able to make space for them with their gifts. They invite those conversations as opposed to being one-directional [and saying] "You go do this." Instead, it's like, "Let me ask you a question. Where do you see yourself serving? How could you see yourself and the gifts you have being a benefit or a blessing to maybe not our church but maybe the community?" The church can bless the community. It's thinking creatively that's going to create opportunities for people to use their gifts.
Being creative can be draining emotionally and spiritually. When you're on tour or when you're working on a project, what do you do to keep energized to create?
Well, what ends up happening is you have your whole life to make one album, and then once you're successful, you're taking time that you would normally be creating and you're using that time to manage the success. And at the same time, now you're also being asked to duplicate what you just did in the span of six months. That's just very difficult and stressful and pressures.
One of the things I do to try to stay sane is building rest and making that as important as making money or as creating. Having a high view of rest means really guarding time. Every month me and my wife do a thing called "plan to plan." We take the last Sunday of every month to stop and guard time to rest, time for each other.
You got married last year. Has that made it easier to balance and manage your time?
It's harder to create because there are more boundaries. I could wake up at 3 a.m., get a cheeseburger, and create all night if I wanted to, when I was single. Now you have to operate in parameters in order to prioritize properly. It's harder, but it's good.
Is there something that God's put on your heart for this part of the tour?
There's been a high emphasis on embracing the idea of me being a leader. As creators we just want to create and inspire. But now really taking hold of the wake of leadership that has been a product creating good art: preparing and thinking about the people that I'm employing; thinking about the people that I'm taking out on tour with me; setting a culture on my tour bus; setting a culture in my home. The weight of leadership and responsibility is growing, and I'm trying to embrace that as opposed to, ah, just rap. Or write it off.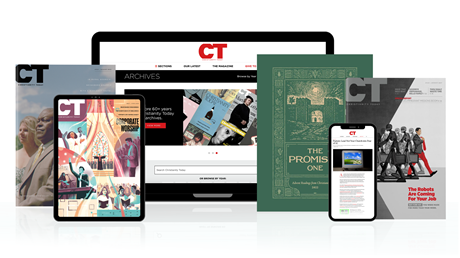 Annual & Monthly subscriptions available.
Print & Digital Issues of CT magazine
Complete access to every article on ChristianityToday.com
Unlimited access to 65+ years of CT's online archives
Member-only special issues
Subscribe
Andy Mineo: Rappers Are Missionaries, Too
Andy Mineo: Rappers Are Missionaries, Too