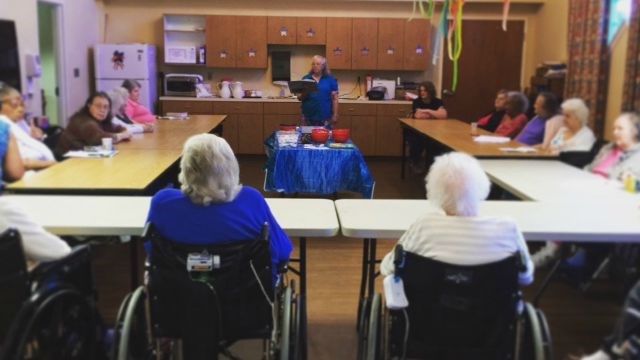 Image: Karen Swallow Prior
This summer, a staff member at my grandmother's nursing home noticed all the announcements around our community for Vacation Bible School programs. She began talking with the residents about their VBS experiences, many of them as teachers over the years. As they reminisced, the idea came to her to bring VBS back to them.
"This is their home," said Anita Douglas, who coordinates activities for the center. "They can't leave here, so I wanted to bring something they have such fond memories of back to them." One of the residents suggested asking my mother, who visits my grandmother there every day and holds a reading hour for the patients each week, to coordinate it.
Though we'd never heard of VBS going on the road to a nursing home, my mother was a natural choice. She teaches the kindergarten Sunday School class at her church and helps with VBS, so she has a ready store of ideas, crafts, and curriculum.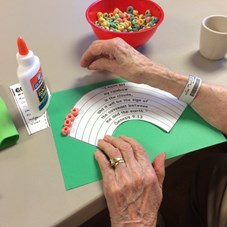 Image: Karen Swallow Prior
For two hours between breakfast and lunch, my mother brought Bible lessons, snacks, and crafts to a 14-person crowd 80, 90, and even 100 years older than traditional VBS students. Their age required a bit of flexibility and options—same goes for kids, actually—with some sorting Fruit Loops to glue on a Noah's Ark-themed crafts, others coloring with crayons, and a few just snoozing, including my 100-year-old grandmother.
Sharing the old Bible stories in a simple way and making simple crafts might, on the surface, appear to be treating the elderly like children. But this format meets their current needs: many are hard of hearing, have poor vision, and operate with limited motor skills.
Our little Vacation Bible School program allowed for more interaction than when a local minister comes in to preach a weekly sermon (although that, too, meets a different kind of need).
As I helped one of the residents with her rainbow picture on the last day, she asked, "When are we going to do this again?" Clearly, she hoped it would be soon. After hearing them go on about the VBS activities each afternoon, Douglas has already agreed to do it again next year.
And after sharing glimpses of this VBS-for-the-elderly on social media, I'm hoping other churches and nursing homes will too. Tom Buck, senior pastor of First Baptist Church in Lindale, Texas, was among many who messaged me to ask about the program, musing that it could be an opportunity for students in his church. Buck's own experience ministering in a nursing home as a high school student revealed that such places are "an untapped mission field with residents who have never heard the gospel," he said.
Some churches have adopted a similar philosophy, bringing young kids or tweens to participate in multigenerational VBS programs at local nursing homes.
"We do spiritual and emotional harm to ourselves and others when we intentionally, or even unintentionally, eliminate the elderly from our lives," said fellow Her.meneutics writer Marlena Graves, who serves as minister of pastoral care at her local church. "The church by its very nature is intergenerational."
In our efforts to dream up creative outreach for the church, we can sometimes overlook the opportunities in front of us. Repurposing existing VBS materials for a three-day session in a local nursing home was pretty simple. Yet this outreach demonstrates a powerful way to serve the elderly and to celebrate the intergenerational nature of the church.
As Graves says, it's a way for all of us, regardless of age, to live out the teaching of 2 Corinthians 4:16: "Therefore we do not lose heart. Though outwardly we are wasting away, yet inwardly we are being renewed day by day."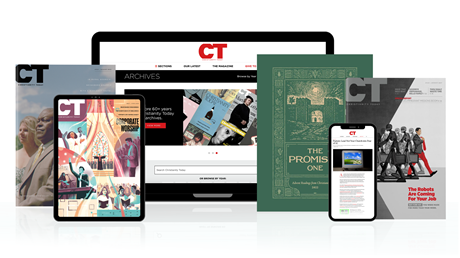 Annual & Monthly subscriptions available.
Print & Digital Issues of CT magazine
Complete access to every article on ChristianityToday.com
Unlimited access to 65+ years of CT's online archives
Member-only special issues
Subscribe
What Vacation Bible School Looks Like in a Nursing Home
What Vacation Bible School Looks Like in a Nursing Home