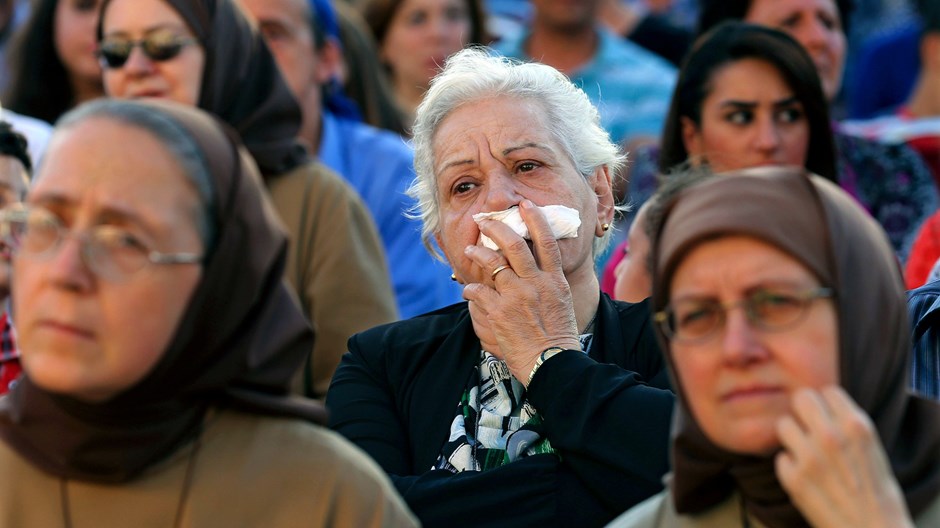 Image: Raad Adayleh / AP
If you want to understand international affairs, you have to understand religion. One significant and threatening example: the ongoing campaigns by extremist groups like ISIS to gain power and terrorize their opposition based on religious ideology. In these instances, young Christian girls are raped and abused by ISIS members, who justify it as a "religious" act.
Still, despite the clear role of religion in current and previous international conflicts, our political and diplomatic approaches can downplay and even ignore faith as a factor. In my work for the Institute for Global Engagement, I come across many official documents—such as a State Department action plan on women and security or a United Nations treaty on ending racial discrimination—that barely mention religion, despite the fact that a vast majority of the world's population (84 percent, according to Pew Research) believes in a higher power.
For us to find pathways to peace and resiliency, we have to acknowledge how individual beliefs and faith communities shape identity. This is especially true for people living in the aftermath of trauma. It's not a small population; across the globe, women in particular find themselves subjected to systemic violence and abuse: "honor" killings, rape as a weapon of war, domestic violence, kidnappings, female genital mutilation, and trafficking. According to the World Health Organization, nearly a third of all women experience such violence. Faith plays a crucial role for victims: It either sustains them through the suffering or, sadly, leaves them cut off from their community because of stigma.
For people of faith, the stories, practices, rituals, and communities give us the framework and language to understand ourselves and our situations. Traumatic incidents such as rape and violence take away voice and agency—thereby threatening that understanding. Without a strong foundation (and the necessary support), trauma victims can remain stuck in the past. But they can begin to recover by reconnecting with foundational narratives of their faith, identity, and core relationships.
Years ago, I interviewed women in Syria for a research project involving faith and security. In a Damascus café, I met with the leader of an underground women's rights movement. Her demeanor was subtle and her actions calculated. Yet over time, she told me stories about being imprisoned (once while eight months pregnant), public shaming, physical harassment, and on and on. I had to ask directly: "How do you do it? How do you keep fighting?" She said, "I know who I am."
I continue to see the same assured identity in women of faith in grim contexts across the globe; people who have intentionally stood by their identity and used that resiliency to lead and advocate for others. Researchers find that these factors remain psychologically linked from adolescence, and forming a strong sense of identity as we enter adulthood correlates with later self-advocacy and ability to "navigate social systems of support."
Religion boosts this even further. Kids with a strong sense of cultural and faith identity demonstrate greater resiliency amid stress and conflict. According to Robert Schrieter, a priest and sociologist who wrote The Ministry of Reconciliation, the resulting resiliency is a person's "capacity to live under and respond to oppressive or violent situations over longer periods of time."
In some of the world's most violent and unstable places, such as Syria and Iraq, it's this sense of identity that sustains Christian girls, women, mothers, and families. But separated from their churches and communities—and faced with worsening atrocities in the places they once called home—the struggle is getting more difficult.
What they need most may actually be something that's missing from our global documents and action plans. During systemic conflict, we find the most effective source of resilience comes from:
Space to remember and celebrate their faith and heritage
Platforms to vocalize what they believe
Trusting relationships
Creativity and authority in their own lives
With faith being the link to resiliency for so many living in conflict, we need to take a renewed look at how religion can serve as part of the solution in our aid—especially in our response to religious extremism. When our government engage faith leaders, especially women, diplomacy becomes more effective. We as a country can better understand how to support persecuted populations and stabilize regions of conflict.
We can also support faith-based trauma healing workshops and counseling. These on-the-ground initiatives are crucial for addressing trauma after conflict. For women who have experienced sexual violence cloaked in skewed religious rhetoric, faith-based trauma healing can counter that damaging narrative with the hope of the gospel.
In all of these endeavors, the prayers of fellow believers are powerful and demonstrate that we have not forgotten about our persecuted sisters and brothers. We continue to affirm that, through faith in Christ, we are "persecuted but not abandoned, struck down but not destroyed," and therefore, we do not lose heart in the midst of such evil works against us (2 Cor. 4:9).
Kristen Lundquist is the program director for The Center for Women, Faith & Leadership at the Institute for Global Engagement. She advises IGE's The Cradle Fund on efforts to aid traumatized women and children. Kristen blogs regularly at www.Godpeoplelove.com.
For more on global trauma counseling, see Her.meneutics' Q&A with counselor Pat Miersma as well as former IGE staffer Christy Vines' post on how such counseling may help curb women's radicalization as terrorists.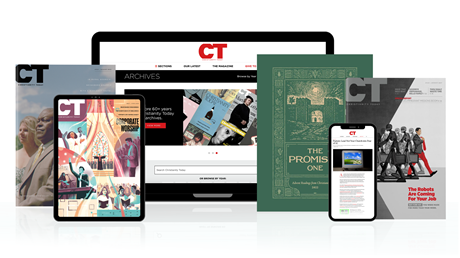 Annual & Monthly subscriptions available.
Print & Digital Issues of CT magazine
Complete access to every article on ChristianityToday.com
Unlimited access to 65+ years of CT's online archives
Member-only special issues
Subscribe
Persecuted, Abused, Displaced: The Christian Women Who Somehow Still Stand Strong
Persecuted, Abused, Displaced: The Christian Women ...