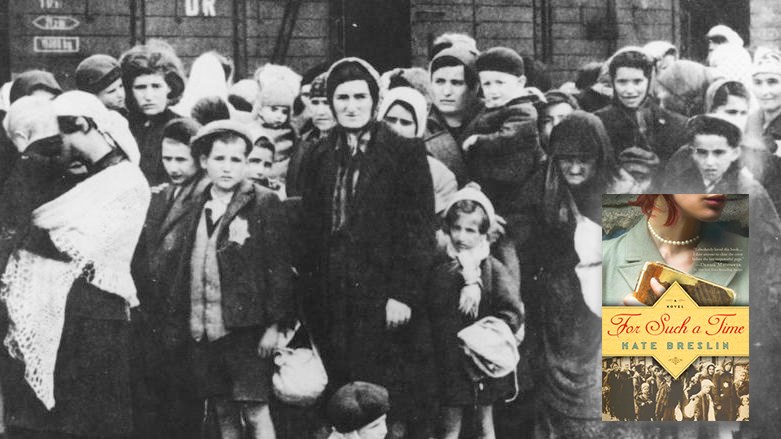 Image: German Federal Archive and Bethany House
Kate Breslin's debut Christian romance novel had all the elements of a hit.
Set during World War II, For Such a Time features a brave heroine who risks her life to try to save her people from being killed during the Holocaust. Along the way, she wins the heart of a handsome older man. The book, like Breslin's heroine, seemed bound for happy ending. It earned rave reviews, strong sales, and was a finalist for major awards.
The problem? Breslin's leading man is the Nazi commandant of a concentration camp. And her heroine is a Jewish woman, posing as his secretary.
Critics called the plot insensitive and offensive, raising questions about why this book was published in the first place.
The initial setup may sound familiar: For Such a Time parallels the Old Testament book of Esther, its title taken from the oft-quoted line in Esther 4:14. But a growing outcry—particularly from Jews and members of the broader romance lit community—claims the novel's romantic ending, where the blonde and blue-eyed Jewish heroine converts to Christianity and runs off with her captor, stands in stark contrast to the biblical story, in which Esther stands by her Jewish identity to save her people.
"There was no Esther Moment, no time when she said 'And if I perish, I perish,'" said Emily Hubbard, an evangelical romance fan who read the book after hearing about the controversy. "It would go from, 'This guy is my enemy' to 'I really like his shoulders.'"
Hubbard decided to donate the book's cost to the Holocaust Memorial Museum.
For Such a Time falls into the category of Christian-dominated "inspirational romance," which makes up a significant slice—some say 20 percent—of the $1 billion in romance novel sales each year. In addition to the faith themes, these titles offer readers an outlet for tamer romance than other subcategories (which have turned up the heat in response to the popularity of Fifty Shades of Gray).
One of a few inspirational romances written as a biblical retelling, the novel reveals a conflict in how Jews and evangelicals view the book of Esther.
The author, Breslin, apologized for any offense caused and said in a statement that the book "was borne from a compassion for the Jewish people."
Bethany House Publishers, the Christian imprint that released the book last year, stands by the title. "We deeply respect and honor the Jewish faith, and this novel, inspired by the events and redemptive theme of the biblical book of Esther, was intended to draw on our common faith heritage," said Jim Parrish, vice president of Bethany House.
While Christians have celebrated Esther for her bold faith and her example of strong female leadership, Jewish tradition sees her story, retold each year during the Jewish holiday of Purim, as specifically tied to the history and survival of their people.
"For the Jews, the story of Esther is a story of salvation. Christian celebration of the story has, in recent years, gone a very different direction to turn Esther into a churchified Disney princess," wrote Caryn Reeder, who researches biblical and classical accounts of women in war. The Westmont College professor likens the high-stakes story to an Old Testament version of sex trafficking—where Esther and other young women are recruited to serve as concubines to a powerful king.
Justin Kron, a speaker on Christian-Jewish relations, said while Christians also find inspiration from the Hebrew Scriptures, Breslin's use of the Esther story could come across as particularly insensitive given her conversion and the Holocaust setting.
"It's understandable that a Jewish person would be very sensitive to anything that hints at Jewish people ditching their Jewish faith in exchange [for] a Christian one, especially if the one doing so is emblematic of Queen Esther, a Jewess who risked her life for the preservation of the Jewish people," he said.
Understanding Esther
Samuel Wells, vicar of St. Martin-in-the-Fields Anglican Church at Trafalgar Square in London, told CT there is a more fundamental problem with For Such a Time.
The book of Esther isn't a romance. And there's no happy ending, says Wells, author of a 2013 commentary on Esther and the book of Daniel.
Instead, he said, Esther is about politics, oppression, and courage:
The book of Esther is about Jews using ingenuity to escape extermination. It's about (in my view) how Purim becomes a sober reworking of Passover, one which celebrates the initiative of the Jewish people rather than the explicit action of God. I do believe Christians can see in Esther a Christ figure who lays down her life for the deliverance of her people; but there are clearly differences too.

There is no hint of love in Esther's feelings toward Ahasuerus. She's a plaything who ends up turning the tables on the king and especially his scheming prime minister. This is from beginning to end a story about how people make politics, and how the only way to respond to oppression is by imagination, application, and luck. It's both hilarious and deadly serious at the same time – that's its fascination. But it's not a romance. It's ending may be happy for the Jews, but it involves the brutal slaughter of tens of thousands of people.
It's not easy to get Esther right, says Anthony Tomasino, associate professor of Bible, Old Testament, and Hebrew at Bethel College in Indiana.
Tomasino, who wrote a 2013 commentary on Esther, says that Christians have been "ambivalent about Esther from the get-go."
Esther is the only book in the Hebrew Bible to not mention God. And the main characters in the Hebrew version of the text aren't particularly pious. (The Greek version of the text from the Septuagint, on the other hand, mentions God and includes prayers that are missing from the Hebrew version.)
"Esther and Mordecia don't seem to want to ask God for help," he said. "But God helps them anyway."
Crossover Challenges
With inspirational romance experimenting with new styles to secure a bigger crossover audience, fans are using this incident to call on Christian imprints to be more sensitive to non-Christian tastes.
"I encourage Christian readers, publishers, and authors to sit back and listen and learn when they are the subject of a controversy such as this one—though this is the biggest one I can think of—rather than rush to defense," said Rachel McMillan, a Toronto-based Christian romance blogger and reviewer who revisited her initial positive response to For Such a Time.
"As a Christian reader and reviewer, it is my responsibility to be aware of how books published in the Christian industry might be viewed by readers of all faith backgrounds," she said.
Romance Writers of America doesn't gauge books on those measures in its peer-reviewed contests. After For Such a Time was honored as a finalist in two categories last month, the board said in a statement that they fear efforts to vet content could lead to censorship. Author Anne Rice weighed in on Facebook with similar concerns:
Some argue that white novelists have no right to write about people of color; and Christians should not write novels involving Jews or topics involving Jews. I think all this is dangerous. I think we have to stand up for the freedom of fiction writers to write what they want to write, no matter how offensive it might be to some one else.
Allie Pleiter, a Christian author of over 20 romance novels and former judge in the association contests, explained that judges focus on the quality of writing. "I never ask, 'Should this book have been published?'" she told CT.
Some aspects of Breslin's book follow conventions of the genre, like adjusting a historical character or context based on contemporary expectations, or ensuring that both partners are spiritually "equally yoked" at the end.
"I don't fault the writer or the book, but you have to wonder why they didn't see this (controversy) coming," said Pleiter.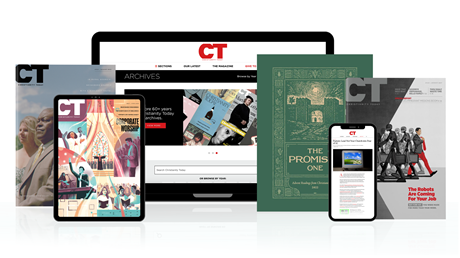 Annual & Monthly subscriptions available.
Print & Digital Issues of CT magazine
Complete access to every article on ChristianityToday.com
Unlimited access to 65+ years of CT's online archives
Member-only special issues
Subscribe
No More Love for Christian Author's Holocaust Romance
No More Love for Christian Author's Holocaust Romance