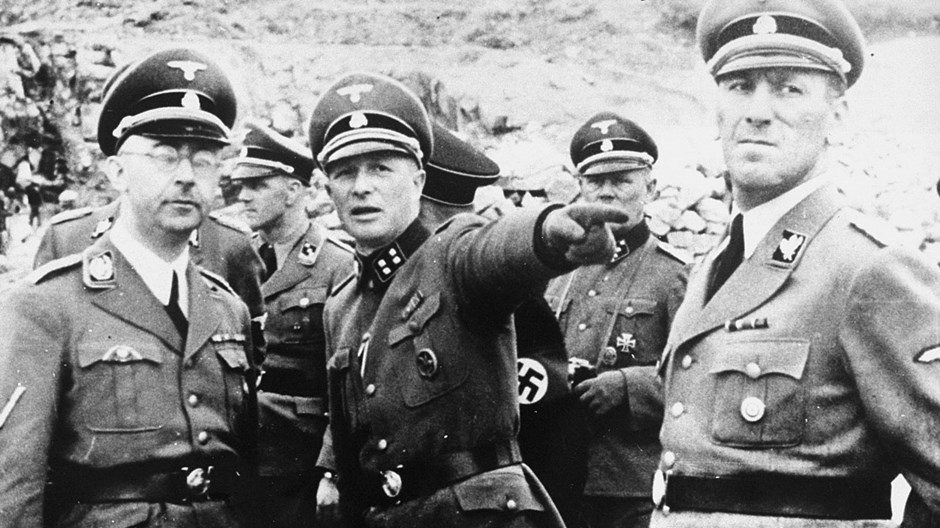 Image: Archiv der KZ-Gedenkstaette Mauthausen Dokumentationsarchiv des Oesterreichischen Widerstandes Yad Vashem Photo Archives, courtesy of Amicale, France.
Many heroes emerged from World War II. Some of these men received awards such as the Medal of Honor, Navy Cross, Silver Star, and Distinguished Flying Cross. Most combat veterans wore their awards humbly, insisting that many of their fellow warriors did as much or more as they did but were not noticed during the thunderous roar of fire and smoke of battle. And nearly all combatants argued that the real heroes were the chaps who died and never heard the good news of the enemy's surrender.
Among the unsung heroes of World War II was U.S. Army Chaplain Henry Gerecke (pronounced Cherokee). Born in southeastern Missouri in 1893 to German-American parents, Henry grew up in a rural community populated by first- and second-generation Germans who farmed the land and worshipped God in the Missouri Synod Lutheran tradition. In his teens young Gerecke heard God's call to preach. He left the farm and worked his way through St. John's Academy and College in Kansas, and then moved to St. Louis, where he attended Concordia Lutheran Seminary. During his St. Louis years he met Alma, who became his wife and mothered their three boys. Between 1940 and 1942 the two oldest boys joined the Army. And then in 1943 Henry Gerecke followed his sons into the Army by volunteering for the Chaplain Corps.
The fascinating story of Chaplain Henry Gerecke is engagingly told by Tim Townsend, the senior writer and editor for the Pew Research Center's Religion and Public Life Project in Washington, D.C. In Mission At Nuremberg: An American Army Chaplain and the Trial of the Nazis, Townsend illumines a hidden gem of World War II history and brings to light the life and career of a truly heroic Christian man.
A Good Candidate
The Army did not accept chaplains over 50 years of age, and Gerecke slipped in just a few months short of 50th birthday. Despite his age, the Army recognized the Missouri Lutheran as a good candidate because of his experience as a local church pastor who always devoted time to city mission and prison ministry. In short, everyone who knew Pastor Gerecke celebrated him for caring for people in all walks of life. People acquainted with him saw him as a devout man who went to the highways and byways to reach lost souls and lead them to the saving and healing presence of Jesus Christ.
From August 1943 to the surrender of Germany in May 1945, Chaplain Gerecke distinguished himself by untiringly and bravely serving American soldiers first in England and then on the continent after the Normandy invasion. The Protestant chaplain, like his Catholic and Jewish counterparts, ministered to soldiers in a variety of combat situations, praying with men on the front lines and helping tend to the wounded and dying. But Chaplain Gerecke possessed an asset the Army needed as much as his pastoral work: He was fluent in German. Consequently he found himself assisting the Army in tending to German prisoners and German civilians in areas the Allied armies occupied.
During the war in Europe Gerecke certainly served courageously and ably, but he did nothing that was not commonly done by other chaplains. As soon as the Germans surrendered, however, this chaplain, who had not seen his wife for nearly two years, was asked to do something more courageous and heroic than anything he had done before the cessation of hostilities.
The Allied armies in April and May 1945 began capturing every high ranking Nazi official they could find in order to bring them to trial for war crimes—including the murder of over six million Jews and seven million other so-called "undesirables," as well as the torture and forced labor foisted upon millions more for the German military machine. By August 1945, 21 of the highest ranking Nazi officials, including men very close to Adolph Hitler, were captured and imprisoned in Nuremberg for trial in the city's Palace of Justice.
In the summer of 1945, while Chaplain Gerecke prepared to say goodbye to the soldiers with whom he had served and return home, Colonel Burton Andrus, the commandant of the Nuremberg prison, made a shocking announcement: He would need one Lutheran and one Catholic chaplain to minister to the spiritual needs of the 21 high-profile Nazi prisoners. Colonel Andrus learned about a Catholic (Sixtus "Richard" O'Connor) and a Protestant (Henry Gerecke) who were both superb chaplains, as well as being fluent in German. Both men were free to return to the United States, but the colonel implored them to stay behind to serve as pastors to the arrogant and defiant German leaders during their trial.
The Chaplains' Dilemma
Townsend is at his best when he uncovers the dilemma faced by both chaplains. They had seen countless American soldiers maimed and killed by the German military machine. They had witnessed the savage effects of German aggression all over England and Europe, and they had seen, touched, and even smelled the horrors of the Nazi concentration and death camps. Now they had to decide if they really believed what they taught and preached: that Jesus Christ came to seek and save the lost, and that he died for sinners.
These chaplains were confident God had called them to care for souls. Would they delay going home to minister to such unrepentant Nazis? Would they have the courage to close their ears to the opinions of officers and men of the United States Army who hated these Germans and everything they stood for? Many American servicemen argued that these criminals did not deserve ministry from American chaplains. Some even suggested that spiritual care for these Nazis bordered on treason. Many people on the home front also shared these deep anti-German sentiments, and letters filled with anger and threats inundated the pastors. In the same vein, a chorus of Jewish people argued that ministry to such loathsome men as Hermann Goering, Wilhelm Keitel, Alfred Jodl, Hans Frank, and Ernst Kaltenbrunner could only be construed as anti-Semitism.
Because Mission at Nuremberg is a biography of Henry Gerecke, it is not surprising that Father O'Connor is given relatively little space compared to his Lutheran counterpart. Nevertheless, both men clearly emerge as courageous pastors who finally chose allegiance to Christ despite strong opposition. Like their Master, who had called them to "feed my sheep," these men were shepherds who were willing to be found in bad company in order to help some loathsome and notorious men find forgiveness and new life in Christ.
In the final analysis, 21 men went to trial. Three were acquitted, four received prison sentences ranging from 10 to 20 years, and three were given life sentences. Of the 11 remaining who were sentenced to death, Herman Goering committed suicide before his execution, and the other 10 went to the gallows. Of the men who were tried, 13 were Lutherans. Chaplain Gerecke's final report recorded that only four of them "died as penitent sinners trusting God's mercy for forgiveness. They believed in Jesus who shed his blood for their sins."
During the trial and for months after, both Pastor Gerecke and Father O'Connor ministered to the wives and children of the prisoners. Pastoral visits, as well as parcels of food and clothing, were given to the families. They heeded Jesus' words in Matthew 25: "In as much as you did it to the least of these you did it to me."
Pastor Gerecke finally reunited with his wife in late 1946. They had been apart for three and a half years. He resumed pastoral ministry, serving a small Lutheran church in southern Missouri. This man, who always said his duty "is the care souls," lovingly supported his little congregation and all the marginalized folks in the county. He also volunteered as the chaplain to the men in a nearby maximum security prison. It was said that the poor were sorry when he died.
Tim Townsend has written an important book. It deserves a wide audience.
Lyle Dorsett is Billy Graham professor of evangelism at Beeson Divinity School and the author of Serving God and Country: United States Military Chaplains in World War II (Berkley).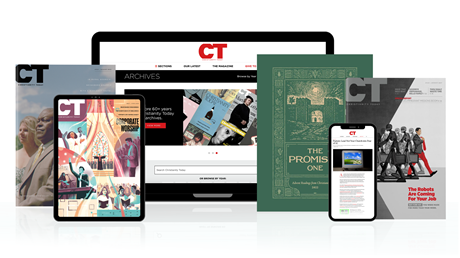 Annual & Monthly subscriptions available.
Print & Digital Issues of CT magazine
Complete access to every article on ChristianityToday.com
Unlimited access to 65+ years of CT's online archives
Member-only special issues
Subscribe
Would You Share the Gospel with Hitler's Worst Henchmen?
Would You Share the Gospel with Hitler's Worst Henchmen?