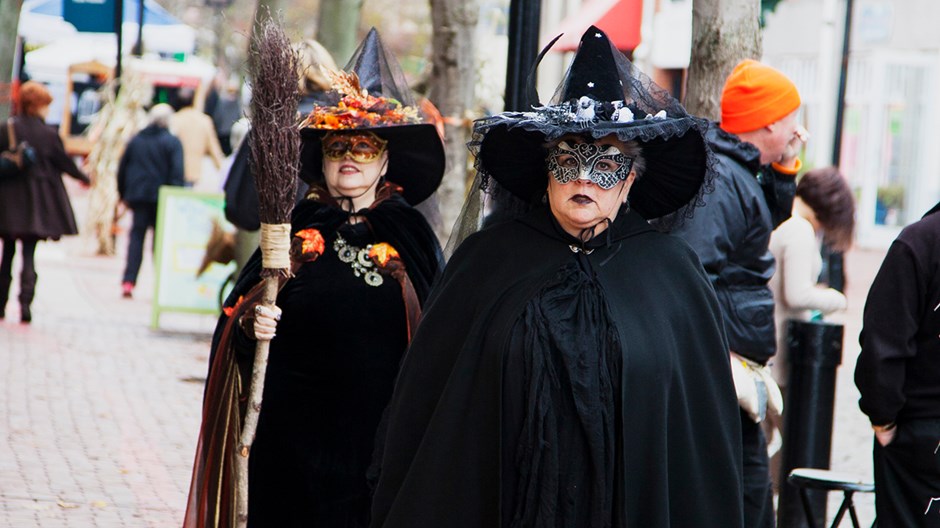 Image: Photo by Michelle Rogers Pritzl
Each October, a half-million visitors invade Salem, Massachusetts. During the month-long Halloween festival, our little city of 40,000 gets overtaken by an eclectic whirlwind of costumes, families, partiers, and occult practitioners from around the globe.
This all began decades ago, when Salem businesses began to capitalize on the city's infamous witch trials of 1692, along with the popularization of Halloween and the revival of neopaganism in the US. They opened witchcraft shops and a Witch History Museum. They started tours and events. Salem soon became the world's greatest Halloween destination.
As you'd imagine, local Christian leaders picket and pray against these occult stores and celebrations. Our church, the Gathering at Salem, assembled 15 years ago to try a different approach: to set up alongside them.
It's the classic Christian "love your neighbor" approach; only this time, our neighbors are practicing witches, conjurers, Wiccans, and atheists. It's "love your neighbor," Halloween edition.
Festival Evangelism
In 1999, we began working with the city to organize live music on the streets of Salem, where we also served free hot cocoa and set up tents offering spiritual encounters. People stood in line for up to an hour for free dream interpretations, à la Daniel or Joseph, or "psalm readings," with Gordon Conwell Seminary students sharing passages from the book of Psalms. This was the beginning of our ongoing experiment in festival evangelism.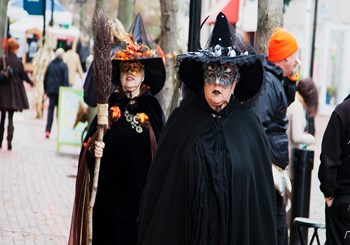 Image: Photo by Michelle Rogers Pritzl
We sought to relate to our neighboring neopagans as fellow humans, rather than enemies. We wanted to hear the cries of their hearts, to respond to them in a loving and gospel-centered way. Over the years, our outreach worked. It opened doors and initiated connections with people whose faith differed radically from our own. We eventually found ourselves caught between these newfound friends, who we wanted to serve and minister to, and our tribe of born-again believers, who continued praying against the people we felt called to love.
Denominational leaders from the Foursquare Church worried we had "become too close to the witches." In 2005, in the midst of our October evangelism, a picture of me greeting a vampiress actress was posted on a local pagan website and circled among churches. Some accused our ministry of aberrant engagement practices. Before being disfellowshipped the following year, our former denomination awarded us $84,000 to expand and continue our work. The foundation witnessed a season of miracles – even while we were being tried as heretics.
The tension over our approach reveals a larger struggle over missiology in the American church. Now, as an independent church, the Gathering continues its festival outreach, and each year we watch the same struggle play itself out on the streets of Salem each October. The variety of evangelism styles across the city creates a wild, sometimes violent culture clash.
Street preachers with bullhorns and placards warning against coming judgment took up prominent locations on the streets. Others passed out tracts and gently shared their faith. A youth team vibrantly offered healing prayers for passing revelers. Even the visitors know about our church. Occasionally someone will shout over his bullhorn, "The Gathering is a cult!"
Last year, Dan Kupka, a self-described agnostic and friend of our church, stood patiently in front of a street preacher to ask a question. Rain from the remains of Hurricane Sandy pounded the few visitors walking the streets. I watched nervously from a few feet away, wondering what craziness might erupt once the preacher finished his monologue. The preaching ended. Dan stepped close to the preacher's face, and he asked, "Can I get you a sandwich, or a coffee or something?"
Earlier that year, I told our church to respond graciously to the confrontational bullhorn evangelists—even if they felt that the preachers were leaving Salem churches with an emotional mess to clean up when they returned home. Kupka's gracious offering to the street preacher became a model for our church. This was the way of our Savior—the Prince of Peace, and it was an agnostic who modeled the way of Jesus.
The volunteers who travel to join our little church in offering spiritual counseling to the Halloween crowds undergo outreach training beforehand. We introduce them to the belief systems of neopaganism and ask them to keep from engaging in antagonistic spiritual warfare. Valor, a local witch and friend of the church, spoke to the group about life as a witch. (During October, many Salem witches dress in black, with capes and pointy hats. The rest of the year, they might look like your next-door neighbor.)
This comes as a surprise to the people who join us, but visitors to Salem are seekers of truth. After 15 years of sharing God's love in October, people still stand in line for spiritual counsel and hear out our expressions of the gospel. They respond. Each year, dozens pray and ask Jesus to touch their hearts.
The World Standing on Its Head
We know the whole thing seems kind of crazy. Witches and monsters pass out flyers for psychic fairs and haunted houses, Hare Krishnas chant and pulse to the tambourine beats in their big happy circle, and people pretending to be Satanists shout, "Hail Satan" to upset the street preachers. The Youth With a Mission missionaries offer healing prayers like hawkers in the carnival. They're fun, they're positive, and they're praying for passersby.
Then there's our festival evangelism, the costumed monks performing reverse confessions or wandering the streets offering free blessings; tents for dream interpretations and spiritual readings; live music from Christian and non-Christian artists together; a costume contest for the kids; free fair trade hot cocoa; and the experience of "outer darkness" from inside a old bank vault. Some see these carnival-like attractions as a mockery of the gospel. We see them as something revolutionary.
Russian philosopher Mikhail Bakhtin proposed the concept of "carnivalesque" as revolution. Medieval carnivals offered temporary relief from the drudgery of life. On one hand, they created a numbing effect for the suffering masses. The moment of carnal relief made years of oppression seem temporarily distant. On the other hand, revolutionary impetus sometimes rose from carnivale.
Bakhtin recognized the carnivalesque in literature, film, and the festivals of our world. Revolution through satire, humor, and dramatizing "the world standing on its head" is the power of carnivalesque.
Througout history, we see God use the unexpected and even ridiculous again and again. Could he be a fan of the carnivalesque? Ezekiel's strange behavior among the Jews captive in Babylon looks like part clown, part madman, and part angry social commentator. Eastern Orthodoxy celebrates the vocation of the "Holy Fool," with kooky characters such as St. Simeon the 6th-century hermit or Saint Basil of Moscow. Paul tells us "God has chosen the foolish things of this world to confound the wise" (1 Cor. 1:27), so perhaps embracing our own foolishness propels the revolutionary power of the gospel.
The festivals of this world, places like our own Haunted Happenings and Burning Man and dozens of others, provide freedom to express the wild foolishness of the gospel. In these settings, satire, humor, and surprise come forth as valid expressions for turning the world upside down, like the Christians in Acts did (Acts 17:6).
Sometimes, I even laugh to myself in the midst of it all. On our church-sponsored music stage last year, we kicked off the show with the Meat Puppets' "Lake of Fire," popularized by Nirvana. A couple hundred people pumped their fists and jumped up and down. The crowd sang about the lake of fire like a big weird Halloween choir.
After 14 years of outreach in Salem, we still find ourselves interrupted by kindness and love coming from unlikely places. Between costumed monks, visiting seekers, and friendly witches, we continue to learn about grace. Each Halloween our world turns upside down, and we learn about the power of the foolishness of the gospel.
Phil Wyman is a writer, musician, and pastor of the Gathering at Salem in historic Salem, Massachusetts.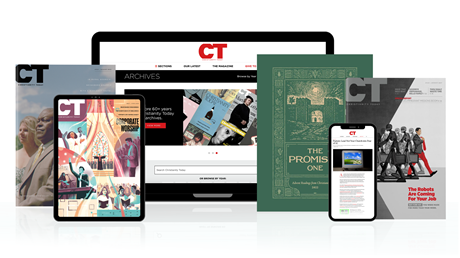 Annual & Monthly subscriptions available.
Print & Digital Issues of CT magazine
Complete access to every article on ChristianityToday.com
Unlimited access to 65+ years of CT's online archives
Member-only special issues
Subscribe
Sharing the Gospel with Witches—Real Ones
Sharing the Gospel with Witches—Real Ones