true
The documentary is one of the trickiest mediums for storytelling.
First of all, you don't have control of the story—you can't make it fit the story you want to tell. You have to follow what you find. Documentaries can uncover stories that the public may have missed and put them together creatively.
However, moviegoers often view the form skeptically, because it's difficult to do it well. Even a good documentary can seem unpolished or unfinished.
Rising from Ashes is a welcome exception to this.
The bicycle is a primary form of transportation in Rwanda. It was also a means for survival during the genocide. The country has made great strides towards healing the deep wounds left by the horrific events of 1994, but the work is still far from finished. So when legendary bike builder Tom Ritchie hears that a few young Rwandans have formed a cycling team, the story begins.
He persuades his old racing rival, the eccentric Jock Boyer (first American to compete in the Tour de France), to come with him to Rwanda and be a part of hosting a race they called "The Wooden Bike Classic." There they meet Adrien Niyonshuti, a strong-spirited young Rwandan with an incredible aptitude for the sport. Not only did the Rwandan riders exhibit a real talent, but they had a reason to ride. After Adrien won the Classic, he was asked what he hoped for next. He responded that he hoped that these white folk would keep racing with them: "I think it would bring hope to our lives and our country."
To make a long story short, Jock moves to Rwanda and begins coaching the beginnings of a national team. Their story is truly remarkable as they embark on a journey to compete in the London Olympic Games.
But really, there are two stories going on here. One is the story of a country still recovering from a brutal history and the unity and hope that a national sports team inspires. The other is the story of Jock and the team, particularly Adrien. Jock's troubled past (which includes some jail time) and his own journey to healing uniquely equipped him to relate to the boys. In many ways, Jock sees himself in Adrien.
At one point in the documentary, Jock looks at the camera, tells us exactly why he served time, and takes full responsibility for his actions. His honesty is surprisingly refreshing. It's this willingness to name the evil that is necessary to healing Rwanda as well. Adrien lost about 60 family members in the genocide. He knows what it is to lose, but he also knows the importance of forgiveness. Adrien and Jock inspire one another.
What's great about Rising from Ashes is that you kind of forget it's a documentary. The cinematography is excellent throughout and even stunning at parts, particularly in its portrayal of the races. Many times documentary filmmakers have to reenact scenes or find some other way of portraying the events they are telling, because, well, they've already happened. And they can't go back and film them.
But this project has been over six years in the making. The filmmakers took a real risk and began documenting the story before they knew if it would have a happy ending. The races they filmed could have ended differently. The team could have broken up, or given up.
Robert Frost says the following about the artistic process in his essay "The Figure a Poem Makes":
It begins in delight, it inclines to the impulse, it assumes direction with the first line laid down, it runs a course of lucky events, and it ends in a clarification of life... a momentary stay against confusion.
That is exactly the approach that was taken with this film. It began in delight—particularly the delight of Tom Ritchie, Jock Boyer, and director T.C. Johnstone, as they saw something hopeful and possible in a recovering nation. They had a hunch about a story that hadn't happened yet, and they inclined to the impulse.
The result is a beautiful and truly inspiring piece of cinema that serves as "a momentary stay against confusion." In the midst of this reckless and often violent world we live in, Rising from Ashes is a reminder of redemption.
Carol Anne Ausband is a summer intern with Christianity Today Movies and a student at The King's College in New York City.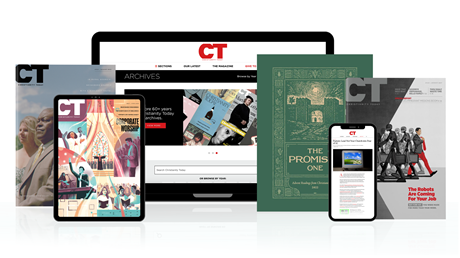 Annual & Monthly subscriptions available.
Print & Digital Issues of CT magazine
Complete access to every article on ChristianityToday.com
Unlimited access to 65+ years of CT's online archives
Member-only special issues
Subscribe
Briefly: Rising From Ashes
Briefly: Rising From Ashes