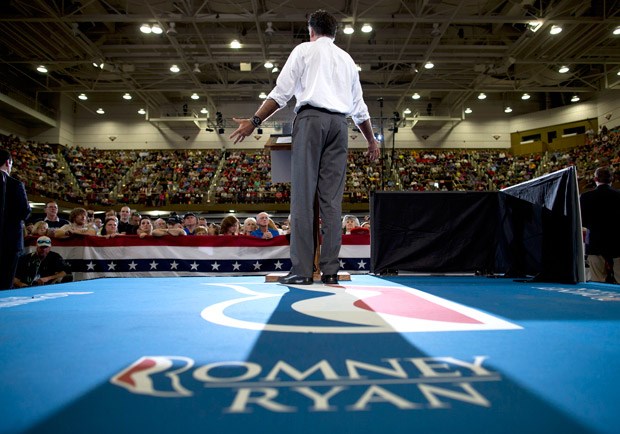 Image: Evan Vucci / AP
Abortion remains an issue in the presidential campaign. One reason is Mitt Romney's stance on the issue.
The once pro-choice and now pro-life candidate wants Roe v. Wade overturned, but he does not want the United States Supreme Court to outlaw or limit abortion. Instead, he wants to return to the pre-Roe status quo in which states decide abortion policy.
During Thursday's vice-presidential debate, moderator Martha Raddatz asked Republican candidate Paul Ryan if Americans who believe abortion should remain legal should be fearful of a Romney administration.
"We don't think that unelected judges should make this decision; that people through their elected representatives in reaching a consensus in society through the democratic process should make this determination," Ryan said.
Ryan's carefully worded response expresses Romney's position that the error of Roe v. Wade was to nationalize abortion policy.
In 2007, when Romney was asked about the landmark ruling, he said that Americans are not ready to ban abortion; so, he would prefer that states decide the issue.
"I'd like to see Roe v. Wade overturned and allow the states and the elected representatives of the people and the people themselves have the ability to put in place pro-life legislation,"Romney said. "And of course it's our aspiration that at some point we'll see a nation that doesn't have abortion. But until that time, I certainly believe that allowing states and citizens and their representatives to fashion their own laws to protect the sanctity of life is very, very important."
Last Tuesday, Romney reignited the issue of abortion in the presidential campaign. Romney told the Des Moines Register that he did not know of any abortion-related legislation that would be part of his agenda.
The Register asked Romney about why he was now gaining ground with women voters. Romney said that one reason was that he was able to clarify his positions on issues like abortion. The newspaper followed up by asking, "Do you intend to pursue any legislation specifically regarding abortion?"
"There's no legislation with regards to abortion that I'm familiar with that would become part of my agenda," Romney said. "One thing I would change, however, which would be done by executive order, not by legislation, is that I would reinstate the Mexico City policy, which is that foreign aid dollars from the United States would not be used to carry out abortion in other countries." [full transcript here]
The statement was at odds with his earlier position that he would support anti-abortion legislation in Congress. Last year, in a National Review op-ed, Romney listed specific legislation he would push as president. He promised to "advocate for and support a Pain-Capable Unborn Child Protection Act" and "support efforts to prohibit federal funding for any organization like Planned Parenthood."
The Romney campaign quickly clarified its position in an email to National Review Online. Spokesperson Andrea Saul said, "Governor Romney would of course support legislation aimed at providing greater protections for life."
Democrats saw Romney's comments as an "etch-a-sketch moment," an effort to repaint his image on the issue of abortion. President Barack Obama told ABC News in an interview that Romney has promised to support legislation and Supreme Court justices that would overturn Roe vs. Wade.
"Now, four weeks before an election, he's trying to cloud the question when it comes to women's rights to control their own healthcare decisions," Obama said.
Marjorie Dannenfelser, president of the anti-abortion Susan B. Anthony List (SBAL), was one of many pro-life leaders who told the blog TalkingPoints Memo that Romney's comment was a gaffe and not a cause for alarm.
"This is clearly not a good moment on this issue [for Romney.] It's a hiccup," Dannenfelser said. "We wouldn't have endorsed him if I didn't truly believe he's truly pro-life and has that conviction."
A question of the question?
Other pro-life leaders said the problem was with the interview question, though they disagreed on what the problem was. David O'Sheen, executive director of the National Right To Life Committee, and Tony Perkins, president of the Family Research Council (FRC), said that Romney's response was due to the way the question was handled. Perkins said the interview was about economic issues; O'Sheen said Romney thought the question was about legislation that only addresses abortion.
Romney has been scrutinized by social conservatives over his abortion position. When running for Senator in 1994, Romney said he believed that "abortions should be safe and legal in this country."
He later changed his views and said he was pro-life. Last year, Romney was one of the few Republican candidates to refuse to sign the "Pro-Life Pledge" advocated by SBAL. He objected to their requirement to select only pro-life appointees to head the National Institutes of Health, the Department of Justice, and the Department of Health and Human Services. He also wanted to continue to provide federal funds to hospitals and clinics that provide abortion services, though he would not fund Planned Parenthood.
SBAL now not only endorses Romney; they have their own ads aimed at Obama's record on abortion. In the ads, the group charges that, "As a state senator, Obama opposed a law to provide equal treatment for children born alive after a failed abortion. In Congress, Obama supported a law to block parental notice." The ad also said that Obamacare provides tax-subsidized abortions, "even for abortions just because the baby is a girl."
Akin still a factor
Abortion has been a particularly thorny issue in this election because of the remarks by Missouri senatorial candidate Rep. Todd Akin (R-MO) on abortion and "legitimate rape."
Akin made his remarks during an interview broadcast in August. The candidate was asked about his position on abortion in the cases of rape.
"It seems to me, from what I understand from doctors, that's really rare. If it's a legitimate rape, the female body has ways to try to shut that whole thing down," Akin said. "But let's assume that maybe that didn't work or something: I think there should be some punishment, but the punishment ought to be of the rapist, and not attacking the child."
Akin has declined calls from nearly all Republican leaders, including presidential candidate Mitt Romney, to step down from the race.
The Democratic Congressional Campaign Committee is using the platform as an albatross around the necks of Republican candidates. The DCCC is making phone calls to voters in 20 competitive congressional districts. The DCCC calls directly link Akin and his comments to GOP candidates.
FRC's Perkins is one of the few to stand by Akin.
"Was his statement offensive? Absolutely. Was it inappropriate? Without a doubt,"Perkins said. "But if we abandoned every politician who made a ridiculous comment in their careers, there'd be no one left in Washington!"
Perkins said that calls for Akin to step down is a "double standard" aimed at social conservatives. Moderate Republicans, according to Perkins, had done worse and the party stood by them. FRC's political action committee will continue to support Akin.
Akin's opponent, Senator Claire McCaskill is making Akin's comment central to her campaign. She has just released three ads, each featuring a survivor of sexual assault. Each woman speaks directly to Akin's comments on rape. In one, Joanie (no last name provided) says that she knows that Akin has apologized.
"As a woman of faith, I must forgive Todd Akin," she continued. "But as a voter, it's not something I can forget."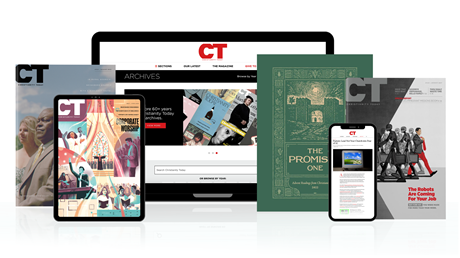 Annual & Monthly subscriptions available.
Print & Digital Issues of CT magazine
Complete access to every article on ChristianityToday.com
Unlimited access to 65+ years of CT's online archives
Member-only special issues
Subscribe
What is Romney's Legislative Agenda on Abortion?
What is Romney's Legislative Agenda on Abortion?