Rick Santorum has a distinguished record as a champion of religious liberty, but he has tarnished his credibility by repeating a baseless accusation that President Obama and Secretary Clinton are subtly truncating America's historic commitment to advancing religious liberty abroad.
At recent campaign stops in Michigan, Santorum claimed that as part of his "radical agenda" Obama "has not stood up for religious rights and religious liberty." I served in the State Department's Office of International Religious Freedom from 2007 to late 2011—under Bush and Obama—and found the current President and Secretary to be passionate, vocal, and active in opposing persecution. So what proof does Santorum provide for his claim? Use of the phrase "freedom of worship" in official remarks.
"When you have the President … and you have the Secretary of State referring to the freedom of religion, not as the freedom of religion but the freedom of worship, you should get very nervous, very nervous," Santorum told his audience in Holland, Michigan.
Why? "Because there's [sic] a lot of tyrants around the world who will talk about freedom of worship, but they won't talk about freedom of religion. … What the President is now seeming to mold, in the image of other elitists who think that they know best, is to limit the role of faith in the public square."
Santorum repeated the "freedom of worship" charge at a February 27 rally in Livonia, Michigan.
With his comments, the former Pennsylvania senator has resurrected a controversy that died down two years ago. In late 2009 and early 2010, critics pounced on the administration for isolated uses of the phrase "freedom of worship." To some, this particular phraseology signaled a deliberate attempt to pare back America's religious freedom advocacy. Several news outlets ran stories on the ensuing controversy, with most articles quoting the same handful of vocal critics.
In its 2010 annual report, the U.S. Commission on International Religious Freedom, an independent advocacy organization, devoted five paragraphs to this supposed shift, saying "a purposeful change in language could signify a much narrower view of the right." An article in The Christian Post went further: altered rhetoric amounted to "laying the groundwork for censuring religious thought and expression in the public square while sanctioning worship as long as that worship remains tucked away from public view within the confines of the church." The Family Research Council was perhaps most apoplectic. The "ominous" shift was proof of Obama's "pursuit of wiping religion off the map" and the "the culmination of a 40-year process to expel God from America."
By this logic it was actually President George W. Bush who expelled God from America—he employed the phrase "freedom of worship" scores of times during his presidency, much more than Obama. It's telling that Bush never received a word of criticism, let alone the kind of conspiratorial derision directed at Obama, for using the phrase.
Has the Obama administration made a rhetorical or policy shift on matters of religious freedom? Absolutely not. During my time at the State Department I had the opportunity to contribute to several of Secretary's Clinton's religion-related speeches and I kept a running log of every public presidential and secretary of state reference to religion and religious freedom. "Freedom of worship" was used a handful of times, but "freedom of religion" and "religious freedom" were considerably more common.
Why was "freedom of worship" used at all? There were legitimate reasons for doing so. Since the Founding Fathers, American leaders have routinely employed "worship" as both a subset of and synonym for "religion." Roosevelt's "Four Freedoms" speech is perhaps the most famous example. And in some settings it's the more relevant term. Obama used "worship" in remarks in Japan, a traditionally Buddhist and Shinto society where the term is arguably more contextually congruent than "religion."
That the phrase cropped up in a few other speeches shouldn't surprise us. For reasons of bureaucratic expediency and policy consistency, speechwriters must often reuse approved language from previous remarks and documents. When the current White House and State Department speechwriters learned of the contrived hubbub over "freedom of worship," use of that phrase effectively stopped.
Lest there was any remaining doubt about the administration's commitment to a robust interpretation of religious freedom, when releasing the State Department's 2010 Report on International Religious Freedom, Secretary Clinton said,
This report reflects a broad understanding of religious freedom, one that begins with private beliefs and communal religious expression, but doesn't end there. Religious freedom also includes the right to raise one's children in one's faith, to share one's faith peacefully with others, to publish religious materials without censorship, to change one's religion—by choice, not coercion—and to practice no religion at all. And it includes the rights of faith communities to come together in social service and public engagement in the broader society.
Reality notwithstanding, some critics remain undeterred. Santorum's assertion that the administration uses "freedom of worship" as code for seeking to "limit the role of faith in the public square" comes fully fifteen months after Clinton's statement and after dozens of administration references to "freedom of religion."
By launching his blatantly ill-informed, ideological broadside against the President, Santorum risks turning a bi-partisan cause into a wedge issue. Far from truncating religious freedom, Obama and Clinton share Santorum's passion for vigorously defending the full rights of faith communities around the world.
Judd Birdsall is a graduate of Wheaton College and is currently pursuing a Ph.D. in International Relations at Cambridge University. From 2007 to 2011 he served at the U.S. State Department's Office of International Religious Freedom and was founding chairman of the Forum on Religion & Global Affairs.
"Speaking Out" is Christianity Today's guest opinion column and (unlike an editorial) does not necessarily represent the opinion of the magazine.
Related Elsewhere:
Previous Christianity Today stories related to religious freedom and persecution include:
'Freedom of Worship' Worries | New religious freedom rhetoric within the Obama administration draws concern. (June 22, 2010)
Persecution Prompts Missions Agency to Transform | Operation Mobilization India transforms itself into a local witness. (October 21, 2011)
Should the China Ambassador Worship at a House Church? | Observers discuss whether the U.S. ambassador to China should worship at an unregistered church to 'publicly identify with the persecuted.' (March 31, 2011)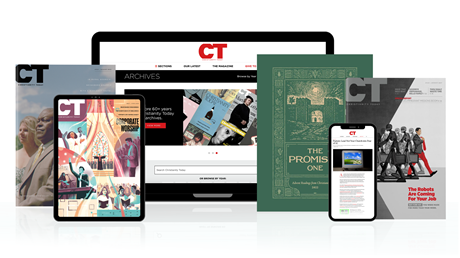 Annual & Monthly subscriptions available.
Print & Digital Issues of CT magazine
Complete access to every article on ChristianityToday.com
Unlimited access to 65+ years of CT's online archives
Member-only special issues
Subscribe
Santorum Wrong to Reignite 'Freedom of Worship' Controversy
Santorum Wrong to Reignite 'Freedom of Worship' Controversy