true
Hildegard von Bingen was a Benedictine nun, a musician, and a student of the natural world conversant in the medicinal qualities of plants and the scientific causes of astronomical phenomena. A renaissance woman before there was a Renaissance, recognized by Pope Eugene III as a true seer, Hildegard founded two convents in her life. She often conflicted with the patriarchal structure of the Roman Catholic Church, and was even denied communion for several years late in her life for defying a church order.
Fascinating lives usually make for fascinating films, but not always. In the case of Margarethe von Trotta's Vision: From the Life of Hildegard von Bingen, the sheer amount of interesting material often appears to pull the story in different directions. Carefully researched and shot in surviving, contemporaneous buildings (primarily the Cistercian convent of Cloister Maulbronn), Vision offers a wealth of information about twelfth-century life, both in and out of the Benedictine convent. What is perhaps missing is an effective shaping of the events to give the audience a sense of the woman behind the icon.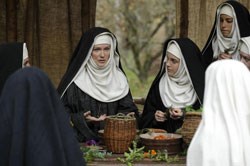 After a brief introduction in which we learn how Hildegard comes to the convent, the film jumps forward thirty years to the death of her mentor, Jutta von Sponheim, and her ascension to a position of leadership. The suggestion of a rivalry is hinted at, but we are only told that Hildegard was a favorite of Jutta's, we never see why.
The pattern of introducing themes from Hildegard's life without allowing any of them to develop into a central theme gives the film a tentative, faltering quality. Early on, we see Hildegard witnessing various acts of self-flagellation or other forms of penitential corporal punishment, but after Hildegard tells a man that God desires mercy not sacrifice, it is as though the entire practice (and the conflicting visions of God represented through responses to it) ceases to exist. Once Hildegard responds to being queried about devoting herself to the study of Arab books by saying that even heathens know a bit about medicine, the conflict between the use of secular and faith-based learning is never mentioned again. A visiting abbess chastises Hildegard for allowing the nuns to wear their hair down for an allegorical play of her own composition, but even though she says this behavior will be reported to their superiors we don't hear of it again.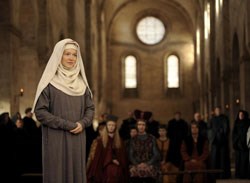 The closest Vision has to a central narrative thread is the relationship between Hildegard and Richardis, the daughter of a wealthy family who initially appears more drawn to a famous and charismatic leader than to monastic life. At a question and answer session at the 2009 Toronto International Film Festival, von Trotta cited Hildegard's response to the possible loss of this relationship as the emotional climax of the film, calling it, in context, an "explosion" of emotion that, for her at least, humanized the character. Yet even Barbara Sukowa, who plays Hildegard, confessed that her first response to reading the script was that "nothing much seemed to happen."
Sukowa reconciled herself to the relative plotlessness of the film by likening it to a "Gregorian chant" rather than a "Beethoven symphony." Certainly the film does an admirable job of conveying the pace and tone of monastic life, especially through the Richardis character who struggles to adopt the discipline of silence imposed on each member of the convent.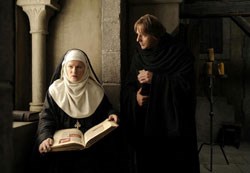 Those familiar with von Trotta's work may also find it easier to see a thematic coherence to the film regardless of plot concerns. When asked about her penchant for filming stories about strong women, von Trotta says: "The figures that appeal to me are always strong women who have moments of weakness; therefore, I never try to make heroines of them. Instead I show how they fought to find their own way, how they put themselves out there, and how much they had to swallow in order to find themselves."
The admitted attempts to more pointedly draw sociological comparisons between the role of women in the Middle Ages and their role today may gain the film some viewers, but does it come at a cost of presenting Hildegard as more of a politically astute figure than an authentic mystic visionary? Dr. Elizabeth Rambo, Associate Professor of English at Campbell University, and a specialist in medieval literature, opines that film "does not convey a great sense of the transcendent."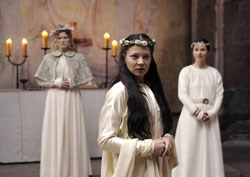 Because of the use of location shooting and creative use of natural (candles and torches) lighting, Vision is a film that is better served by a theatrical screening rather than a DVD viewing. One aspect of the film that I admired was its incorporation of von Bingen's own music. Dr. Rambo recommended the recordings of a group called Sequentia for those, like me, most interested in Hildegard's music. She also recommended Sabrina Flanagan's biography, Hildegard of Bingen: A Visionary Life (Routledge, 1989), for those wanting to dig into the historical context of the film or with questions about the historicity of particular events in it.
Talk About It
Discussion starters
How do those around Hildegard decide whether or not her visions are authentically from God? Should Hildegard have allowed Richardis to convent? Why or why not?
How do you feel about the way Hildegard dealt with Sister Clare's pregnancy? Is there anything she could have done differently?
Do you believe that God speaks to people today through visions? Why or why not? What does Scripture say about it?
The Family Corner
For parents to consider
Vision did not have an assigned MPAA rating when I screened the film at the Toronto International Film Festival. It was rated as appropriate for ages twelve and over in Germany. One of the nuns reports she is pregnant, but no sexual activity is portrayed onscreen. There is at least one literal curse in the film—a male leader at the monastery says he hopes God sends a dead nun to "the darkest corner of hell." There are two scenes in which people whip themselves in attempted self-mortification, and two nuns are shown removing a belt of thorns from a dead nun's scarred (and possibly infected) midsection.
Copyright © 2010 Christianity Today. Click for reprint information.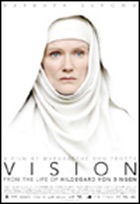 Browse All Movie Reviews By: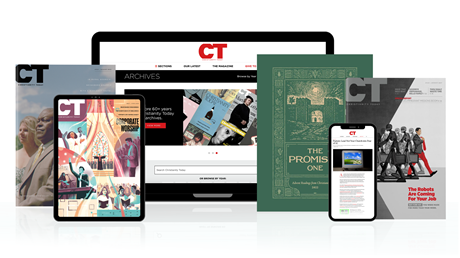 Annual & Monthly subscriptions available.
Print & Digital Issues of CT magazine
Complete access to every article on ChristianityToday.com
Unlimited access to 65+ years of CT's online archives
Member-only special issues
Subscribe
Vision
Vision