James Dobson may have retired from Focus on the Family, but the psychologist has kept a full schedule this week. Earlier this week, he began his new radio program called Family Talk, he switched his endorsement from Trey Grayson to Rand Paul for U.S. Senate, and he appeared at a National Day of Prayer event in Washington on Wednesday. Dobson spoke with Christianity Today about the National Day of Prayer and his future involvement in politics.
Since your wife is chairman of the National Day of Prayer, would you like to weigh in on the judge's ruling that the day is unconstitutional?
There's a cloud over the country. The National Day of Prayer put a prayer covering over the nation, and there are millions of people who pray for this country, our military, our families, and our government. Since 1775, when the first Continental Congress called for a national day of prayer, there have been such events called for by almost every President. I saw the figures—34 out of 44 Presidents have called for a national day of prayer. Some of those who didn't have died in office. William Harrison caught pneumonia at his inauguration and was never able to call for a national day of prayer; he died a month later. The vast majority have called for a national day of prayer, starting with George Washington; Abraham Lincoln during the Civil War; Franklin Delano Roosevelt during World War II; Woodrow Wilson during World War I; George Herbert Walker Bush during Desert Storm; George W. Bush twice during his term of service. In fact, George Bush held events at the White House every year for eight years for the National Day of Prayer. My wife was one of the speakers at that event for eight years. This has been our history. This is our tradition; this is our belief. And yet you have this judge who in her view of her own importance struck down the National Day of Prayer and called it unconstitutional. How can something be unconstitutional when it was passed by both houses of Congress unanimously and signed by Ronald Reagan and Harry Truman and implemented by all those Presidents back through the years? This woman, a Carter appointee with her own liberal views was arrogant enough to simply say we're not going to do that anymore, that's unconstitutional. It takes my breath away. My prayer is that Barack Obama will instruct his justice department to appeal that ruling. If he doesn't, this country has lost an extremely valuable tradition and a relationship with Christ.
You reference Karen Santorum in your new book on parenting daughters, and you say she would make a wonderful first lady. You also recently endorsed Dan Coats for Senate. Do you plan on being involved in politics in the future?
I certainly plan on being involved in the culture and the moral issues that I believe in. The institution of the family has very few friends in Washington. There are lobbyists in Washington for every possible entity, from the possum-growers of America to every kind of crazy thing. There's somebody in Washington paid to advance the cause of that particular business, but there's not a lot of support for the family. We're on the verge of reinstituting the marriage penalty tax in 2011. The tax was instituted in 1969, and from then till 2001 was the law of the land. With the tax, moms and dads that were raising children, packing lunches lovingly and praying with kids and binding up skinned knees and other wounds—some emotional—and trying to keep a roof over their heads and earn enough money to take care of them, those people making that sacrifice actually paid higher taxes than those just living together out of wedlock. That tells you something about how the family is not valued in Washington. President Obama has already announced we're going to roll back the Bush tax cuts, which means a reinstitution of the marriage penalty tax. That's just one example of how there is a disregard for the needs of families. The next generation is dependent on the family for its survival; we're talking about boys and girls here. But that gets very little play in Washington. You can be sure I'll do what I can to influence that in the future.
Christianity Today will include more of its interview with Dobson in its July print issue.
Related Elsewhere:
Christianity Today's coverage of James Dobson includes:
Dobson Says Goodbye (for Now) | Today is his last broadcast of Focus on the Family. But he'll be back on the air soon. (February 26, 2010)
Dobson to Start New Nonprofit and Radio Program | Focus on the Family's founder is asking for donations for an organization called James Dobson on the Family. (December 31, 2009)
Dobson and the God-o-Meter | Beliefnet editor Dan Gilgoff on the Religious Right's continuing role in this election. (August 1, 2008)
Q & A: James Dobson | The chairman of Focus on the Family speaks about the need for the proposed Federal Marriage Amendment. (July 1, 2004)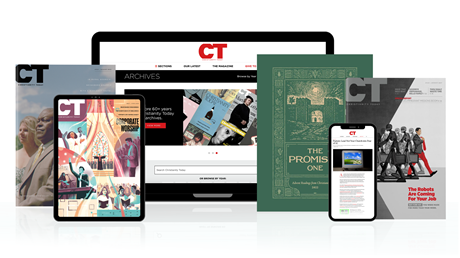 Annual & Monthly subscriptions available.
Print & Digital Issues of CT magazine
Complete access to every article on ChristianityToday.com
Unlimited access to 65+ years of CT's online archives
Member-only special issues
Subscribe
Q & A: James Dobson on the National Day of Prayer
Q & A: James Dobson on the National Day of Prayer