true
Dennis Quaid knows what it's like to almost lose a child to a tragic accident. Two of them, in fact. In November 2007, his two-week-old twins, Thomas and Zoe, almost died in a Los Angeles hospital when they were accidentally given a massive overdose of a blood thinner.
The babies almost bled to death, but slowly stabilized as doctors and nurses administered an antidote. After 12 days, they were well enough to come home, and they're happy, healthy toddlers today. Quaid, one of Hollywood's most popular actors, and wife Kimberly later settled with Cedars-Sinai Medical Center for $750,000.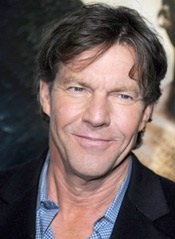 "Not a day goes by that I don't think [about it]," Quaid told CBS several months after the incident. "I don't take anything for granted any more, 'cause if they hadn't made it, there never would've been another happy day."
Quaid has been rethinking those difficult days recently in his latest movie role, that of a man who almost lost his teenage daughter in a shark attack. The film is Soul Surfer, which just finished filming in Hawaii and should release in 2011. It's the true story of Bethany Hamilton, who in 2003 lost her left arm to a shark attack at the age of 13. She almost bled to death that morning, but made a courageous and remarkable recovery and was surfing again three weeks later.
Today, Hamilton, 20, is one of the world's top professional surfers, despite the balance challenges that come with having just one arm. An outspoken Christian, Hamilton credits God with her recovery, perseverance, and desire to tell her story around the world—a story that will now be told on the big screen, with Quaid playing her father, Helen Hunt her mother, and 16-year-old AnnaSophia Robb as Bethany. Country singer Carrie Underwood makes her film debut as Sarah Hill, Bethany's youth pastor and mentor. The movie is being produced by Affirm Films, the faith-based arm of Sony Pictures, and Mandalay Vision.
CT recently visited the Soul Surfer set in Oahu to learn more about the movie.
Quaid says he jumped at the chance of playing Tom Hamilton after seeing Bethany on NBC's Today in December, as part of the show's "Buzziest Stories of the Decade" series.
"I had a dim memory of her story, but had mostly forgotten it," says Quaid, who watched the Today segment with his twins at his side. "To see Bethany's story, and what an inspiration she was, I wound up with tears streaming down my face. I just got choked up, it was so inspiring. And it just so happened that two days later, they called and asked if I wanted to play her father in her movie. It was a no-brainer. I said I'd love to do this."
Quaid says his own nearly tragic ordeal with his twins gave him something extra to bring to this role. "They came very close to not being with us," he says. "I believe it was the prayers of a lot of people around the world that saved [our twins]. I think that experience brings me to this experience, and what the Hamiltons went through as parents. Our little kids wound up making lemons into lemonade, and that's what Bethany has done.
"Bethany's story makes you stop and think about how precious our lives are. It makes you think about how we handle adversity; that really defines who we are, and Bethany has done a stand-up job of doing that. And she did it by walking with the Lord in her life.
"I don't know how I would have reacted if I were in Bethany's position—how she overcame the shark attack and went on with her life and inspired others. But the way she came through it is what makes this such an incredible story."
'An incredible human being'
Robb, who starred in Bridge to Terabithia, Charlie and the Chocolate Factory, and Race to Witch Mountain, was similarly inspired by Bethany's story. And because she shares the same Christian faith as her counterpart, she was especially stoked to play this role.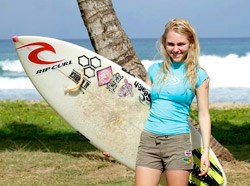 "I was definitely interested because this is a faith-based story," Robb says. "Bethany is a lot more chill than I am; I'm a lot more [wired]. But we're similar in a lot of ways. We're both very determined, we both have strong families, and faith is a big part of our lives."
She says she has been inspired not only by the story, but by spending time with Bethany.
"She is an incredible human being who has had an amazing journey," Robb says. "She is a really forgiving person who went through this really hard time in her life. It was a lot harder than she lets on, but she has really let it go. It's like, It's over, I've conquered that, let's move on to the next thing. She doesn't even talk about [the shark attack]. It seems unnecessary to her because she's here, she's a pro surfer, and she loves life."
Robb, who lives in Denver with her parents, has fallen in love with surfing in her two months in Hawaii, though she admits she's not very good at it. And she says that for the first couple of weeks, she couldn't help but worry about what might be lurking in the waters beneath her.
"I felt like such a wuss at first," she says. "I kept looking down into the water, and every time I'd see a shadow I'd think, Oh my gosh, what is that? I was freaking out a little bit. But then I figured, if Bethany can do this … I mean, she got her arm bitten off by a shark! If she got back in the water, I should be able to too."
Several folks associated with the film told CT that Robb has been outstanding, that this could be her "breakthrough" performance; one said it might be worth Oscar consideration. The shark attack was one of the first scenes shot, and observers said Robb's acting was so convincing that they had to stop filming, catch their breath, and wipe away tears, it was so realistic. Ditto the scene in the hospital when Bethany wakes up to discover that indeed, her arm is gone.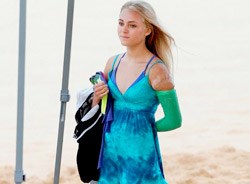 During production, Robb wore a lime green wrap around her left arm, which will be digitally "removed" during editing. She did some scenes with her left arm tucked behind her back, so her body would move in a way as if the arm wasn't there.
Playing a "real person" for the first time in her career was a challenge. "It's really hard, because I wanted to capture her spirit, because it's her story," says Robb. "I just tried to be in character and really try to 'channel' Bethany. I hope I did a good job with that.
"There were some concerns about authenticity, and I often asked Bethany on some of the decisions, 'Did you really do this? How did you approach this? Did you cry when you did this?' But at the same time, you can't re-create the same person. You have to bring your own flavor."
Robb hopes people will be "inspired" by the film and Bethany's story.
"That's the obvious answer," she says. "It's a story about faith and perseverance. Bethany really is an amazing person, but she's also so normal, so everyday. But I really hope this films makes people believe they can do anything. Because she did."
For updates on the film, go here, here, and/or here. To learn more about Bethany Hamilton's faith and story, check out this excellent documentary. CT will have more stories on Soul Surfer, including an interview with Bethany and her parents, in the future.
Images from AnnaSophia Robb's website. Quaid image from IMDb.com.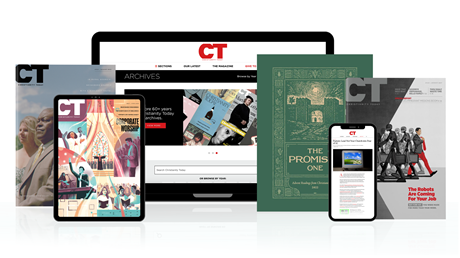 Annual & Monthly subscriptions available.
Print & Digital Issues of CT magazine
Complete access to every article on ChristianityToday.com
Unlimited access to 65+ years of CT's online archives
Member-only special issues
Subscribe
A Role with Soul
A Role with Soul