Christian women aren't supposed to have body image issues. Have you ever thought that? Perhaps quietly, to yourself, while looking in the mirror before walking out the door to church. In her new book, Unsqueezed: Springing Free From Skinny Jeans, Nose Jobs, Highlights, and Stillettos, Margot Starbuck notes that Christian women face a "double whammy" when it comes to appearances.
First we feel bad when our muffin tops overflow the world's skinny mold—and then, as people of faith, we feel guilty because we tried so hard to cram ourselves into that death-dealing mold in the first place.
Unsqueezed is Starbuck's wrestling with that double whammy. She offers a humorous yet surprisingly sharp examination of the ways that women, specifically Christian women, fixate on physical beauty.
"When I started writing the book, I wanted to say that appearances don't matter at all," Starbuck told me in an interview for Her.meneutics. "My editor looked at me with my crazy tie-dye and painted boots and nose ring, and she said, 'Well, it seems like you put a certain degree of energy into your appearance.' "
So instead, Starbuck explores what moderation looks like and overcoming what she calls the "binding preoccupation with self." The preoccupation begins with a fear: "the silent question of the human heart … am I acceptable?" a question that's only aggravated by modern advertising. The theme of acceptance will also be familiar to readers of Starbuck's first book, The Girl in the Orange Dress: Searching for a Father Who Does Not Fail, which explored her difficulty believing that God accepted her. Accepting that God is "for us" frees us up to be "for" others, Starbuck says. Unsqueezed and her next book—which she tells me she's already working on—examine the idea of acceptance in depth.
Unsqueezed is also a portrait of responsible consumerism. "The invitation to love God and love other people with our heart, soul, mind, and strength—I believe that extends to what's in our wallet, what's in our closet, what's in our refrigerators," Starbuck explains. The book offers ideas for how to replace our self-focused activities with ones that are other-focused. "We want to be not just deleting things from our lives, but also adding practices that help us live into the truth."
The problem areas that individual women struggle with will vary, she says, but two major indicators are how time and money are spent. So while Starbuck admits to spending too many hours "going from thrift store to thrift store looking for just the right pair of jeans to tie dye," my personal red flag is spending too much time browsing (but not buying) at Amazon.com, and daily sessions with a treadmill. "The fact is, I have to be responsible as a steward of the resources I've been given, says Starbuck. "And when I pour them into whatever is happening at TJ Maxx or Marshall's, that feels like irresponsible stewardship."
Starbuck writes that many temptations—whether to overeat or to keep rigid control of diet—have the same root fear: the "hissing voice" that suggests we can take our needs into our own hands instead of trusting in God's provision. "Once we recognize that voice, we'll begin to hear it in relation to, oh, Ben and Jerry's, Reese's Peanut Butter Cups," Starbuck told me. "On one level, it's a little goofy to say, 'Can I trust God and not buy this thing?' But honestly, I think that's the deep, spiritual, emotional, theological issue: Are we willing to release our grasp? For some of us, it could be even broader than food and clothes. It could be about where we live, what jobs we are looking at."
In other words, Unsqueezed is about much more than skinny jeans, nose jobs, highlights, and stilettos. After reading it, I started to wonder for the first time—Starbuck sort of snuck up on me with this—if my discomfort with the amount of time I spend with my brain plugged into my computer, or in a car traveling back and forth from the gym, or the money I carefully save for nothing in particular, is a symptom of a bigger problem—and one I can even tackle. We are called to live differently for Christ; is it possible that we can do that in everything we do with our day?
The idea is almost overwhelming, and Starbuck agrees. "Just do the next thing," she writes. She also provides an appendix of links and resources for those who want to learn more or find their "next step" toward embodied theology. These include BetterWorldShopper.com and the True Campaign. Starbuck is a key voice for the latter, which has partnered with Food for the Hungry in a movement called true:shift, which "invites women to reallocate resources they are spending on cosmetic improvements and transfer those resources to those who are hungry, those in need," she said.
Starbuck told me her own journey toward embodied discipleship started with her hair (swearing off hair color after she found that becoming a "summer blondie" bred dissatisfaction in her daughter). What will your next thing be? I'm not yet sure of mine, but Unsqueezed made me want to find it.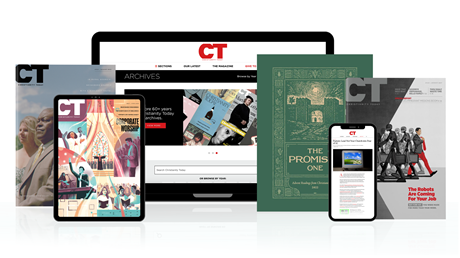 Annual & Monthly subscriptions available.
Print & Digital Issues of CT magazine
Complete access to every article on ChristianityToday.com
Unlimited access to 65+ years of CT's online archives
Member-only special issues
Subscribe
Skinny Jeans, Nose Jobs, and Jesus
Skinny Jeans, Nose Jobs, and Jesus