true
In March 2009, one of Christian music's most enduring bands, Newsboys, had a newsflash: After 22 years (and more than 2000 shows) with the band, frontman Peter Furler was stepping away from the grueling touring schedule, and Michael Tait, formerly 1/3 of supergroup dc Talk, would take Furler's place on stage. At the time, a press release said that Furler would "continue with the band and his trademark songwriting and production will remain as he focuses his professional career toward future Newsboys recordings."
In the year-plus since, it hasn't quite turned out that way. Furler has really stepped away from the band, and Tait has moved in not just as concert frontman, but as the band's new leader in many ways, including taking a major role in songwriting for their new album, the aptly named Born Again, which releases today. Tait says that Furler is still on board as a "creative consultant," but is mostly enjoying long overdue time with his family.
The remaining Newsboys members have welcomed Tait with open arms: "I can't believe Michael was available," said drummer Duncan Phillips. "His vocal range and style allow us to musically explore avenues we haven't in the past." Adds guitarist Jody Davis, "Tait is great for us because he's a real team player and brings a lot of enthusiasm to the mix of personalities." "We're getting a new lease on life from this," adds keyboardist Jeff Frankenstein. "It's providential. I couldn't see things happening any other way."
After about a decade of moderate success as a solo artist (since the 2000 break-up of dc Talk), Tait is thrilled to be with a group that he has considered friends for decades. We recently caught up with him to talk about the move.
I'm having trouble saying Michael Tait and Newsboys in the same sentence. How about you?
Michael Tait: I'm still getting used to it. But when you see our live show—this ain't me being cocky, this is the truth—all doubt is erased. Then you go, "Oh, this makes total sense." People can't imagine that Peter Furler was replaced with some guy with braided hair, dreads, and dark skin. But dc Talk and Newsboys have been buddies forever. And if you were a fan back in the days of dc Talk or Newsboys, you were a fan of the other band. It's all in the mix. You know?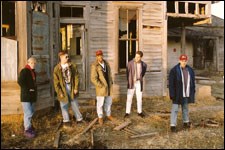 You've been friends with the other guys for a long time?
Tait: Oh man, we go back so far that we recently found a picture of dc Talk and Newsboys from a long time ago, around 1991, on a day when I was hanging out with the Newsboys. In this picture, we stood in front of it like we were a band, and I pretended I was the lead singer. I'm in the middle of the photo, totally the lead singer in the photo, 19 years ago, just as a joke. How weird is that?
So, how did this all come about?
Tait: Wes Campbell [Newsboys manager] called me and said that Peter Furler [lead singer] has been on the road for too long, that he needs to come off the road and spend some time with his family. He's been making records for twenty years, he's been touring for twenty years, and he's tired. We asked, "Can you do this thing?" I misconstrued it at first, thinking they wanted me for just a couple of months. But they wanted a total overhaul, brand new everything, Newsboys 2.0. They wanted the whole kit and caboodle.
At first, I thought, My gosh, there's no way I can do this. I prayed about it and thought about it for a while. Then I said, you know what, I've got to do this thing. I felt it in my heart. So I learned all the words to their songs; Newsboys fans will make sure I've got them right. Michael Tait can't be reading words from a piece of paper when on stage. No cheat sheet. So I stuck it out, and I'm telling you, man, it couldn't be better.
Does it feel as natural a fit as dc Talk did?
Tait: Honestly, it feels easily as good. I won't say better, but … let's just say easily as good. I've always thought that I could lead a band properly; dc Talk was great training ground for that, but now—this is what I was made for, and I'm finally there.
What about Tait Band? You led that for much of the last decade.
Tait: True. But I realized it was hard, leading a band. Writing two records with Tait Band, I was absolutely overwhelmed with the weight of making the record. And we did some tours, not as big as Newsboys tours. So I didn't realize what it was to be a proper lead man of a band until I got to the Newsboys level. But Tait Band prepped me for that.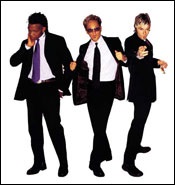 When dc Talk split up, was that was a mutual decision between all three of you?
Tait: I didn't really want to split up, but we were pregnant with other ideas and needed a change. Contractions were starting to get a little closer together, you know? So we had to do that at the time. I think it was good for the brand, but maybe not so much for the band.
Did you feel like the Tait Band was going to take off?
Tait: I did, and that was my goal. I wanted to do some more of the same type of dc Talk things—social evangelism kind of stuff where you get to the social consciousness of people, writing songs that would probe them to ask questions like, "Why are you here? Why do you exist? What is your purpose? Where are you going?" Those kinds of things that would lead you back to the process like finding about our Creator.
When our first record Empty (2001) came out, USA Today had it on the front page and gave it four stars. But for some reason, Tait just didn't work out. I thank God for that, looking back now, because it wasn't quite right, I don't think.
Do you just have a verbal agreement with Newsboys, or is there a contract?
Tait: All verbal. Peter's out of the picture now, though I stay in touch with him for advice and insight. But as far as the business stuff is concerned, it's a Wes Campbell/Michael Tait thing now.
For the last three albums, Newsboys were mainly a worship band. But before that, they were more of a rock band known for their fun and quirky lyrics. How would you describe the new Newsboys since you've joined the team?
Tait: It's a mixture of the two, because the DNA of Michael Tait solo, Newsboys past and dc Talk past are coming together. As Mac Powell said we created something like Burger King and McDonalds coming together. We created a super burger. It's definitely a mixture of things now. There's a new flair now and decidedly so.
Have the guys embraced you creatively? Not just your voice and live concert abilities, but as a songwriter and creative participant?
Tait: Man, good question …
Because they could easily see you as the "outsider" coming in.
Tait: Exactly. But after about eight months of touring, of learning the songs out of respect for the Newsboys creative establishment, and trying to live by example in leading this band, it's good. I've tried to work in my new songs, change some things around. The show is definitely different; the biggest complaint I heard out there in the marketplace was that Newsboys kept doing pretty much the same show five years in a row now. The band said they didn't want to have that, so I think that gave me a little leeway to come in with some new fresh manna, to change things up a little bit. But I felt like I've earned their respect. While writing songs with them, they started to say, "This guy knows what he's doing. There's a method to his madness." You know?
What if you had said no? Do you think the Newsboys were thinking All right. It's Tait or we're done?
Tait: Peter told me that I was on the top of a very short list. It was me and one other guy. They wanted a seasoned guy because you've got a band that caliber that's been playing for that long. You don't want a 21-year-old taking that job; the tenure's not there. You've got to have a seasoned guy, a general with one star, someone that can do the job and that's been there on that stage before.
And now, even though the honeymoon's over, the honeymoon spirit is still there. We work really hard to keep it on the mix for the new relationship. We try our best to keep out of the soufflé. You follow me?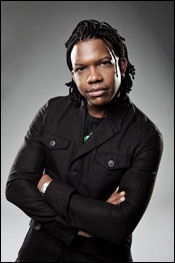 Not really.
Tait: In other words, things that bugged you in the past, we just talk about it. We've come together as the new team, Michael Tait and the Newsboys, and now it's even sweeter because we're loving being together. We're also avoiding some of the things that were ugly in the past.
Like what?
Tait: I'm not going to go there because this would dishonor my band. I guess it's like we have a newborn baby or a new car. You kind of baby it for a while. You get excited to buy new parts for it. It's like we're in that phase.
What's up in your personal life these days?
Tait: I now have a wonderful lady in my life, and we're definitely becoming the best of friends. She is the bomb. She's a New York City girl. She's a super model, but it's not like you think. She's totally, totally down to earth, totally cool. Loves God more than me. Reads me Scripture on the phone. Prays for me. That kind of girl. I didn't wait 43 years to get some crazy freak, you know.
That's a great T-shirt slogan: "I didn't wait 43 years to get some crazy freak."
Tait: (laughs) That's right!
Where do you live these days?
Tait: I lived in Malibu for about three years. When my dad passed ten years ago, I bought his old house in DC, an old historical home on Capitol Hill. And I have a house in Nashville. So I'm back and forth.
You still riding your Harley and snowboarding?
Tait: I haven't snowboarded for a while, and I sold my Harley, dude! I've got to buy a new one. It's killing me, because I miss it. I sold the Hog, and I'm on the hunt.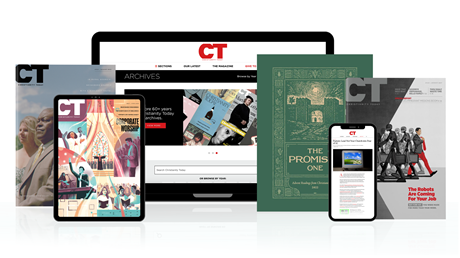 Annual & Monthly subscriptions available.
Print & Digital Issues of CT magazine
Complete access to every article on ChristianityToday.com
Unlimited access to 65+ years of CT's online archives
Member-only special issues
Subscribe
'Couldn't Be Better'
'Couldn't Be Better'