Editor's note: Today we're proud to launch God Politics, a weekly roundup of what evangelical political groups on all sides of the political spectrum are talking about. God Politics is a joint project of Christianity Today and the new Tracking American Evangelical Politics project at Southern Illinois University. After you read our initial installment, we'd love to hear from you. Do you find this helpful and informative? What would you like to read more of? Less of? Are there groups we should be paying closer attention to? Let us know in the comments section below.
The Big Story: Who's lying about Obama's health care plan?
Rep. Joe Wilson's (R-S.C.) "You lie!" outburst upstaged President Obama's health care speech last week.
Wilson's comment—whether true or not—was not made in "the appropriate venue," according to BreakPoint's Billy Atwell. But evangelical political groups found plenty of other venues to correct what they saw as misstatements or lies from Obama's health care speech.
In the aftermath of Obama's speech, evangelicals' main question is whether health care reform will result in federal funds for abortion.
In his speech, Obama said, "Under our plan, no federal dollars will be used to fund abortions, and federal conscience laws will remain in place."
But many groups say Obama is mistaken, perhaps even lying.
"The health care bills will fund abortion unless it is explicitly excluded," said Family Research Council president Tony Perkins. "Never has the old adage, 'the devil is in the details,' had more meaning."
There were other, similar rebuttals from evangelical groups to Obama's plan:
Focus on the Family Action encouraged people to contact Congress. "Until there is definitive language in the health-care bill that excludes abortion funding, it doesn't matter what the White House says," Ashley Horne, federal policy analyst for Focus on the Family Action said.
Sojourners came down on the other side of the evangelical debate and publicly applauded Obama's message. Prior to the speech, Sojourners had tentatively trusted that the White House would not fund abortions with health care reform. Obama's speech gave Sojourners further reassurance, Sojourners founder Jim Wallis said. Obama "made the commitments that a broad coalition in the faith community had asked for—reform as a moral issue, affordable coverage for all, and no federal funding of abortion," said Wallis.
Sojourners saw other falsehoods in the health care debate. The group's Health-Care Truth-Telling Campaign targeted advertisers and encouraged evangelicals to contact Rush Limbaugh, Fox & Friends, Bill O'Reilly, and Sean Hannity to correct some of their recent stories about health care.
And the debate isn't over—expect to see more claims of "You Lie!" from evangelical groups as health care reform moves forward in Congress.
Conservative Talk
Racism? BreakPoint's Diane Singer stated that President Jimmy Carter is wrong to tie public criticism of President Obama to racism. FRC's Perkins described the "race card" as "a classic move by the Left when they can't win the policy debate; they try to marginalize their opponents by calling them racist."
ACORN: Perkins saw both ACORN and Planned Parenthood as exploitive. "If Congress really wants to clean up their act, they need to stop funding criminal organizations," he said. CWA said of the recent undercover investigation of ACORN, "We should be disturbed mostly by the callous and routine manner with which ACORN employees handled questions from the supposed pimp and prostitute." The American Family Association published several stories about ACORN, highlighting the undercover investigation as well as directing attention at the seven Senators who did not vote to eliminate funding for the organization. The group called it "a huge victory for conservatives everywhere."
Tea Parties: Focus on the Family called the Tea Parties a "true American grassroots phenomenon." TVC's Andrea Lafferty, meanwhile, wrote about the Tea Party in Washington D.C. last Saturday.
Defense of Marriage Act: The Alliance Defense Fund wrote that the recently introduced Respect for Marriage Act, which would repeal the Defense of Marriage Act, demonstrates an "ongoing disregard for the American people." The AFA urged its members to contact their representatives in Congress, predicting "If DOMA falls, the door will be wide open for activist judges to order one state after another to recognize same-sex marriages performed in other states."
Other News: FRC's Robert Morrison offered an opinion on the House vote to "take over all college student loans in the United States"; TVC voices disapproval of Obama's nominee for the EEOC, saying, "If You Hate America You Have a Lawyer—Chai Feldblum"; and BreakPoint's Stephen Reed called for South Carolina Governor Mark Sanford to resign.
Voices on the Left
The focus of the evangelical left has been support of health care reform. Groups discussed the growing links between health care and the issues of immigration and bankruptcy. Responding to claims of racism in the health care debate, Sojourners' Wallis emphasized that racism is still an issue. Sojourners blogger Valerie Elverton Dixon discussed how a Christian should respond to "racist political enemies." Groups also called for reform of climate change policy and the "heads I win, tails I'm bailed out" banking system.
Pro-Life Protests
Pro-life groups including National Right to Life Committee, Americans United for Life, and Democrats for Life saw the current health care reform legislation as providing government funding for abortion. As a result, it dominated discussion among these groups. For NRLC, the issue is "condition red." AUL launched the "Back to the Hill" campaign to "educate lawmakers and Americans on the current health care proposals' threat to the lives of the elderly, ill, and unborn."
Pro-life groups also spoke out about the killing of demonstrator Jim Pouillon. Friends and relatives of anti-abortion activist James Pouillon held a prayer vigil in his honor last weekend, and Christian Broadcasting Network said no pro-abortion groups have spoken out against Pouillon's murder. CBN's David Brody compared Obama's statement with an earlier statement on the death of abortion provider George Tiller.
Legal Arguments
Focus on the Family Action praised an Alabama Supreme Court ruling upholding the state's obscenity law and discussed a district court decision to forbid the disclosure of the names of people who signed a petition to overturn Washington state's domestic partnership law.
Liberty Counsel was preparing to defend two school administrators facing fines and possible jail time after praying during a school banquet. When the case was dismissed, they issued a special e-mail update to supporters: "This story has shocked the entire Nation. The future of American law and our precious freedom of religious expression still hang in the balance in this small Florida Panhandle community. The ACLU won't rest until they've criminalized Christianity. The super-rich, ultraliberal ACLU bullies fully intend to add precedent upon precedent in highly targeted cases like Santa Rosa County until it is a crime to express one's faith in a public setting anywhere in the United States."
Chatter
Focus on the Family Action said goodbye to actor Patrick Swayze, describing him as a "talented actor and performer who died too young, but who was married to his first and only wife, Lisa Niemi, for more than 30 years."
CBN noted that Congress recognized September as Gospel Music Heritage Month.
FRC wrote about the link between the "feminizing of fish" and birth control. "The tragedy is that the population control message is most often promoted by the global warming crowd and others who view people as negatively impacting the environment and consuming limited resources. In reality, it's their efforts to reduce the population (people) that are actually destroying the environment (fish)."
Tobin Grant is an associate professor of political science at Southern Illinois University at Carbondale and director of the Tracking American Evangelical Politics project.
Related Elsewhere:
More articles on politics are available in our politics & law section and our politics blog.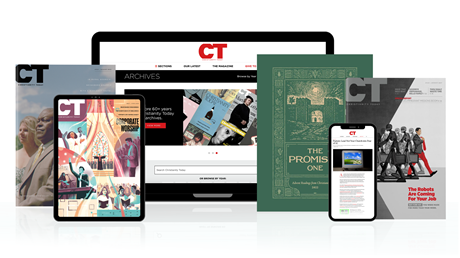 Annual & Monthly subscriptions available.
Print & Digital Issues of CT magazine
Complete access to every article on ChristianityToday.com
Unlimited access to 65+ years of CT's online archives
Member-only special issues
Subscribe
Where the Health Care Debate Lies
Where the Health Care Debate Lies