As Christians anticipate the advent of Jesus this holiday season, they focus once more on the birth narratives in the Gospels of Matthew and Luke. Sermons will praise Mary's faith and courage. Carols will extol the holy infant, so tender and mild. Scripture readings from the evangelists will depict Jesus as the Savior and Deliverer of God's chosen people. Yet Christmas also bears a tinge of disappointment. For the most part, Christians do not share this celebration with Jews. This division preoccupied the New Testament writers, particularly the apostle Paul, who envisioned a time when many Jews will join the Gentiles in praising the name of Christ the Lord forever.
Matthew, believed to be writing to a largely Jewish audience, opens his gospel, "The book of the genealogy of Jesus Christ, the son of David, the son of Abraham" (Matt. 1:1). Jesus' birth accorded with the Immanuel prophecy of Isaiah 7:14. And when the wise men visited from the east, they asked Herod, "Where is he who has been born king of the Jews?" (Matt. 2:2). Despite a different readership, Luke's gospel likewise draws attention to Jesus as the long-awaited Jewish Messiah. The angel Gabriel told young Mary that her son would receive from the Lord God the "throne of his father David" and would "reign over the house of Jacob forever" (Luke 1:32-33). An angel of the Lord told the shepherds the good news that "unto you is born this day in the city of David a Savior, who is Christ the Lord (Luke 2:11). And when the devout man Simeon, who waited in Jerusalem for the consolation of Israel, saw the baby Jesus, he knew he could depart this world in peace. His eyes had seen God's salvation, "a light for revelation to the Gentiles, and for glory to your people Israel" (Luke 2:32).
Many Gentiles did indeed see the light of revelation. Yet comparatively few Israelites attributed glory to the crucified Jesus. They chased all but the apostles from Jerusalem (Acts 8:1) and pursued Paul in the Diaspora (Acts 17:13). As Simeon told Mary, "Behold, this child is appointed for the fall and rising of many in Israel" (Luke 2:34). This reversal led Gentiles in some churches, particularly Rome, to boast in their faith. Paul rejected this racial pride. But he also recognized an apologetic dilemma. Is God to blame that so few Jews believe? Paul devoted Romans 9-11 to answering this question. "It is not as though the word of God has failed," Paul responded in Romans 9:6. The Jews have stumbled because they did not pursue God's righteousness by faith but "as if it were based on works" (Rom. 9:32).
Thankfully, there is more to the story. God has not rejected his people; after all, Paul himself was an Israelite (Rom. 11:1). Even better, God revealed to Paul a great mystery: Israel's hardening will last only until the "fullness of the Gentiles has come in" (Rom. 11:25). Then what? All Israel will be saved (Rom. 11:26). The exact meaning of this phrase has been hotly debated throughout church history, and the disagreements continue today. But many interpreters now believe that Paul anticipated a day when mass numbers of Jews would believe in Jesus Christ.
Nevertheless, some non-evangelical scholars writing since the Holocaust have found this view wanting. Krister Stendahl, the late bishop of Stockholm, Sweden, pointed out that Paul did not specify that "all Israel" would accept Jesus as the Messiah, only that they will be saved. He then observed that Paul does not mention the name of Jesus Christ between Romans 10:18 and 11:36. And he noted that the concluding doxology (11:33-36) is the only doxology in Paul's writings that includes no Christological reference. Thus, Israel may be saved apart from believing in Jesus. But this option would render Paul's argument in Romans 9-11 meaningless, since there would be no problem with the Jews rejecting their Messiah.
"Precisely because the gospel stands athwart all ethnic claims, the church cannot erect a new racial boundary," N. T. Wright argues in The Climax of the Covenant against this so-called two-covenant theology. "The irony of this is that the late twentieth century, in order to avoid anti-Semitism, has advocated a position (the non-evangelization of Jews) which Paul regards precisely as anti-Semitic."
Several early church leaders and a number of other venerable teachers understand "all Israel" to refer to the elect, both Jews and Gentiles. The phrase, Wright argues, is "best taken as a polemical redefinition," much like how Paul redefined Jew and circumcision in Romans 2:29. Like John Calvin, Wright cross-references Romans 11:26 with Paul's phrase "Israel of God" (Gal. 6:16), which refers to Jews and Gentiles joined together in God's family. In this view, no mass conversion of Jews should be expected.
The challenge to this view, Wright acknowledges, comes from Romans 11:25, where Israel plainly refers to national Israel. In fact, Paul contrasts Israel and the Gentiles throughout this section of Romans (11:11-32). And "all Israel" is a common Old Testament phrase that refers to the nation of Israel without including every Israelite. To be sure, no large numbers of Jews have yet turned to Jesus Christ in the way Paul seemed to expect. But many Bible scholars believe there will be a mass ingathering of Jews in the future. The English Puritans believed such a day would come. This expectation fueled their zeal for missions.
No matter how bleak things appear right now, we can hope that God will one day call forth many Israelites. Then all will see how God cares for his "first love," as James Dunn puts it. However, we may need to wait for Christ's second advent (Matt. 10:23b). Even so, what a celebration of Immanuel that will be, when all God's children together praise the "Lion of the tribe of Judah, the root of David" (Rev. 5:5).
Collin Hansen is a CT editor at large and author of Young, Restless, Reformed: A Journalist's Journey with the New Calvinists.
Related Elsewhere:
Previous Theology in the News columns are available on our site, including:
Christ-Centered Cautions | How do we be good, be disciplined, and be like Jesus? (November 16, 2009)
A Violent, Vicious Cycle | Who will deliver us from despair and death? (November 2, 2009)
Sheffield's Biblical Studies Program Survives | Student protests save department founded by F. F. Bruce. (October 15, 2009)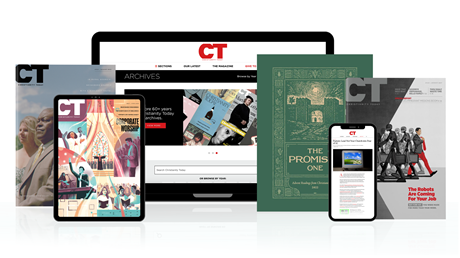 Annual & Monthly subscriptions available.
Print & Digital Issues of CT magazine
Complete access to every article on ChristianityToday.com
Unlimited access to 65+ years of CT's online archives
Member-only special issues
Subscribe
'All Israel Will Be Saved'
'All Israel Will Be Saved'