One recent poll shows that evangelicals are not as enthusiastic about Sen. John McCain as they were for President Bush in 2004. It's Marlys Popma's job to change that.
Popma is now based in Washington, D.C., as the campaign's national coordinator of evangelical outreach. While most evangelicals back McCain, only 28 percent of them say they "strongly support" him, compared with 57 percent who strongly supported Bush in August 2004, according to a survey released last week by the Pew Forum on Religion & Public Life.
Popma began working for the McCain campaign in late 2006 as the coalitions director in Iowa. She has also served as the executive director of the Republican Party of Iowa, deputy national political director for Gary Bauer for President in 2000, and president of Iowa's Right to Life Committee.
You announced in July 2007 that you were planning to resign. What happened? Why did you change your mind?
It was a time when the campaign was going through financial difficulties. I had become convinced at one point in the day that there might be no play in Iowa. Because I was from Iowa, I figured that if there was no play in Iowa, it might be best that I might not be engaged. It took less than eight hours from the time I tendered my resignation for me to find out that the campaign was planning to participate in Iowa, that they were serious about Iowa. It never had anything to do with Sen. McCain. It had only to do with financial implications and whether we were going to be engaging in Iowa. Within eight hours, I knew I had made one of the biggest political mistakes of my life.
McCain just spoke at Rick Warren's forum, he met with Billy and Franklin Graham, and he met with evangelicals in Ohio. What is the campaign doing to reach out to evangelicals, other than these meetings?
Those meetings are less important than after Saddleback, but they were still important. It's very important that we touch leadership in groups or one at a time. We plan to make a visit with leadership in priority states. We also send regular e-mails to the individuals whom we have identified in our group. We recently put out a piece on John's faith. It's mostly getting John McCain's conservative message out to the grassroots.
The Obama campaign has been holding "faith forums" to engage with clergy and religious voters. What do you think about that and your approach?
The Democratic Party has not in the past done a great deal of outreach to evangelicals. They don't have a natural base, they don't have natural people to go to. They can't speak with Right to Life groups and Right to Life individuals because Barack Obama is not pro-life. They have to have a slightly different approach. They have to reach evangelicals whom they believe are going to be attracted to their particular message.
After the Saddleback forum, I don't think that message will penetrate as well. People heard from [Obama's] own mouth that he's pro-choice and that the decision of when unborn life deserves protection is above his pay grade. There was almost a gasp in the audience when he said that. They do have to take a little different approach.
We understand on this campaign that there are essentially two groups in which we look for evangelicals. One is what I call "movement conservatives." Those are individuals who have for years been working for the unborn and working hard to make sure that the definition of marriage is between one man and one woman. There is also a young emerging group of people who have broadened their scope. They haven't neglected marriage and life issues, but they've broadened them into a concern about global poverty and making sure the quality of life for individuals is one that a human expects and deserves.
The exciting thing about John McCain is that he hits on all cylinders. There's not any one of the things that evangelicals would be looking for — creation care, all of them — that John McCain has NOT had in his agenda for years.
When you talk to evangelicals about voting for John McCain, what's your pitch?
The first thing I talk about is judges. We need judges who believe in the original intent of the Constitution and show great jurisprudence, who do not legislate from the bench and are constructionists. We are one judge away from the reversal of Roe v. Wade. There are many other points: that John McCain has had a 24-, 25-year pro-life message. He stands for marriage between one man and one woman. He has a great compassion for individuals as a whole, not only in this country, but also abroad. He and his wife are extremely philanthropic. Cindy is involved with HALO and Operation Smile. I just think that as a team, Sen. McCain and his wife, Cindy, reach the heart of what an evangelical Christian is.
When you try to persuade evangelicals to vote for McCain, what objections do they normally raise?
What I try to always do when I'm talking to pro-life individuals is to talk about the positives of John McCain. I am not someone who goes into the negative. I like to stay in the positive.
This is a man who has fought to keep the government's budget functioning like a family budget, not spending money that we don't have. He believes in the limited sides and scope of government; he's pro-life and pro-family. That's where I try to keep the conversation. No individual is perfect; you're never going to find a person whom we agree with 100 percent of the time.
Related Elsewhere:
See our earlier related article, "McCain Surges in Polls, But Many Evangelicals Wary."
More on the 2008 election is available in our full coverage area and on our politics blog.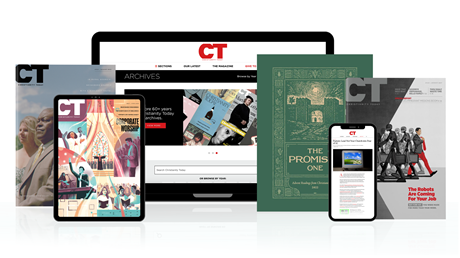 Annual & Monthly subscriptions available.
Print & Digital Issues of CT magazine
Complete access to every article on ChristianityToday.com
Unlimited access to 65+ years of CT's online archives
Member-only special issues
Subscribe
Getting People Excited about John McCain
Getting People Excited about John McCain